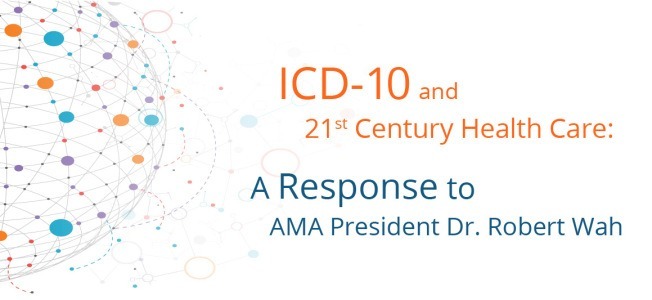 The Coalition for ICD-10 has published the following response to recent remarks made by AMA president Dr. Robert Wah, in which he compared the AMA's opposition to ICD-10 to the movie Star Wars. 
In his recent speech to the AMA House of Delegates, AMA president Dr. Robert Wah characterized the planned implementation of ICD-10 as analogous to the dark forces controlling the galaxy in the movie Star Wars: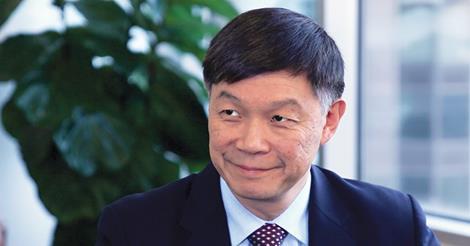 "If it was a droid, ICD-10 would serve Darth Vader… For more than a decade, the AMA kept ICD-10 at bay – and we want to freeze it in carbonite!"
Dr. Wah's attempt at humor is unfortunate because the quality and precision of our national health care data is a serious matter. In this country, we use coded data to assess quality of care, make benefit coverage decisions and to determine physician and hospital payment. The financial viability and performance assessments of hospitals and physicians are impacted by the data. Yet we continue to rely on an outdated 1970s-era coding system for reporting diagnoses and inpatient hospital procedures.
In his speech, Dr. Wah goes on to lament:
"Sucked into a jet engine? Burned by flaming water skis? Yes, there are codes for that."
While at first glance these examples appear humorous, it is important to understand that these cause of injury codes were included in ICD-10 to meet the needs of organizations like the Department of Defense (aircraft accidents are an important issue for the military) and Worker's Compensation (in waterski shows the burning waterski trick can lead to a worker's comp claim). Should our national coding system ignore the needs of the Department of Defense and Worker's Compensation?
Using cause of injury codes to imply that the coding detail in ICD-10 will be a burden to physicians is at best disingenuous because physicians are not required to report cause of injury codes, except in very limited situations such as injuries caused by medical treatment, like removing the wrong limb. Furthermore, the current ICD-9 system has similar cause of injury codes and their existence has never been a burden.
Dr. Wah continues to criticize by stating:
"We'd see 13,000 diagnosis codes balloon into 68,000 – a five-fold increase."
Again, the inference is the increase is unnecessary and will be a burden for physicians. This is like saying the English language is a burden to use because there are 470,000 words in Webster's unabridged English dictionary. Just as no one is expected to know rarely used words like floccinaucinihilipilification or use all 470,000 words, physicians and other providers will only use the codes relevant to their patient population (e.g., an ophthalmologist will primarily use only the eye codes).
The notion that more codes create a burden is out of touch with today's digital world. As with almost everything else, there's an app for that. In fact, there are more than 50 ICD-10 iPhone apps that allow a person to use word search to find an ICD-10 code instantaneously. Ranging from $1.99 to $10.99, the cost isn't a burden (there are even a few free versions).
Dr. Wah complains about the number of codes and the detail in ICD-10 but fails to mention that much of the additional specificity in ICD-10 was at the request of medical specialty societies. Nor does he mention that there are no ICD-9 codes for many critical healthcare issues. There is no code to report and track Ebola. There are inadequate codes for tracking service-related health problems for our veterans. There are no codes to help us research sports-related concussions among young athletes. It's hard to understand why the AMA is not demanding that this kind of information be available in our national data.
Dr. Wah goes on to state:
"We all know ICD-10 is expensive to implement. We don't know if it will improve care."
While there are significant costs associated with the implementation of ICD-10, the vast majority of the health care industry has already incurred those costs. In our digital world, the infrastructure for a systems change like ICD-10 has to be built and tested well in advance. These are sunk costs which will be lost if ICD-10 is not implemented. Indeed, CMS has estimated that the health care industry has already invested billions in preparation for ICD-10: "Forgoing ICD-10 translates into a loss of up to $22 billion for the U.S. health care industry" (Federal Register, 77(172), p 54689).
As to whether ICD-10 will improve care, it would seem obvious that more precise data should lead to better identification of potential quality problems and assessment of provider performance. There are multiple provisions in current law that alter Medicare payments for providers with excess patient complications. Unfortunately, the ICD-9 codes available to identify complications are woefully inadequate. If a patient experiences a complication from a graft or device, there is no way to specify the type of graft or device nor the kind of problem that occurred. How can we as a nation assess hospital outcomes, pay fairly, ensure accurate performance reports, and embrace value-based care if our coded data doesn't provide such basic information? Doesn't the public have a right to know this kind of information?
Our national healthcare data is broken due to the use of an archaic coding system. Given Dr. Wah's "freeze it in carbonite" comment, it is clear that he is not really interested in a delay of ICD-10 but instead wants ICD-10 to never be implemented. It is hard to fathom why anyone would promote having our national data fail to meet the demands of 21st century health care. This is especially perplexing given that ICD-10 has been adopted by virtually every other country.
In attempting to relegate ICD-10 to the equivalent of "a galaxy far, far away," Dr. Wah inexplicably ignores the implications for U.S. health care if we continue to use ICD-9 codes. This isn't about waging a mythic battle (with sound bites instead of light-sabers). It's about improving quality of care and patient safety in the here and now. It's about ensuring fair payment, and in the case of Ebola, it's about protecting our citizens. Yoda from Star Wars said it best: "Always in motion is the future…a little more knowledge lights our way." 
About the The Coalition for ICD-10
The Coalition for ICD-10 is a broad-based healthcare industry advocacy group — hospitals, health plans, hospital and physician office coding experts, vendors, and the health information technology (HIT) community— united in support of the U.S. adoption of the ICD-10 coding standard. The Coalition for ICD-10 promotes the critical importance of ICD-10 to improving quality measurement, public health surveillance, clinical research, and healthcare payment through research, education, advocacy, and mobilization.
Show your support of the Coalition for ICD-10: Tweet using #ICD10Matters.