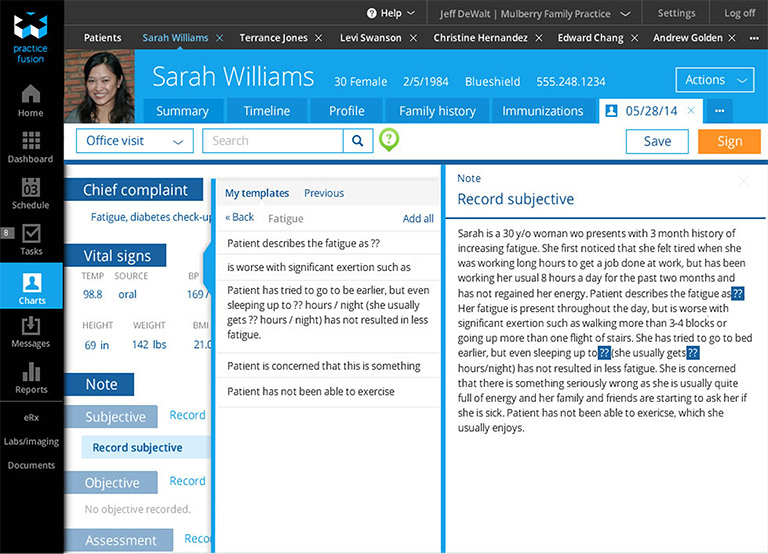 Practice Fusion, a cloud-based EHR platform today announced agreements with two provider networks to support their care coordination and accountable care initiatives. Oakland Physician Network Services and Citrus Valley Health Partners will offer Practice Fusion's EHR to their physicians and healthcare providers, who can use the EHR to access data that can help them better understand the health of their patients. This means that a physician treating a diabetes patient can get information that can help them decide how and how often to treat that patient.
In Michigan, Oakland Physician Network Services' team of 425 primary care and specialist physicians are participating in the Medicare Shared Savings Program (MSSP) and will deliver value-based care under contracts for 15 different health plans. Citrus Valley Health Partners, the largest, nonprofit healthcare provider for East San Gabriel Valley with more than 3,000 staff members and nearly 1,000 physicians, is leveraging Practice Fusion to build a clinically integrated network and coordinate care for nearly one million residents in Southern California.
"We need every provider using a modern, interoperable EHR to be successful with value-based contracts and move toward clinical integration," said Rodger Prong, executive director, Oakland Physician Network Services. 
Practice Fusion's ability to connect with each organization's data warehouse and analytical tools will power clinical analytics and quality reporting. Patients treated by providers using the Practice Fusion EHR will also have access to their personal health records and online appointment booking through Patient Fusion.
"Clinically integrated networks need real-time insights, clinical decision support and patient engagement tools to move the needle with patient care. This can only be achieved at scale through the cloud," said Ryan Howard, founder and CEO, Practice Fusion. "With traditional EHR vendors, software is distributed to specific doctors' offices, which makes it incredibly difficult to gather data, look across a patient population and understand patients' health. With Practice Fusion, that problem simply doesn't exist."