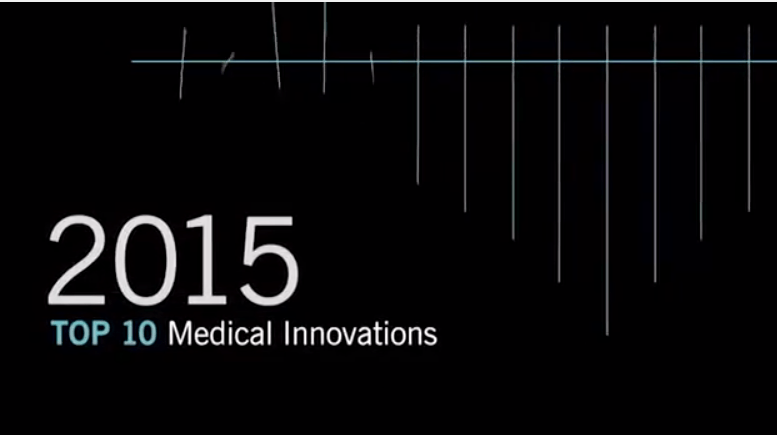 Cleveland Clinic today announced its 9th annual list of Top 10 Medical Innovations that are likely to have major impact on improving patient care in 2015.  The list includes a mobile stroke ambulance, fast, painless blood-testing, and a novel intra-operative radiation approach for breast cancer. 
The list of up-and-coming technologies and drug therapies was selected by a panel of 110 Cleveland Clinic physicians and scientists and announced during Cleveland Clinic's 2014 Medical Innovation Summit. For nomation, each medical innovation must meeting the following criteria: 
– Have significant clinical impact and patient benefit in comparison to current practices
– Have a high probability of commercial success
– Be available on the market in 2015
– Have significant human interest in its application or benefits.
The Top 10 Medical Innovations for 2015 are:
Time lost is brain lost. High-tech ambulances bring the emergency department straight to the patient with stroke symptoms.  Using telemedicine, in-hospital stroke neurologists interpret symptoms via broadband video link, while an onboard paramedic, critical care nurse and CT technologist perform neurological evaluation and administer t-PA after stroke detection, providing faster, effective treatment for the affected patient.
One mosquito bite is all it takes.  More than 50 to 100 million people in more than 100 countries contract the dengue virus each year.  The world's first vaccine has been developed and tested, and is expected to be submitted to regulatory groups in 2015, with commercialization expected later that year.
3. Cost-effective, Fast, Painless Blood-Testing
Have the days of needles and vials come to an end?  The new art of blood collection uses a drop of blood drawn from the fingertip in a virtually painless procedure.  Test results are available within hours of the original draw and are estimated to cost as little as 10% of the traditional Medicare reimbursement.
4. PCSK9 Inhibitors for Cholesterol Reduction
Effective statin medications have been used to reduce cholesterol in heart disease patients for over two decades, but some people are intolerant and cannot benefit from them.  Several PCSK9 inhibitors, or injectable cholesterol lowering drugs, are in development for those who don't benefit from statins.  The FDA is expected to approve the first PCSK9 in 2015 for its ability to significantly lower LDL cholesterol to levels never seen before.
Chemotherapy, the only form of treatment available for treating some cancers, destroys cancer cells and harms healthy cells at the same time.  A promising new approach for advanced cancer selectively delivers cytotoxic agents to tumor cells while avoiding normal, healthy tissue.
Cancer kills approximately 8 million people annually and is difficult to treat, let alone cure.  Immune checkpoint inhibitors have allowed physicians to make significantly more progress against advanced cancer than they've achieved in decades.  Combined with traditional chemotherapy and radiation treatment, the novel drugs boost the immune system and offer significant, long-term cancer remissions for patients with metastatic melanoma, and there is increasing evidence that they can work on other types of malignancies.
Since 1958, the technology involved in cardiac pacemakers hasn't changed much.  A silver-dollar-sized pulse generator and a thin wire, or lead, inserted through the vein kept the heart beating at a steady pace.   Leads, though, can break and crack, and become infection sites in 2 percent of cases.  Vitamin-sized wireless cardiac pacemakers can be implanted directly in the heart without surgery and eliminate malfunction complications and restriction on daily physical activities..
8. New Drugs for Idiopathic Pulmonary Fibrosis
Nearly 80,000 American adults with idiopathic pulmonary fibrosis may breathe easier in 2015 with the recent FDA-approval of two new experimental drugs.  Pirfenidone and nintedanib slow the disease progress of the lethal lung disease, which causes scarring of the air sacs.  Prior to these developments, there was no known treatment for IPF, in which life expectancy after diagnosis is just three to five years.
9. Single-Dose Intra-Operative Radiation Therapy for Breast Cancer
Finding and treating breast cancer in its earliest stages can oftentimes lead to a cure.  For most women with early-stage breast cancer, a lumpectomy is performed, followed by weeks of radiation therapy to reduce the likelihood of recurrence.  Intra-operative radiation therapy, or IORT, focuses the radiation on the tumor during surgery as a single-dose, and has proven effective as whole breast radiation.
10. New Drug for Heart Failure
Angiotensin-receptor neprilysin inhibitor, or ARNI, has been granted "fast-track status" by the FDA because of its impressive survival advantage over the ACE inhibitor enalapril, the current "gold standard" for treating patients with heart failure.  The unique drug compound represents a paradigm shift in heart failure therapy.
For more information on the annual Top 10 Medical Innovations list, including descriptions, videos, and year-by-year comparisons, download the "Innovations" app today, available on iTunes and Google Play.