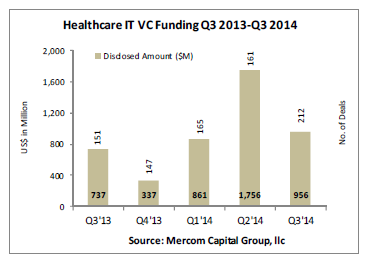 Health IT VC funding reached $956 million in 212 deals in Q3 2014,a decline of 46 percent in terms of dollars compared to the massive $1.8 billion in 161 deals raised in Q2 2014, according to a new Mercom Capital Group report. However, Q3 2014 was still the second highest quarter for VC funding since 2010. Total VC funding year-to-date adds up to $3.6 billion.
Consumer-focused technologies received 65 percent of all VC investments in the third quarter of 2014, with $623 million in 140 deals compared to $678 million in 100 deals in Q2 2014. Areas that received the most funding under this category were Mobile Health with $345 million in 82 deals, followed by Telehealth, which had its best quarter, with $101 million in 16 deals, Personal Health with $85 million in 24 deals, Social Health with $70 million in three deals, and Scheduling, Rating & Shopping with $23 million in 15 deals.  
Practice-centric companies received $333 million in 72 deals in the third quarter of 2014, compared to $1.1 billion in 61 deals in Q2. Under this category, the areas that received the most funding were Revenue Cycle Management with $75 million in eight deals, and Data Analytics with $71 million in 19 deals.
Top Health IT VC Funding Deals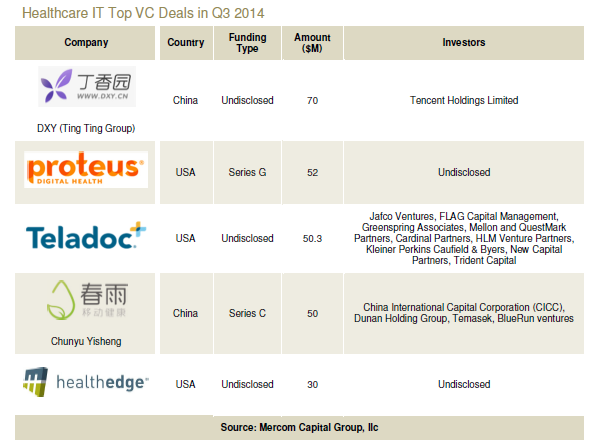 The Top 5 VC funding deals in Q3 2014 were the $70 million raise by DXY (Ting Ting Group), an online healthcare community for medical institutions and healthcare providers in China, from Tencent Holdings Limited, a provider of comprehensive internet services in China, followed by the $52 million raise by Proteus Digital Health, a developer of products and services integrating medicines with ingestible sensors, wearable sensors, mobile and cloud computing. Teladoc, a telehealth company that provides 24/7 access to medical care for adults and children experiencing non-emergency medical issues via phone, secure online video, mobile app or private, walk-in kiosk, raised $50.3 million from Jafco Ventures, FLAG Capital Management, Greenspring Associates, Mellon and QuestMark Partners, Cardinal Partners, HLM Venture Partners, Kleiner Perkins Caufield and Byers, New Capital Partners, and Trident Capital. Chunyu, a Chinese mobile healthcare app company that connects patients and doctors, raised $50 million from China International Capital Corporation (CICC), Rushan Venture Capital under DunAn Holding Group, Pavilion Capital run by Temasek, and BlueRun Ventures, and HealthEdge, a provider of a cloud-based or on-site integrated financial, administrative and clinical software platform for healthcare payers focusing on medical claims and benefits management brought in $30 million
Top disclosed M&A transactions in Healthcare IT

Globally, U.S. companies raised $760 million from 174 deals. Companies from 18 other countries participated in funding in Q3 2014, compared to 13 in the second quarter. With almost $200 million raised in 38 deals, countries outside of the United States accounted for about 21 percent of the fundraising this quarter, the largest share since we started tracking funding activity in 2010.
In the United States, 54 deals came out of California, followed by New York which recorded 17 deals, Texas and Massachusetts with 11 deals each, and Pennsylvania with eight deals. Among cities, San Francisco Bay Area had the highest number of funding deals with 46, followed by New York with 17. 
There were 55 M&A transactions in Q3 totaling $4.7 billion, compared to 57 transactions totaling $2.2 billion in Q2 2014. While consumer-centric companies dominated the fundraising, M&A was a different story with 46 of the 55 transactions involving practice-focused companies, accounting for all of the disclosed $4.7 billion. Consumer-centric companies saw just nine M&A transactions.
Of the top M&A transactions, the largest was the $2.7 billion acquisition of TriZetto, a provider of healthcare IT software and solutions that help payers and providers work more efficiently, by Cognizant, a multinational information technology, consulting and business process outsourcing company. This was followed by the $1.3 billion acquisition of Siemens' health information technology business unit, Siemens Health Services, by Cerner, a provider of healthcare information technology solutions. Conifer Health Solutions, a provider of business process management solutions for healthcare providers and subsidiary of Tenet Healthcare Corporation, acquired SPi Healthcare, a provider of healthcare revenue cycle management and physician billing services, for $235 million. Another top disclosed transaction was the $142 million acquisition of Sg2, a provider of healthcare market intelligence, strategic analytics and clinical consulting services, by MedAssets, a healthcare performance improvement company.
For the report, visit: http://store.mercom.mercomcapital.com/product/q3-2014-healthcare-it-funding-report/