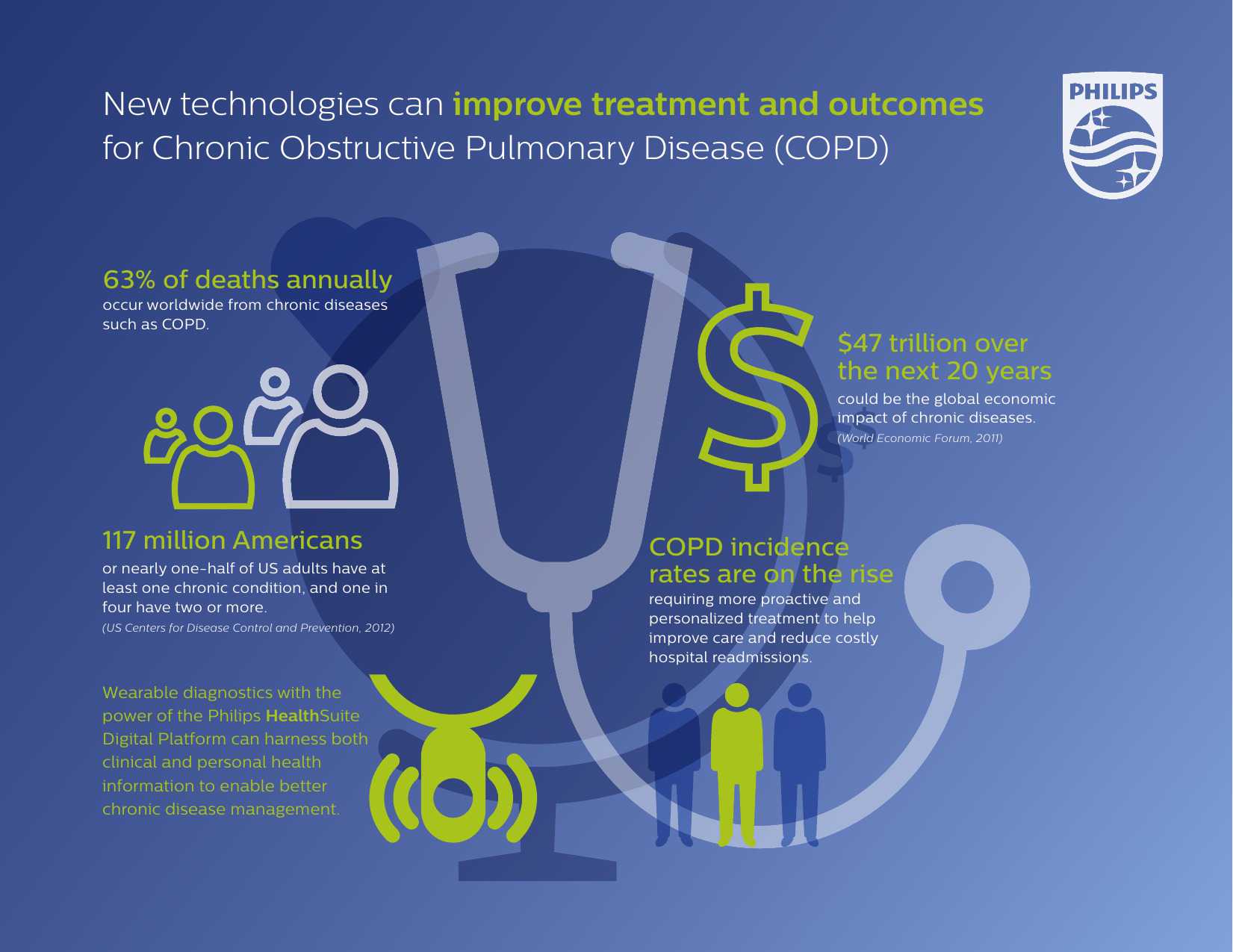 Today at the Dreamforce 2014 conference in San Francisco, Royal Philips and Nijmegen NL-based Radboud university medical center (Radboudumc) announced the debut of a wearable diagnostic prototype to support patients with chronic obstructive pulmonary disease (COPD). The launch marks the start of joint explorations between Philips and Radboudumc to apply mobile, digital and cloud technologies to improve patient outcomes, care coordination and patient empowerment across the health continuum.
How It Works
The wearable diagnostic prototype for COPD patients feeds data collected from patients at home to clinicians through the Philips HealthSuite Digital Platform to two clinical applications currently available on the cloud-based platform – eCareCompanion and eCareCoordinator – which both recently received FDA 510(k) clearance. Once a COPD patient has left the hospital, a wearable diagnostic prototype collects data day and night – including physical activity/inactivity, respiratory indicator, heart rhythm and heart rate variability. That data is then sent via the cloud to the Philips HealthSuite Digital Platform, where it is shared with the appropriate care providers via the eCareCoordinator application, presenting a more complete view of the patient's illness.
Management of COPD is challenging and often costly, as the progressive nature of the disease leads many patients to require complicated therapies and frequent hospital readmissions. At the same time, consumers are increasingly looking for new ways to take control of their personal health in order to live healthier and better lives.
"Unlike other wearable solutions recently introduced to the market, this prototype collects more than just wellness data from otherwise healthy people," said Jeroen Tas, CEO, Healthcare Informatics Solutions and Services, Philips. "We are demonstrating the power of harnessing both clinical and personal health information to better manage chronic disease patients across the health continuum, from healthy living, prevention, diagnosis, treatment, recovery and home care."
As part of Philips vision for the HealthSuite Digital Platform, the company is working to create a suite of open application programming interfaces (APIs) that can be used by developers to create innovative applications for hospitals and health systems. 
For updates on further platform developments, visit www.philips.com/dreamforce