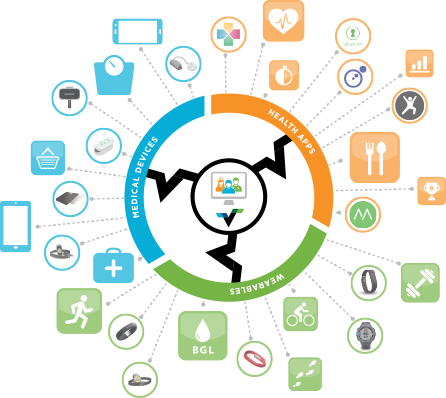 With the emergence of patient devices, wearables and healthcare apps, insightful healthcare data is now overflowing in abundance. However, the ability to extract and deliver that data more readily to healthcare organizations is still a real challenge— until now. Validic, a pioneer in accessing digital and mobile health data announced it has closed $5 million in Series A funding co-led by Greycroft Partners and SJF Ventures. The funding will be used to accelerate its leading healthcare technology platform for health data interopability and customer growth.
The cloud based health data interoperability solution promises to have a profound impact by eliminating the costs, testing, and updating associated with health organizations connecting to new apps, eliminating the wary and worry that previously had made it difficult for such applications to be readily adopted. With the expensive evaluation and integration process removed, health organizations will now have greater access to actionable data, and app developers will have the ability to gain visibility in a marketplace with tens of millions of users eager to connect with health-related apps.
It's win-win for both sides that could lead to better care delivery down the line. Providing healthcare companies with the ability to leverage such data from well-known mobile apps and devices holds the promise to empower healthcare IT to more accurately track patient habits, vitals, and progress, which could powerfully transform the healthcare ecosystem.
Co-founder and CEO Ryan Beckland

"Validic brings the healthcare organizations and the technology developers into a mutually beneficial ecosystem.  Healthcare organizations (including EHR vendors) are trying to handle a multitude of initiatives simultaneously with limited resources. Our sole focus is to help healthcare organizations manage a world of mobile health data with one easy connection so that it can be accessible and actionable", said Validic Co-founder and CEO Ryan Beckland .
So far Validic's approach is working with the company on pace to exceed 300 strategic clinical and wellness device and application integrations this year, including recent partners like Omron, Misfit Wearables and Polar. Furthermore, Validic's digital health ecosystem has expanded into the United Kingdom, Australia, Portugal, Brazil and South Africa reaching a client population of over 72 million lives. 
Last month, the company acquired Infometers Inc., a Silicon Valley-based technology company that connects remote healthcare monitoring devices to the healthcare system. The acquisition enables Validic clients – including hospitals, physicians, payers, pharma and wellness companies – greater access to key patient data from clinical devices.
To date, the company has raised a total of $7.1 million in funding.