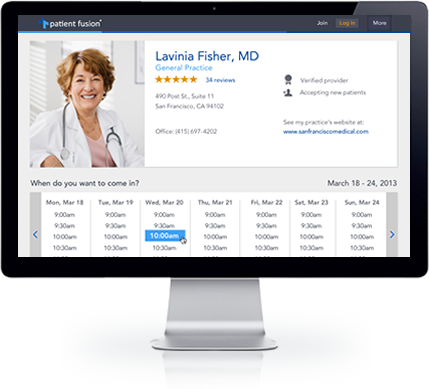 Brown-Wilson's Black Book Rankings names Practice Fusion as the top-rated EHR platform for fifth consecutive year among primary care doctors and ambulatory practices. 
Today, Practice Fusion, announced that its free cloud-based EHR platform is the highest-ranked EHR in customer satisfaction among primary care physicians. Brown-Wilson's "Black Book Rankings 2014 Survey: Top Ambulatory Electronic Health Records Vendors" also ranked Practice Fusion as No. 1  among ambulatory practices specializing in general practice, pediatrics and family practice.
The ranking report is based on findings from an independent survey conducted by Brown-Wilson of more than 22,000 qualified users of EHR systems, reporting on more than 600 EHR vendors. Among the most important attributes influencing EHR companies' client satisfaction are customization, interfaces, reliability and deployment.
Brown-Wilson also examined EHR adoption and usage in the U.S. and found that 52 percent of respondents consider their top decision criteria for EHR selection to be connectivity or Meaningful Use achievement—a number that has risen 40 percent since July 2013. A close second in decision criteria was system and implementation costs at 42 percent.  Iowa continues to boast the highest percentage of fully functional EHR implementation by state at 42 percent, a stark contrast to the low adoption rates in West Virginia and North Dakota, which each have a utilization rate of seven percent.
Practice Fusion's Top Rankings in 2014 include:
Top Overall Ambulatory EHR Vendor Honors: All Primary Care Practices
Top Primary Care Vendor: Patient Health Data Management, Order Entry and Management, Results Review/Management and Decision Support
Top EHR Vendor by Practice Size: Private/Independent Solo Physicians in Primary Care
Top EHR Vendor by Practice Specialty: General Practice, Family Practice and Pediatrics
Ranked No. 1 overall in 10 Key Performance Indicators:

Vendor overall preference/vertical industry recommendations, Meaningful Use stage 1 & Meaningful Use stage 2
Training
Client relationships and cultural fit
Scalability, client adaptability, flexible pricing
Compensation and employee performance
Reliability
Brand image and marketing communications
Marginal value adds
Support and client customer care
Best of breed technology and process improvement, Meaningful Use stage 3

For more on this report, please visit www.blackbookrankings.com