Dr. Rafael Grossmann explains what's possible with Google Glass in medicine and how it could be the difference between life and death for patients as the next new tool in teletrauma.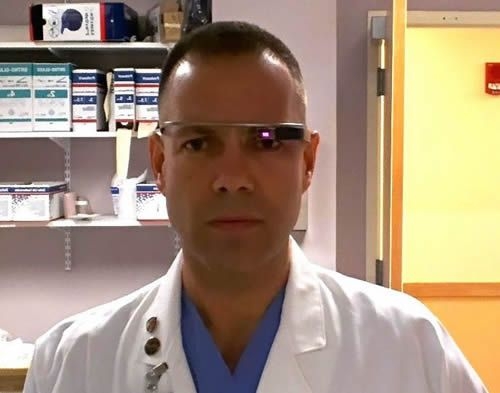 It was the story heard 'round the world; when Dr. Rafael Grossmann became the first surgeon to use Google Glass in the operating room this past June, allowing a group of medical students to virtually view the procedure through his experienced eyes remotely and in real time. It was a monumental moment for medicine, no doubt. But Grossmann, who is a self-proclaimed telehealth pioneer, says that day was only the beginning of what's possible with the latest gadget.
Forget the spectacles of yester years. Google's modern-day eyewear isn't about correcting your vision but capturing it through the hands-free camera that snaps photos and shoots videos via voice-enabled commands. The device also features a small screen for the user to view and access materials on the Internet. Although, it's not yet available to the open market, Glass is already getting praise for its virtual view; the camera is at eye level, allowing remote onlookers to see and experience the world much in the way of the user who dons them.
So far, Google Glass Explorers trying the device on for size have documented everything from a game of catch with a pleasant pooch to jumping out of an airplane. Other impressive sights captured via the device include a hot air balloon ride and a pilot flying an airplane. Beyond those great heights, however, it's Grossmann who has taken the first leap into medicine with the device. For him, it wasn't much of a jump; more like a natural next step for the surgeon, who is now leading the trend in what is becoming known as teletrauma.
Related: Ok Glass, I Need A Surgeon…Now!" A Telemedicine Revolution or Evolution!
Chances are, you've heard of telemedicine, which is the use of telecommunication devices to provide clinical healthcare at a distance. The practice has been in use for decades via telephone but recently got a boost in popularity thanks to the prevalence of mobile phones and tablets and their wide array of capabilities. Today, mobile devices are being integrated into every aspect of healthcare from providing seniors with homecare assistance to educating physicians in underdeveloped countries on how to provide life-saving care.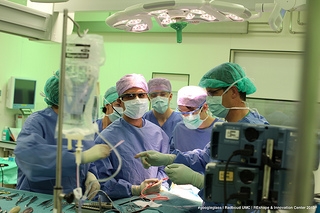 Instituting such devices to save lives is exactly what Grossmann had in mind when he developed a teletrauma program at Eastern Maine Medical Center in Bangor, ME, through the employment of iPhones and iPod Touches. Traumatic injuries remain a leading cause of death in the U.S., accounting for 150,000 lives lost per year. As Grossmann explained in his TEDx talk on the subject, time is one of the most important elements in effective trauma care, but due to a shortage in trauma centers and surgeons, it has become a luxury most patients won't get. Time related to survival of trauma is ruled by what Grossmann says are the three "R's". "It's about bringing the right patient to the right place at the right time," he explained.
It's hard to believe, but only about 30 percent of the U.S. population lives close enough to a trauma center to receive "the right care at the right time", which is within a sixty-minute radius. Sixty minutes—the golden hour as it's called—is that crucial period where access to expert care could mean the difference between life and death, according to Grossmann.  "That was the idea behind the teletrauma project," he said. "We wanted to bring the right specialist, through technology, to the right patient, right away."
With that idea in mind, Grossmann began utilizing Apple devices' FaceTime, a live video-conferencing/telecommunications application, to provide crucial consultations with physicians and virtual examinations of patients in various ER locales.
By holding the device up to the patient's face or location of injury, Grossmann can provide his insight and method of care to the physician on the other end. The program is still in its infancy but could prove to have substantial results. "When the doctor who needs the expert advice can get to us quickly, not by using a phone, but by using a video with live conversation and high-definition, that's really priceless," said Grossmann.
Related: Startup Develops Google Glass App for Hospital Rapid Response Teams
The payoff may be priceless but the investment is fairly inexpensive. Grossmann points out that for a few hundred dollars you can gain the mobility and enhanced functionality over many of medicine's archaic and costly technologies. Best of all, the devices work simply by tapping into a system's Wi-Fi, so there are no added installation costs. The devices have proved handy, but now Grossmann has his eye on the next major potential player in the teletrauma practice, Google Glass, which could bring even more sophistication and even greater timeliness to care communications.
"Glass is just like the Apple devices, but it displays at eye level and is hands free," said Grossmann. "We would have the ability to see exactly what the physician sees and assess the situation more readily. Furthermore, we could integrate information from other sources via its Internet capabilities. The value of such a device is so obvious; it's a no brainer."
It's hard to argue with that kind of potential, but what about cost and privacy concerns? Right now, the price tag for Google Glass is about $1,600: nearly four times the cost of an iPhone, which averages around $600 or even less with a provider contract. Still, Grossmann thinks that the enhanced functionality is worth the added investment, and that Glass' price will lower once it hits the open market, which is slated for some time in 2014. As for privacy concerns, those too will soon lessen.
"It's like any other device," said Grossmann. "User ethics and code-of-conduct rules have to be applied. It will be no different with Glass. Applications that ensure HIPAA compliance have already been developed. Google just needs to release the SDK (software developer kits) so they can be uploaded in Glass. The same thing happened with iPod Touches and smartphones. Within months, the industry 'produced' what was needed by the users."
If Grossmann is right, pretty soon we could see Google Glass being used in ER and exam rooms all over the country, not only as a teaching and teleconferencing tool, but also as a clinical documentation tool. Grossmann is really excited about the possibilities ahead with Glass but said it best when talking about innovation in general during his TEDx talk:
"It's not really the technology that makes the level of connection possible. To me, the most incredible thing is that this is so simple, so obvious, so possible, and yet, we never thought of it before. That a gadget made for play is now allowing us to improve patient care and may possibly save lives and thousands of dollars along the way. Technology is the key, but not just technology. Behind every technology is an idea about its successful application. And we the users, in this case as physicians, providers, and patients, can embrace the technology to make it happen. I really think that the best is yet to come."
Related: Is Google Glass The Future of Connected Health? 
Featured image credit: NewsAna
Image credit: IthacaBarbie via photopin cc
photo credit: tedeytan via photopin cc
photo credit: Radboud REshape & Innovation Center via cc