What is the future of medicine? Currently, there is a revolution of changes driven by healthcare reform initiatives, rising healthcare costs and technology. With "transforming healthcare" being the mantra of the healthcare industry, these ambitious efforts take a lot of time, money and essential communication across all key stakeholders.
It is these factors that drove medical futurist, Bertalan Mesko, MD, PhD for creating the The Guide to the Future of Medicine white paper that prepares stakeholders for what is coming next in the future of medicine.
Included in the white paper is an infographic that illustrates 40 key trends and innovations that shape the future of medicine visualized from 3 perspectives:
Which stage of the delivery of healthcare and the practice of medicine is affected by that (Prevent & Prepare; Data Input & Diagnostics; Therapy & Follow-up; and Outcomes & Consequences);
Whether it affects patients or healthcare professionals;
The practicability of it (already available – green boxes; in progress – orange boxes; and still needs time – red boxes)
"The infographic represents the way I see the development of key trends and innovations in the process of delivering healthcare. Some elements could certainly be added to other parts as well, although I chose the points with the most potential, " said Dr. Mesko on his site, Science Roll.
Please use the Twitter hashtag #MedicalFuture for giving feedback on the white paper and infographic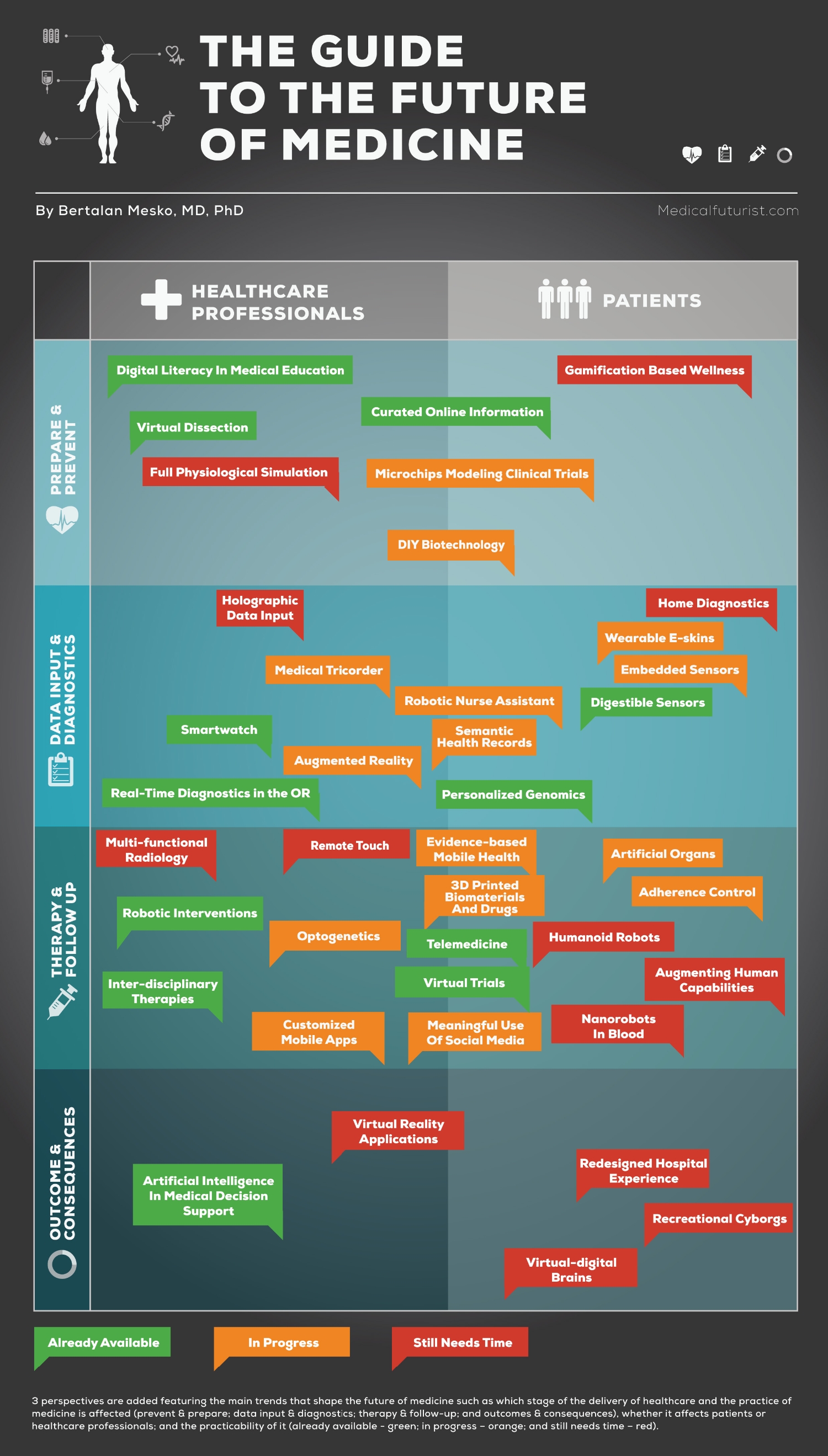 About Dr. Mesko
He is the founder and angel investor of Webicina.com, the first service that curates the medical and health-related social media resources free of charge for patients and medical professionals. He has given over 300 presentations from the Yale, Stanford and Harvard University to the centre of the World Health Organization and the Futuremed course organized by the Singularity University at NASA; and is a health 2.0 consultant for pharma and medical technology companies. Healthspottr.com included him in the Future Health Top 100 list.
He is the author of the multiple award-winning medical blog, Scienceroll.com; and the founder and lecturer of the Social Media in Medicine online and offline university credit course which is the first of its kind worldwide.
He is the author of the first handbook about using social media in the clinical practice.
His work was mentioned by the World Health Organization, Nature Medicine, the New York Times, Al Jazeera, British Medical Journal and Wired Science, among others.
He is a member of Mensa International and the Kairos Society; and an External advisor at Mayo Clinic Center for Social Media. He is a member of the World Future Society.