An in-depth look into how sensors are having a major impact on innovation and the competitive landscape for the life sciences industry (medical devices, diagnostics and pharma).
In his influential book "the Creative Destruction of Medicine", published in January of 2012, Eric Topol highlights wireless sensors as part of the confluence of technologies that will transform the practice of medicine.
Since then, the trends he highlighted have continued:
Smartphones, with their portable computing power, built in sensors and always-on internet connectivity are continuing on their path to ubiquity, with over 56% of the US adult population now having smartphones, and over 500,000 new smartphone users being added every month.   (http://www.asymco.com/2013/07/17/everybody-has-got-a-smartphone/)
Sensor technology has continued to get cheaper, smaller and more sophisticated, with different types of sensors being combined to capture an increasing array of physiological measures.
These sensors can be connected to smartphones via miniaturized, low energy via low energy wireless technologies such as low energy Bluetooth and Near Field Communication (NFC).
As the world population ages and more
Continuous Monitoring
Lightweight, wireless enabled sensor networks connected via smartphones to cloud/server based storage and applications make it feasible to continuously monitor physiological measures.  This is enabling  "aging in place" for the world's rapidly aging population, allowing more older adults and individuals with chronic conditions to remain in the home environment while they are remotely monitored for safety.
This continuous monitoring also forms the basis for innovation in a number of other areas:
Early Detection and Prevention
Data from continuous real time monitoring can be analyzed to provide early detection or in some cases prediction of changes in health status.   This approach is being applied across a wide variety of conditions, including heart disease, epilepsy, parkinsons disease, stroke, dementia, and cancer.  Examples include:
VG Bio's Vitalink, which combines wearable bio sensors, android smartphones and cloud based predictive analytics to enable daily monitoring of patients with heart disease and provides early notification to clinicians of negative changes.
First Warning Systems, which developed a breast health system to detect tumors earlier and cut the rate of false positives and negatives. A sensor device placed in a bra measures cell temperature changes created over time by new blood vessel growth associated with developing tumors. Proprietary software that uses pattern recognition, chronology and artificial intelligence looks for changes in breast tissue that could indicate the presence of a tumor.
Extending Therapies from Clinical Settings to the Home
Sensors capturing movement data can be particularly useful for home-based rehabilitation, often leveraging both wearable and ambient sensors to provide augmented feedback.  Examples include:
Hocoma AG's Valedo, a medical back training device which transfers trunk movement from two wireless sensors into a motivating game environment and guides the patient through exercises specifically designed for low back pain therapy.
Philips Research's Stroke Rehab Exerciser, which coaches a patient through a sequence of exercises for motor retraining.  A wireless inertial sensor system records the patient's movements, analyzes the data for deviations from a personal movement target and provides feedback to the patient and the therapist.
One area where wearable and ambient sensors hold a lot of promise is in the growing field of neurostimulation.  Wearable and ambient sensors can be used to provide real time feedback to improve spinal chord and deep brain stimulation therapies.
Improved Adherence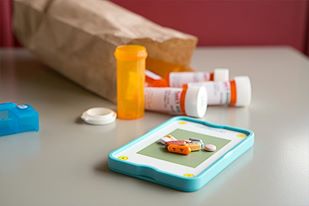 Medication and therapy regimens are only effective if patients adhere to them. Sensors can be applied to monitor adherence and provide inputs to systems designed to improve adherence through alerts, reminders, persuasive design and gamification techniques for patients, caregivers and therapists.
Examples include:
Pillbox lids or smart blisters that use short range wireless to monitor whether a pill has been taken.
Proteus Digital Health's Helius, in which a tiny ingestible sensor implanted in a medicine runs on a charge generated by the patient's stomach acid, sending an ultralow power signal to a wearable patch identifying the ingested medicine and dose.
Management of Chronic Conditions
 "The next logical step in this evolution is for sensors to help manage chronic disease, which affect more than 140 million individuals in the United States, and account for more than 75% of our healthcare expenditures."
– Eric Topol, The Creative Destruction of Medicine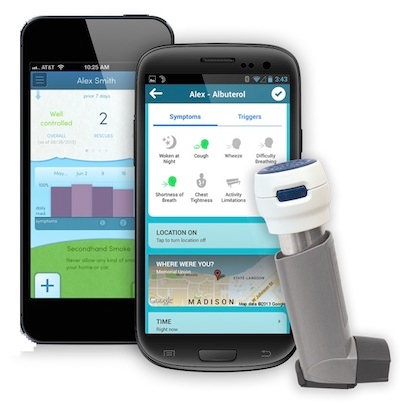 Wearable and ambient sensors can be an important part of an overall system to manage chronic conditions.   An example of this is in Asthma management:
Asthmapolis (now Propeller Health) has developed sensor that attaches to the top of an existing asthma inhaler to keep track of medication dosage, time and place, connected to an iOS or Android Smartphone via bluetooth wireless.  Data can be shared with Physicians for remote monitoring of symptoms.  Data can also be aggregated and analyzed for asthma research and public health purposes.  Asthmapolis received FDA de novo clearance in the summer of 2012.
Measurement of Treatment Effectiveness
"The whole sensor field is going to explode.  It's a little all over the place right now, but with the arc of time it will become clearer."
– Tim Cook, CEO, Apple, 2013
Companies like Apple, currently hiring engineers from the medical sensor industry, are expected to get into the wearable sensor game.
The number of wearable physiological sensors connected to smartphones are expected to grow significantly over the next 5 to 10 years.  As the healthcare industry faces increasing pressure to improve outcomes while lowering costs, the ability to combine data from these sensors with data from other systems to measure treatment effectiveness will become more important, not just in clinical trials, but in the context of managing population health.
Companies that are proactive in using sensor technology together with other techniques to create and demonstrate superior effectiveness will reap significant rewards in this environment.
Featured image credit: juhansonin via cc
Image credit: connectologist via cc