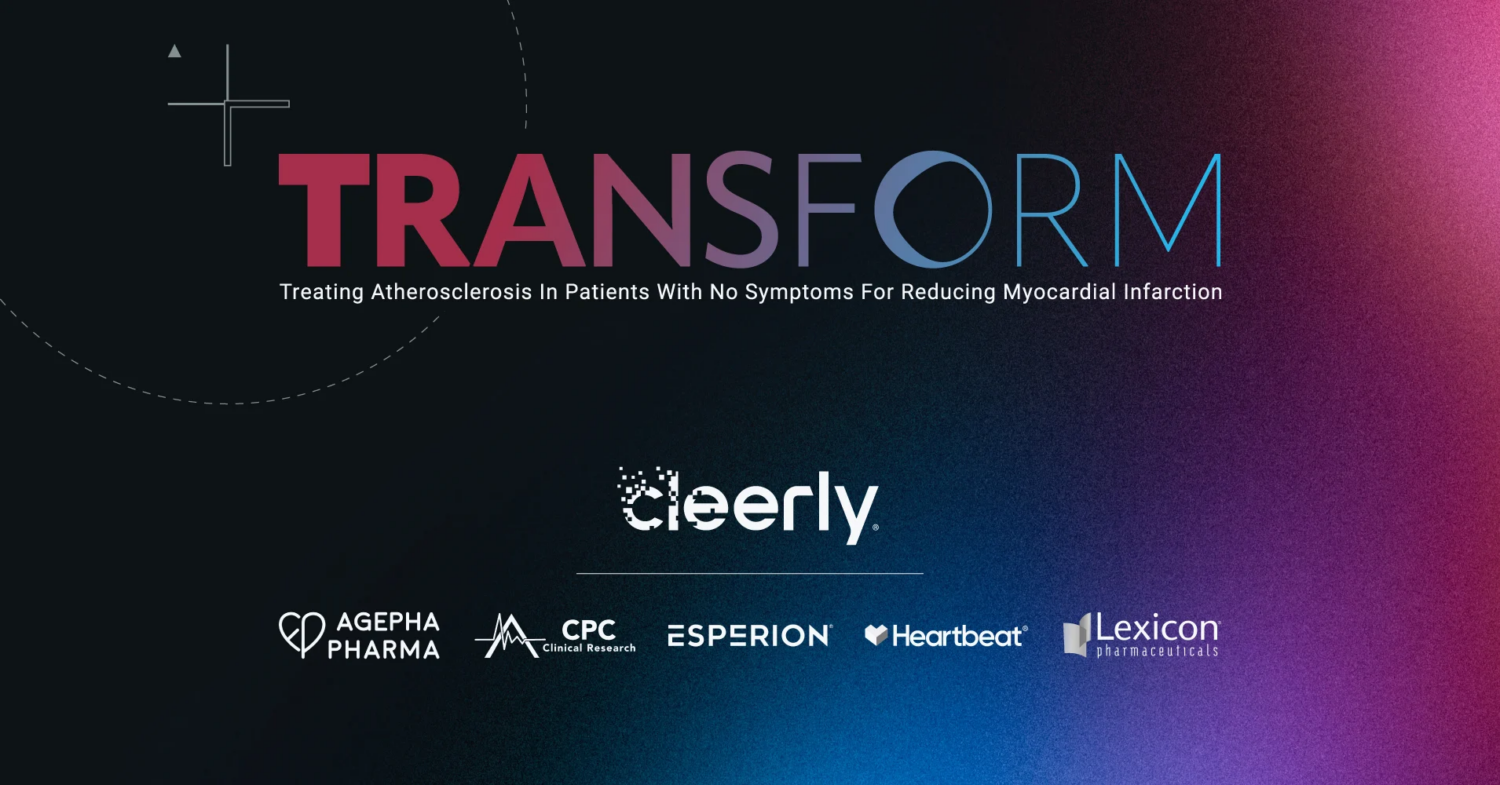 Cleerly, a leading innovator in the field of cardiovascular disease diagnosis, today announced the launch of the TRANSFORM trial at the American Heart Association's (AHA) 2023 Scientific Sessions. This groundbreaking trial aims to revolutionize the way heart disease is prevented by evaluating a personalized care strategy based on Cleerly's AI-powered coronary artery disease (CAD) plaque staging system.
About the TRANSFORM Trial
The TRANSFORM trial is a randomized, controlled trial that will enroll 7,500 patients with pre-diabetes, type 2 diabetes, or metabolic syndrome who have no symptoms of heart disease. Participants will be randomly assigned to either a personalized care strategy or to usual care, and all participants will undergo a coronary computed tomography angiography (CCTA) scan.
Personalized Care Strategy
Patients in the personalized care arm will receive a detailed CAD plaque staging report based on their CCTA scan. This report will provide their healthcare provider with a comprehensive assessment of their coronary artery plaque burden, which is a major risk factor for heart attacks. The healthcare provider will then use this information to develop a personalized treatment plan that may include lifestyle changes, medication, or both.
Usual Care
Patients in the usual care arm will be treated based on traditional cardiovascular risk factors, such as age, blood pressure, cholesterol levels, and smoking status. They will not receive a CAD plaque staging report.
End Goal: Preventing Heart Attacks
The primary goal of the TRANSFORM trial is to determine whether a personalized care strategy based on Cleerly's CAD plaque staging system is more effective than usual care at preventing cardiovascular events, such as heart attacks and strokes.
Partnerships
Cleerly is partnering with several leading organizations on the TRANSFORM trial, including:
AGEPHA Pharma
CPC Clinical Research
Esperion Therapeutics
Heartbeat Health
Lexicon Pharmaceuticals
American Heart Association
Leadership
The TRANSFORM trial is being led by a team of renowned cardiologists, including:
Deepak L. Bhatt, MD, MPH, FACC, FAHA, FESC, MSCAI, Director of Mount Sinai Fuster Heart Hospital; Dr. Valentin Fuster Professor of Cardiovascular Medicine, Icahn School of Medicine at Mount Sinai
David Maron, MD, C.F. Rehnborg Professor and Professor of Medicine; Director, Stanford Prevention Research Center, Stanford University School of Medicine
Marc Bonaca, MD, MPH, FAHA, FACC, Executive Director of CPC Clinical Research; William R. Hiatt Endowed Chair in Cardiovascular Research; Professor of Medicine, Cardiology & Vascular Medicine and Director of Vascular Research, University of Colorado School of Medicine
Significance of the TRANSFORM Trial
The TRANSFORM trial is a pivotal study that has the potential to transform the way heart disease is prevented. By identifying patients at high risk of heart attacks based on their individual coronary artery plaque burden, healthcare providers can develop personalized treatment plans that can help to prevent these events.
Next Steps
TRANSFORM trial recruitment is scheduled to close in late 2025, and results can be expected in late 2028. For more information, please visit transformtrial.org.