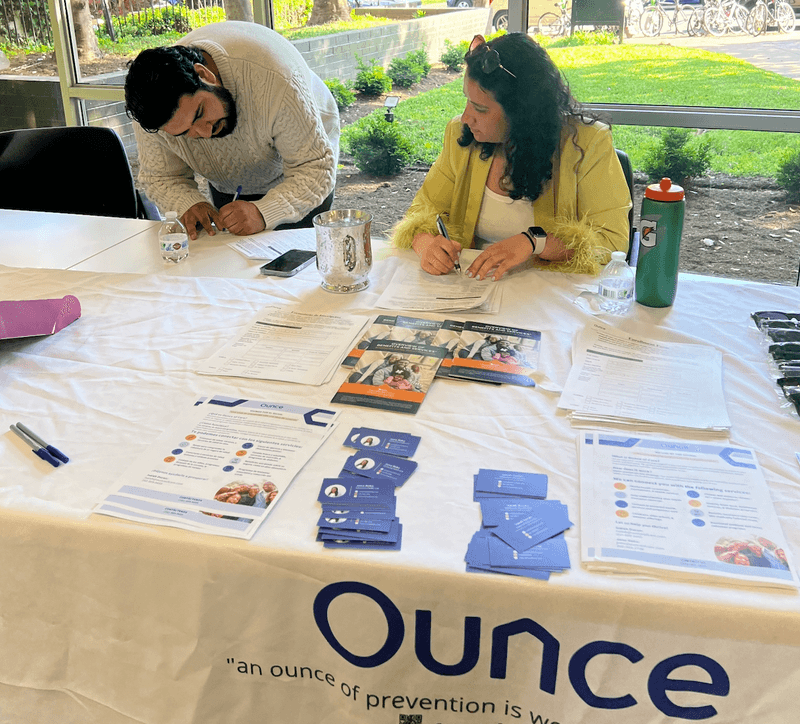 What You Should Know:
– Ounce, a company bridging the gap between health and housing has raised a $5.2M seed round co-led by Meridian Street Capital and Flare Capital Partners with participation from Chelsea Clinton's Metrodora Ventures Wilshire Lane Capital, Chris Nassetta (Hilton CEO), Taylor Justice (Unite Us cofounder), and others.
– Ounce Community Health Workers (CHW) currently serve more than 2,000 D.C. residents, helping them enroll in Medicaid, apply for energy assistance, schedule PCP and pediatrician appointments, avoid eviction, and connect with community resources for transportation and nutritious food, among many other services.
Building Bridges Between Housing and Health
Today, more than 300,000 D.C. residents are enrolled in Medicaid and approximately 27,000 low-income D.C. households face housing hardship. Making matters worse, as of June 21 this year, Medicaid redeterminations have resulted in 3,000 D.C. residents losing access to critical health coverage. Access to health insurance and a safe and affordable place to call home is fundamental to many areas of life, including school performance, job retention, physical and mental health, and economic security. Medicaid managed care organizations (MCOs) are committed to improving health outcomes for this population, but struggle to engage them due to factors such as invalid or frequently changing contact information, lack of trust in the healthcare system, limited access to transportation, low health literacy, and inadequate childcare support.
To address these issues, Ounce embeds its team of trained Community Health Workers (CHWs) within affordable housing properties where they directly connect and regularly engage with residents, building trusted relationships over time. The CHW model is widely recognized as playing a crucial role for Medicaid beneficiaries by providing personalized support, education, and guidance that empowers individuals to navigate complex healthcare systems, adhere to treatment plans, and address social drivers of health, ultimately leading to improved health outcomes.
Ounce CHWs evaluate residents for gaps in care, host onsite health clinics and screenings, enroll residents in public benefits like Medicaid, SNAP and disability, and connect residents to healthcare and social services, including scheduling primary care and pediatric appointments or helping residents apply for rental assistance. This approach benefits not only residents and Medicaid MCOs, but also property owners, who choose to work with Ounce because it's a scalable solution that can help them demonstrate positive health and social impact from their property services.
"There is an enormous gap between health plans and where their members spend over 70 percent of their time – their homes. Our highly trained team leverages technology to conveniently engage people where they are, deliver impactful services, and lower healthcare costs for residents and insurers," said Rachel Munsie, co-founder and CEO, Ounce. "Our success is largely due to the trusted relationships we're uniquely able to build with residents and the convenience of our services, all delivered within the existing community infrastructure. Our integration with the properties and our proximity to residents gives us the opportunity to quickly intervene with support when we see red flags like eviction notices or other indicators for housing instability, which has clear links to healthcare outcomes."
Initial Service Launch in Southeast DC
Ounce chose to launch its services in Southeast D.C. before expanding to the rest of the city. Southeast D.C., which is predominantly Black, has higher rates of poverty and gun violence due to chronic underinvestment and has been identified as both a food and healthcare desert. Despite these challenges, Ounce was able to engage and enroll over 30 percent of residents into its program just months after launching, immediately expanding access to care and critical benefits where it's needed most. Ounce has since maintained engagement rates that are significantly higher than the single-digit rates typical of traditional care models. As a result of this high level of direct engagement, residents who get support from Ounce receive, on average, multiple services at a time. High engagement rates can also be attributed to Ounce's practice of recruiting CHWs who are from or deeply familiar with the communities they serve.
Strategic Partnerships with with AmeriHealth Caritas DC
In addition to its close partnership with AmeriHealth Caritas D.C., Ounce has partnered with the National Housing Trust, a nonprofit organization that focuses on preserving and improving affordable homes for low-income families. "By combining our expertise in affordable housing preservation with Ounce's innovative approach to resident services, we are creating a transformative impact on the well-being of our communities, ensuring that quality housing and comprehensive health support go hand-in-hand," said Priya Jayachandran, CEO of the National Housing Trust.
Ounce also works closely with D.C.-based providers such as C3Cares and Urgent Wellness, along with several local community organizations including: Bread for the City, Capital Area Food Bank, Giant Healthy Living, Latin American Youth Center, Martha's Table, So Others Might Eat, UPO Workforce Institute, and many more.