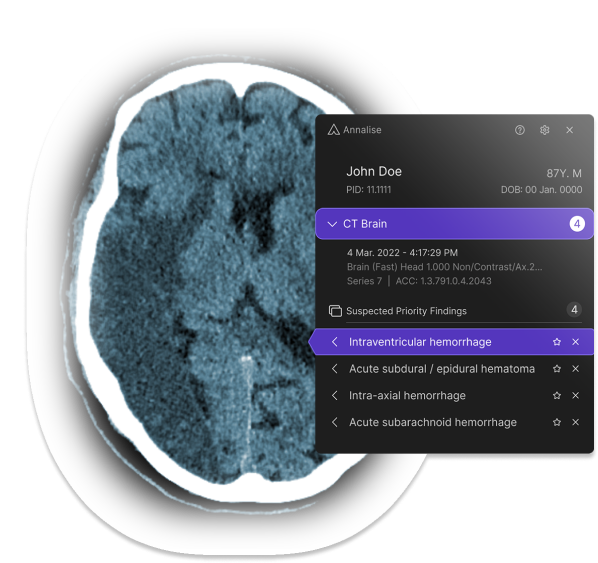 What You Should Know:
Annalise.ai, a leader in AI-powered medical imaging solutions, announced the receipt of 510(k) clearance from the U.S. Food and Drug Administration (FDA) for the triage and notification of obstructive hydrocephalus (OHCP) on non-contrast brain CT scans.
Annalise.ai has also received FDA Breakthrough Device Designation for its obstructive hydrocephalus software tool. This is the first radiology triage device to be granted Breakthrough status since the inception of the FDA Breakthrough Devices Program*.
AI-Driven Paradigm Shifts in Neuro-Radiology
The FDA's Breakthrough Devices Program identifies medical devices that improve the treatment or diagnosis of life-threatening or debilitating conditions. It aims to grant quick access to these devices to healthcare providers. To be authorized for marketing, these devices must meet the FDA's strict safety and effectiveness standards.
Annalise.ai's cutting-edge solution enables both passive and active notifications for suspected OHCP cases identified on unenhanced head CT scans. The newly cleared algorithm bolsters Annalise.ai's U.S. portfolio to a total of ten FDA-cleared findings – five for chest X-rays (CXR) and five for head CT scans (CTB), positioning Annalise.ai as a provider of one of the U.S.'s most comprehensive FDA-cleared AI triage solutions.
Lakshmi Gudapakkam, CEO of Annalise.ai, stated: "Our FDA clearances, including this latest addition, underscore our dedication to revolutionizing medical imaging. Annalise.ai is proud to offer a comprehensive suite of AI solutions that significantly enhance diagnostic capabilities and assist in delivering prompt, life-saving interventions for conditions like obstructive hydrocephalus."
Obstructive hydrocephalus, a potentially life-threatening condition, involves the accumulation of cerebrospinal fluid in the cranial vault, leading to elevated intracranial pressure that can escalate rapidly if left untreated. The Breakthrough Device Designation from the FDA highlights Annalise.ai's commitment to expediting patient access to advanced medical solutions that address critical healthcare needs.