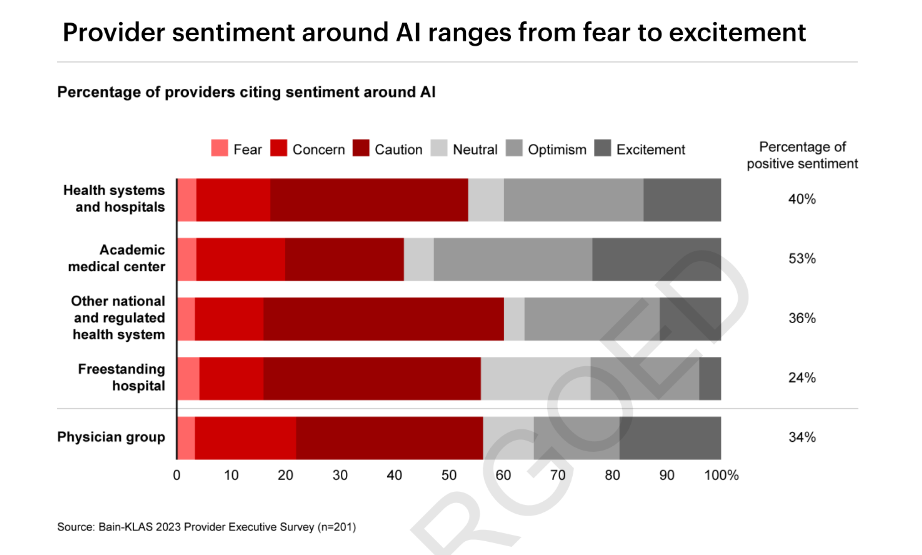 What You Should Know:
A new study from Bain & Company and KLAS Research shows US healthcare providers are accelerating spending on IT and software. The research shows nearly 80% of healthcare executives say they increased spending materially over the past year, spurred by emerging technologies—particularly generative AI—labor shortages, and cost pressures.
The survey of more than 200 US healthcare provider executives showed nearly 75% are expecting growth in software and technology spending to continue over the next year. These are among the findings of Bain and KLAS's 2023 Healthcare Provider IT Report.
Key Insights from the 2023 Healthcare Provider IT Report
Academic medical centers (AMCs), as well as large hospitals and health systems, expect a stronger increase in their own spending than smaller operators due to a greater focus on innovation and financial flexibility. Top drivers of new investment include technological advances and the availability of new solutions, particularly around patient engagement and cybersecurity, with intense labor shortages and financial pressures driving spending.
"As AI moves out from the silos of the IT department and into the C-suite agenda, providers are accelerating their investments in IT and tech solutions and looking to streamline their vendor lists," said Eric Berger, a partner in Bain's Healthcare & Life Sciences practice. "AI has the power to transform many processes and workflows. However, this shift hinges on the technology's ability to demonstrate productivity gains in real-world applications without increasing clinical risk. The best vendors will offer AI and other technologies that create clear returns to providers and help mitigate structural challenges facing the US healthcare industry."
Prioritizing revenue cycle management and clinical workflow optimization
Driven by financial challenges and shrinking margins, the study shows executives prioritize investments in areas with clear, near-term ROIs, such as revenue cycle management (RCM) and clinical workflow optimization software. Patient engagement has moved up the list of priorities, particularly among more advanced or digitally mature providers. In addition to RCM and clinical workflow optimization, the survey found freestanding hospitals and physician groups are prioritizing other core systems, namely electronic health records (EHR) and IT infrastructure.
Providers want fewer vendors and seamless EHR integration
Providers continue to express a preference for fewer vendors. The survey showed nearly two-thirds of respondents saying they look first to existing vendors, especially electronic health record providers, for new functionality before evaluating new vendors and offerings. While 94% of respondents are open to looking elsewhere if existing vendors lack a solution or have a significant functionality gap, seamless EHR integration is a key purchasing criterion for all healthcare providers evaluating IT solutions.
AI strategy moves from the IT department to the C-suite
Around 70% of health system respondents indicate they believe AI will have a greater impact on their organization than last year, moving AI strategies from the IT department to the C-suite. While only 6% of respondents have a generative AI strategy today, the survey found about 50% of respondents are actively developing a strategy or planning to do so in the near-term. Relative to other provider segments, AMCs lead in AI adoption both today and over the next year. Providers with more advanced AI strategies, especially AMCs, have positive AI sentiments overall due to the potential for greater efficiency, improved patient outcomes, and cost savings.