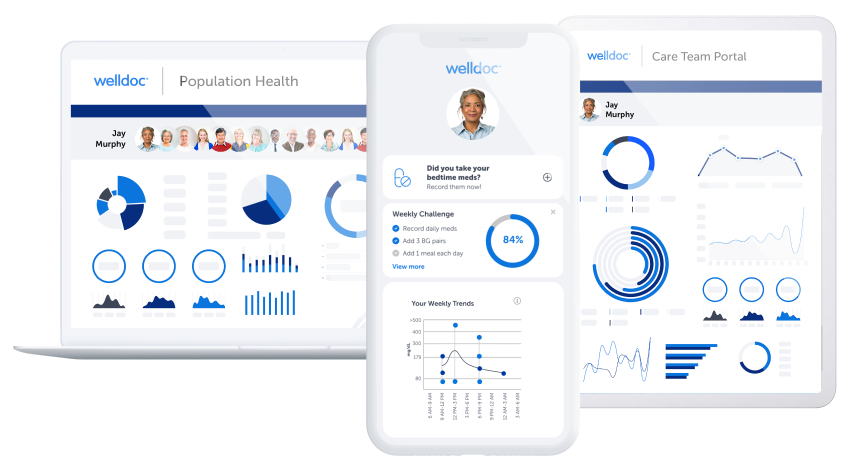 What You Should Know:
Welldoc®, a digital health leader revolutionizing chronic care, today announced the receipt of its 11th 510(k) clearance from the Food and Drug Administration (FDA) for its award-winning diabetes digital health solution, BlueStar®.
This clearance immediately follows Welldoc's 10th 510K clearance announcement earlier this month, solidifying the company's continued leadership in chronic care innovation.
A Continuous Glucose Monitoring (CGM) Informed Bolus Insulin Dose Calculator added to Welldoc's diabetes digital health platform, BlueStar
Welldoc's latest 510(k) enables BlueStar to provide bolus insulin dose recommendations based on the most recent glucose reading and rate of change from a compatible CGM device. This feature enhances BlueStar's existing digital coaching capabilities, which guide dietary and lifestyle decisionsandassistindividualsinself-managingtheirdiabetes. Welldocisthefirstcompanyto receive clearance for a CGM-informed bolus calculator specifically designed for adults who manage their diabetes with multiple daily injections of insulin.
"This 11th 510(k) clearance is a remarkable achievement for Welldoc and demonstrates our steadfast commitment to transforming chronic care. We are dedicated to creating new digital health capabilities which leverage the latest innovations like CGM to develop more connected and personalized solutions for individuals with complex health needs," said Kevin McRaith, President and CEO of Welldoc.
Welldoc's comprehensive chronic care platform provides multi-condition support across pre- diabetes, diabetes, hypertension, heart failure, weight and obesity management, and mental wellbeing. Welldoc's flagship product, BlueStar® guides individuals through the complicated journey of living with diabetes by enabling them to self-manage their care while enhancing connections to their healthcare team.
Welldoc partners with health plans, health systems and employers with the goal of extending care, improving health and reducing costs. CGM continues to grow in utilization across broader populations living with type 1 and type 2 diabetes. This enhanced functionality will help the organizations who support these populations provide extended diabetes management services and care.