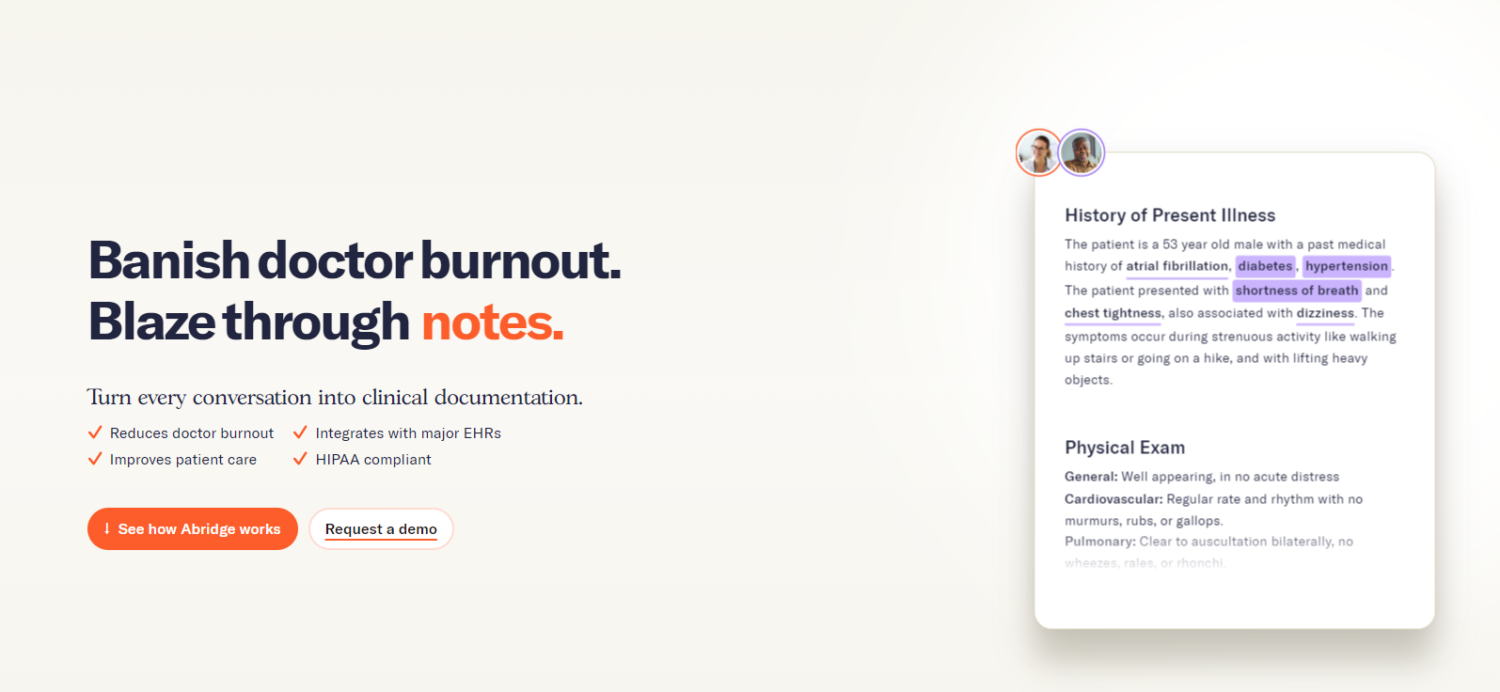 What You Should Know:
Abridge, the leader in generative AI for clinical documentation, is now the first Pal in Epic's Partners and Pals program.
The collaboration will make Abridge's generative AI-based documentation solution available for integration in Epic's clinical workflows, giving providers the ability to generate real-time, structured summaries of their patient conversations with complete auditability. Together, Abridge and Epic aim to help providers be more present and attentive to patients while also creating better notes, faster.
Bringing Generative AI to More Providers and Patients
"I have used Epic through all my medical training, and then also as an attending cardiologist. It's a special privilege for Abridge to partner now with Epic, the electronic medical record I know best and that I continue to use on a regular basis in my practice," said Dr. Shivdev Rao, co-founder and CEO of Abridge. "It's one thing to see the power of generative AI, and another thing to experience draft notes and structured data directly returned into the various parts of the clinical workflow—from documentation to order entry and beyond, all inside Epic."
The goals of the Abridge-Epic collaboration include:
Helping providers focus on patients and reduce time spent on documentation. Providers who use Abridge currently save two hours per day on average, and deep integration into their Epic workflows will create additional time-saving opportunities. Deeply integrated EHR tools take up to 75% less time for a physician to use than an external app or web site.
Helping patients get a better understanding of their conversations with providers with notes that flow directly into their record.
Helping health systems adopt generative AI-based solutions rapidly by offering providers a simplified, consistent experience after as little as two weeks of implementation.

Abridge and Emory Healthcare Collaborate on Medical Conversations
Also, today, Abridge and Emory Healthcare, the most comprehensive academic health system in Georgia with over 3,450 clinicians, announced a milestone enterprise-wide agreement to make available Abridge's Epic-integrated generative AI solution for note taking over the next three years.
The solution will feature Abridge with Epic ambient technology integration and positions Emory to leverage further gains from Epic and Abridge's deep partnership.
"From mouse clicks and flowsheet rows to direct dialogue with patients, Emory's deep collaboration with Abridge will help providers focus on the patient and better capture patients' needs, while simultaneously removing administrative burden," said Dr. Alistair Erskine, Emory's Chief Information and Digital Officer. "It is important to Emory that near instant conversion of conversations to clinical notes is completely integrated into the Epic experience, which extends beyond physicians to nurses and other members of the care team, since the administrative burden is broadly shared amongst all of us."
This news comes on the heels of successful deployments of the Abridge technology and Epic workflow integrations at The University of Kansas Health System and UPMC.