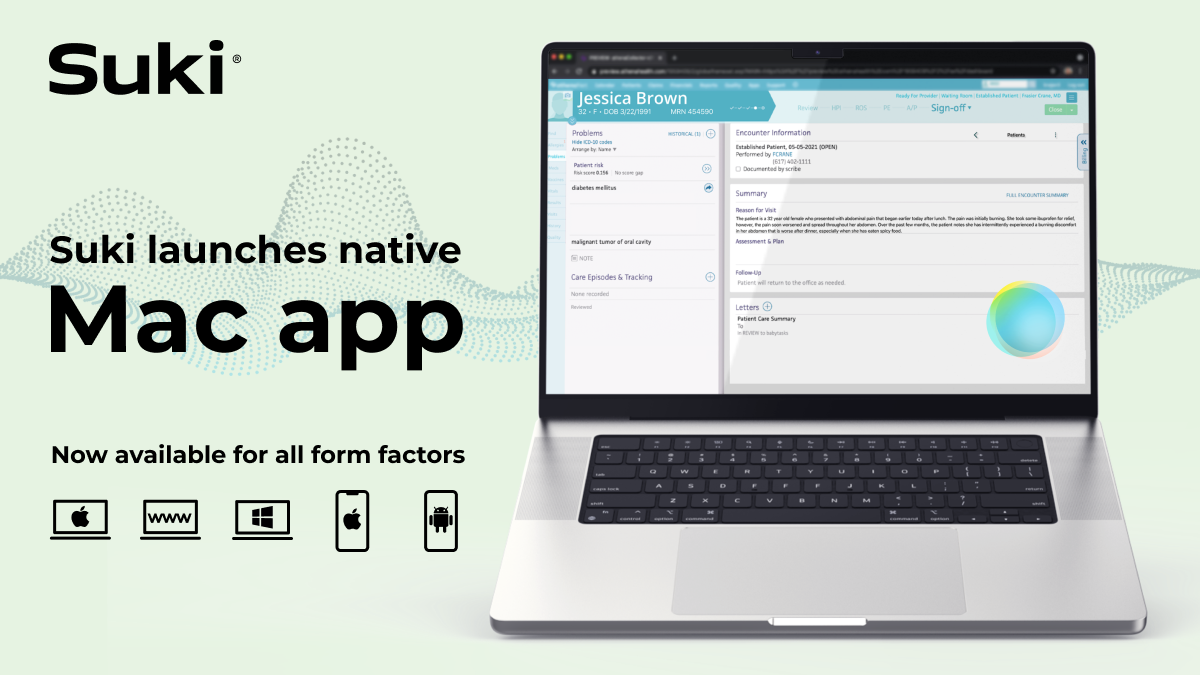 What You Should Know:
Suki, the leader in voice artificial intelligence (AI) technology for healthcare, recently announced the launch of a native Mac app as part of its Suki Dictate offering to further its mission of building the most comprehensive solution in healthcare.
Suki Dictate on Mac expands the use of Suki's proprietary technology to serve clinicians everywhere and makes Suki the only voice assistant that supports all platforms including iOS, Android, web, Windows, and now Mac.
AI-Driven Voice Assistance for Comprehensive Healthcare Soltuions
Suki Dictate on Mac is available at no additional cost to all Suki Assistant users. Many of Suki's partner practices use Mac computers; in addition, many clinicians choose to use Mac for their personal devices and until now, haven't had access to a dictation solution that works, making this a game changer for the company and the industry as a whole.
"Our core value is 'every pixel is in service of the clinician'," said Anmol Rastogi, Suki's Sr. Director of Product. "We want to help lift the administrative burden from every clinician, whatever the circumstance. For far too long, Mac users who wanted a dictation solution had no options. The launch of Suki Dictate on Mac officially rounds out our solution set and lets us serve this neglected audience, with no additional cost to our users."
On average, clinicians spend two hours on administrative work for every hour of patient care – showcasing the need for Suki's technology and the potential it has to impact the industry. This announcement comes off the heels of Suki's integration with Epic in May of 2023 which greatly streamlines workflows by enabling notes created by Suki to automatically sync to the relevant fields in Epic. Suki's user-centric approach and speed of innovation are drivers of its success. Many medical tools are not designed with clinicians' workflows in mind, making them hard to implement and use across practices. Suki changes that by putting the clinician at the center of everything they do, from development to execution.