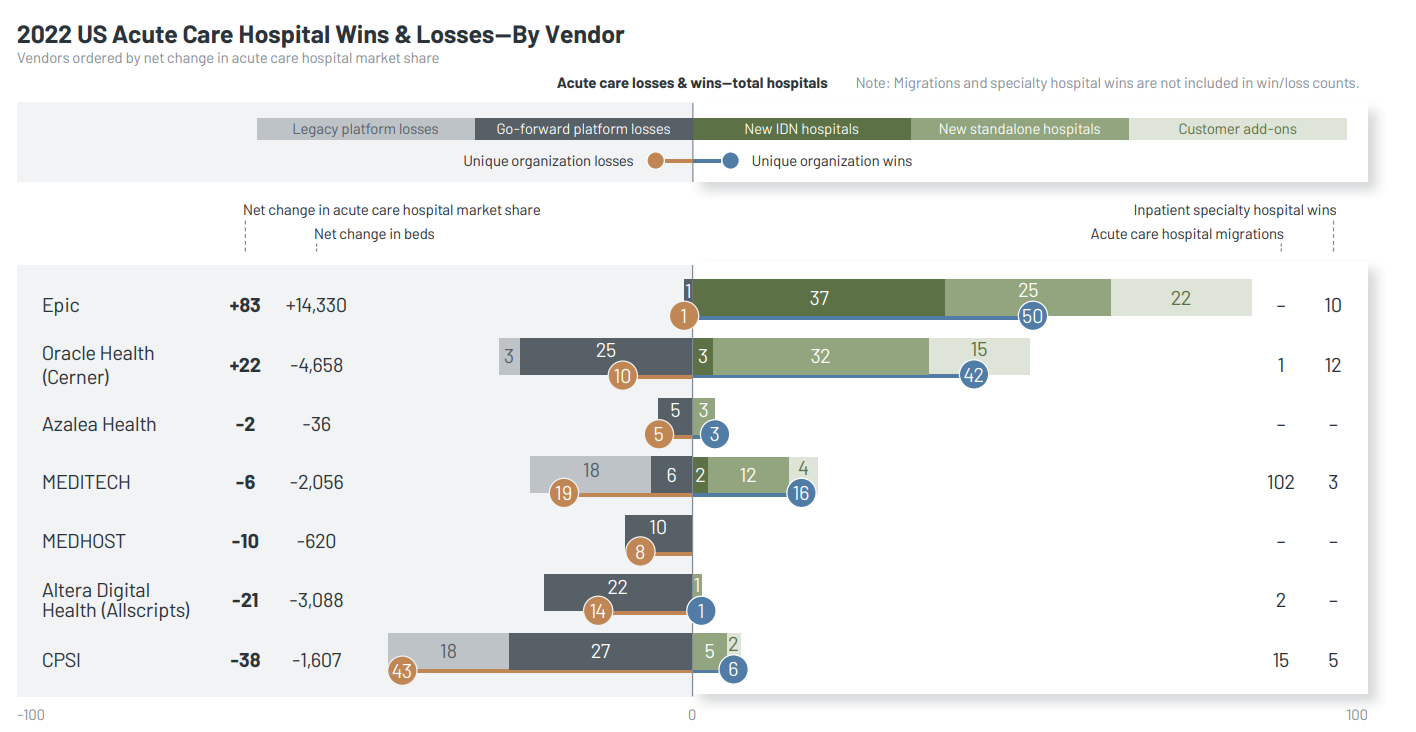 What You Should Know:
EMR purchasing continued at a strong pace in 2022 and included a significant uptick in migrations and small-organization decisions. Improvements to clinician satisfaction, interoperability, and revenue cycle stability were the primary drivers.
A new report by KLAS examines these and other trends in EMR purchases that occurred in the US from January–December 2022.
Analyzing US Hospital EMR Market Share 2023
Key insights are explained as follows:
Oracle Health (Cerner) Achieves Double-Digit Hospital Growth with Small Hospital Wins; Large Hospital Losses Lead to Decline in Beds
In 2022, Oracle Health (Cerner) experienced a noteworthy increase in the number of hospitals they served, marking their first double-digit net gain since 2018. However, unlike previous years, where growth was primarily driven by expansion from major clients, Oracle Health's hospital gains in 2022 were largely attributed to small standalone hospitals choosing the CommunityWorks platform. Among the 50 acute care wins, 49 were hospitals with fewer than 200 beds, making it the fifth consecutive year that Oracle Health signed the most hospitals of this size.
Additionally, almost three-fourths of these wins were for the CommunityWorks platform. However, despite the positive growth in terms of hospital count, Oracle Health faced a significant decline in overall bed count due to the disparity in size between the small hospitals they gained and the larger hospitals they lost. This decline in beds was the highest among all vendors mentioned in the report. The departure of larger Oracle Health customers can be attributed to ongoing challenges in the revenue cycle. On the other hand, smaller hospitals continue to utilize the platform, although some express concerns about their experience with Cerner Patient Accounting/CommunityWorks Financials
MEDITECH Sees Record-High Legacy Migrations but Loses Market Share
In 2022, MEDITECH achieved the highest number of hospital wins among all vendors, securing 120 hospitals. The majority of these wins (102) were due to legacy migrations, indicating competitive decision-making. A significant portion of the migrations resulted from a single MAGIC customer evaluation process, leading them to choose MEDITECH's Expanse platform. This record-breaking contract not only resulted in the highest number of hospital migrations for MEDITECH in a single year but also showcased its strong customer retention rate. However, despite the success in hospital wins, MEDITECH experienced a decrease in market share in terms of beds and total hospitals. This decline was primarily influenced by M&A activities and standardization efforts by larger customers, which accounted for 13 of the hospital losses. Additionally, a considerable number of legacy customers (nine) opted to move to other vendors' platforms, with a preference for Epic's Community Connect model. Two customers also decided to leave the Expanse platform.
Continuing to Outpace the Market, Epic Is the Only Vendor with Positive Net Change in Hospital Market Share and Number of Beds
Epic remains the leading choice for large organizations and has further solidified its position in the market, creating a widening gap between itself and other vendors. They continue to attract customers from all electronic medical record (EMR) vendors, even those not specifically mentioned in this report. Epic's presence in the healthcare industry is extensive, covering nearly half of all acute care beds in the United States. Their customer base includes the majority of the largest and well-resourced academic medical centers in the country. In 2022, Epic experienced only one loss, which came from a Community Connect customer opting to switch to CPSI. Importantly, this decision was not influenced by mergers and acquisitions or standardization activities.