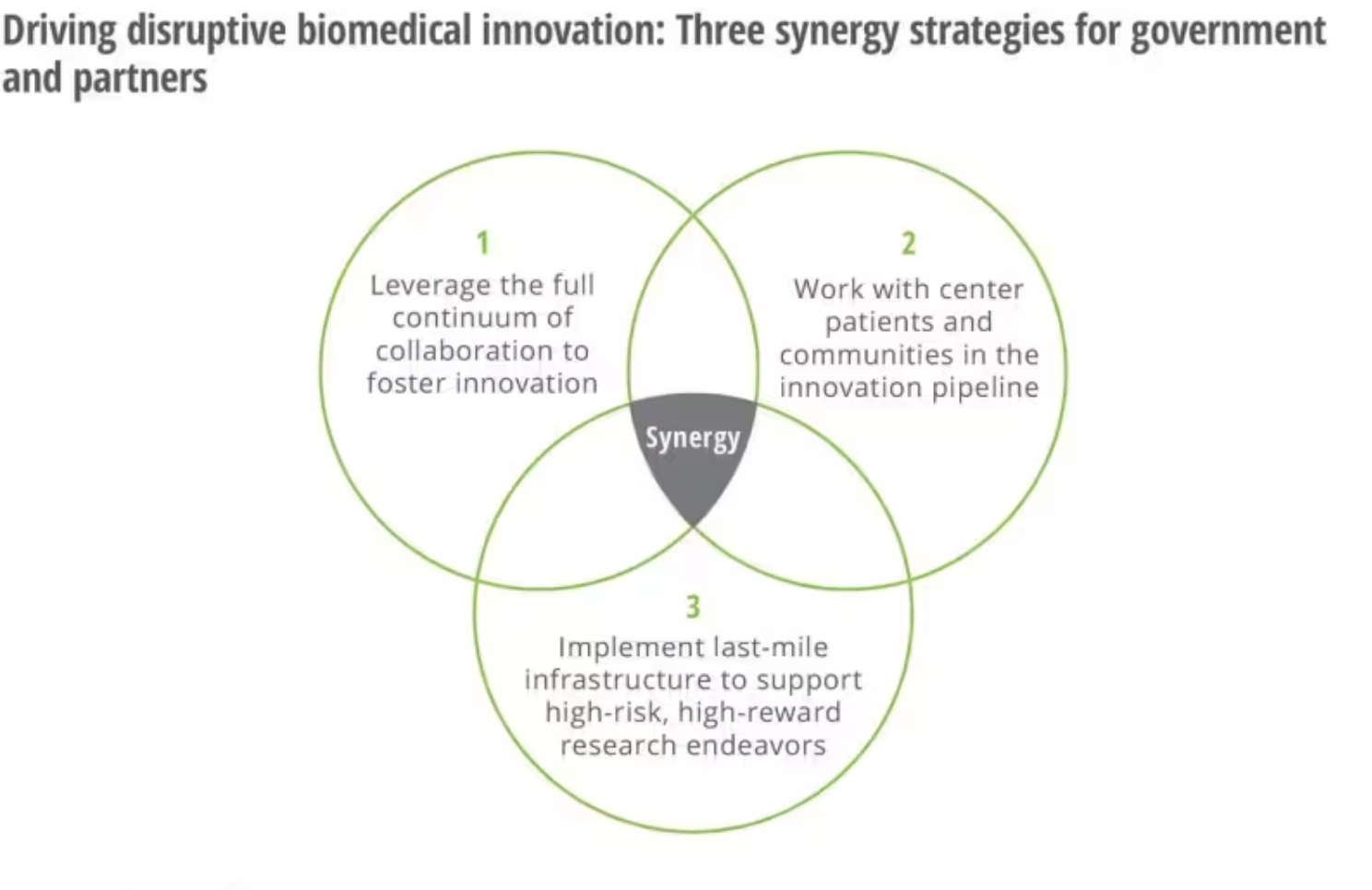 What You Should Know:
Deloitte has published some new research about how government can advance biomedical innovation and improve public health.
The report shares insights from various government leaders and biomedical industry experts on lessons learned from the COVID-19 pandemic, what's driving innovation, the challenges and opportunities in partnerships, and the government's role in sustaining the biomedical industry.
Understanding How the Government Can Catalyze Biomedical Innovation
The COVID-19 pandemic showcased a successful collaboration between the government and its partners in advancing care for various diseases. This involved prioritizing affected patients and communities, facilitating real-time information sharing, collectively setting targets, incorporating regulatory guidance, and planning for the dissemination of discoveries. The rapid development of COVID-19 therapeutics demonstrated a transformative approach by the government in promoting innovation. Preserving these practices is crucial to sustain the momentum for faster innovation, treatments, and cures. A new study by Deloitte examines how the government can utilize the lessons learned from collaborative innovation during COVID-19 to expedite biomedical innovation.
A literature review and interviews were conducted with 15 leaders from various sectors, including government, biopharma, nonprofits, academia, and philanthropy, with the objective being to analyze the lessons derived from the COVID-19 response, identify the main factors driving innovation, explore challenges and opportunities in partnerships, examine the government's role in discovery and development, and propose strategies to maintain the momentum of accelerated biomedical innovation.
Key findings generated showed the 3 ways the government can catalyze biomedical innovation, which are mentioned and explained below:
Leverage the full continuum of collaboration to help foster innovation: In retrospect, partnerships played a pivotal role in the COVID-19 response, fostering breakthrough innovation. To avoid squandering valuable discoveries, it is essential to codify the lessons learned from these collaborations. The ACTIV collaboration, which coordinated multiple clinical trials and shared its findings, serves as an exemplary model for future biomedical science collaborations. The intensity and focus of these partnerships during the pandemic resulted in unprecedented speed and success in developing therapeutics and vaccines. Additionally, optimized partnerships provide a structured framework for innovation, requiring the identification of suitable partners, clear goals, and effective agency coordination. Addressing ecosystem-wide problems incentivizes collaboration, while the dissolution of silos is necessary to overcome obstacles. Evaluation and measurement of collaboration progress can inform future efforts and drive better outcomes. Supporting academic research partners through investments and providing them with time and aligned incentives are crucial for fostering innovation.
Prioritize patients and communities in the innovation pipeline: A co-creation process involving multiple stakeholders can effectively address ecosystem-wide problems by sharing responsibility and working together. Incorporating patient and community perspectives in research is undoubtedly crucial for improving efficiency and effectiveness. Initiatives like the NIH Community Engagement Alliance (CEAL), Clinical and Translational Science Award (CTSA) program, and Patient-Centered Outcomes Research Institute (PCORI) have made progress in involving patients in research and decision-making. Designing for equity ensures that the benefits of innovation are accessible to all, especially marginalized groups. Community-based participatory research programs, such as the Community Based Participatory Research Program (CBPR) and All of Us Research Program, emphasize equal partnership and diverse participation. Patient-centricity and community collaboration build trust and generate impactful outcomes. Nonprofits play a vital role in addressing patient needs throughout the innovation process. Government coordination and patient inclusion are essential for efficient decision-making and problem-solving. ARPA-H could benefit from a Patient Advisory Council to incorporate real-time input and scale the organization.
Implement last-mile infrastructure to support high-risk research endeavours: Government's contribution to the last mile of the research and development pipeline can be categorized into three main mechanisms:
Quicken the pace of innovation:
Offer researchers the space to take bigger risks with programs like ARPA-H, complementing traditional NIH-funded research.
Create a culture of experimentation and measured risk-taking, fostering breakthrough disruption areas.
Focus on eliminating ideas likely to fail early in the process, reducing overall development costs.
Leverage lessons from DARPA and ARPA-E to generate new capabilities and platform technologies in the health sector.
Fund place-based innovation ecosystems:
Avoid systemic traps and fund a diverse pool of researchers, not just well-known institutions or areas with high funding.
Recognize the importance of local community-based ecosystems in driving innovation.
Support innovation clusters in new locations by funding promising new investigators and providing specialized infrastructure.
De-risk the commercialization process through incentives and subsidies:
Government investment in biomedical areas does not reduce private spending on R&D.
Subsidize research and development in high-risk, high-expected social return areas.
Push incentives reduce development costs through financial, tax, and technical incentives.
Pull incentives ensure developers' financial viability by rewarding relevant and scientifically viable developments.