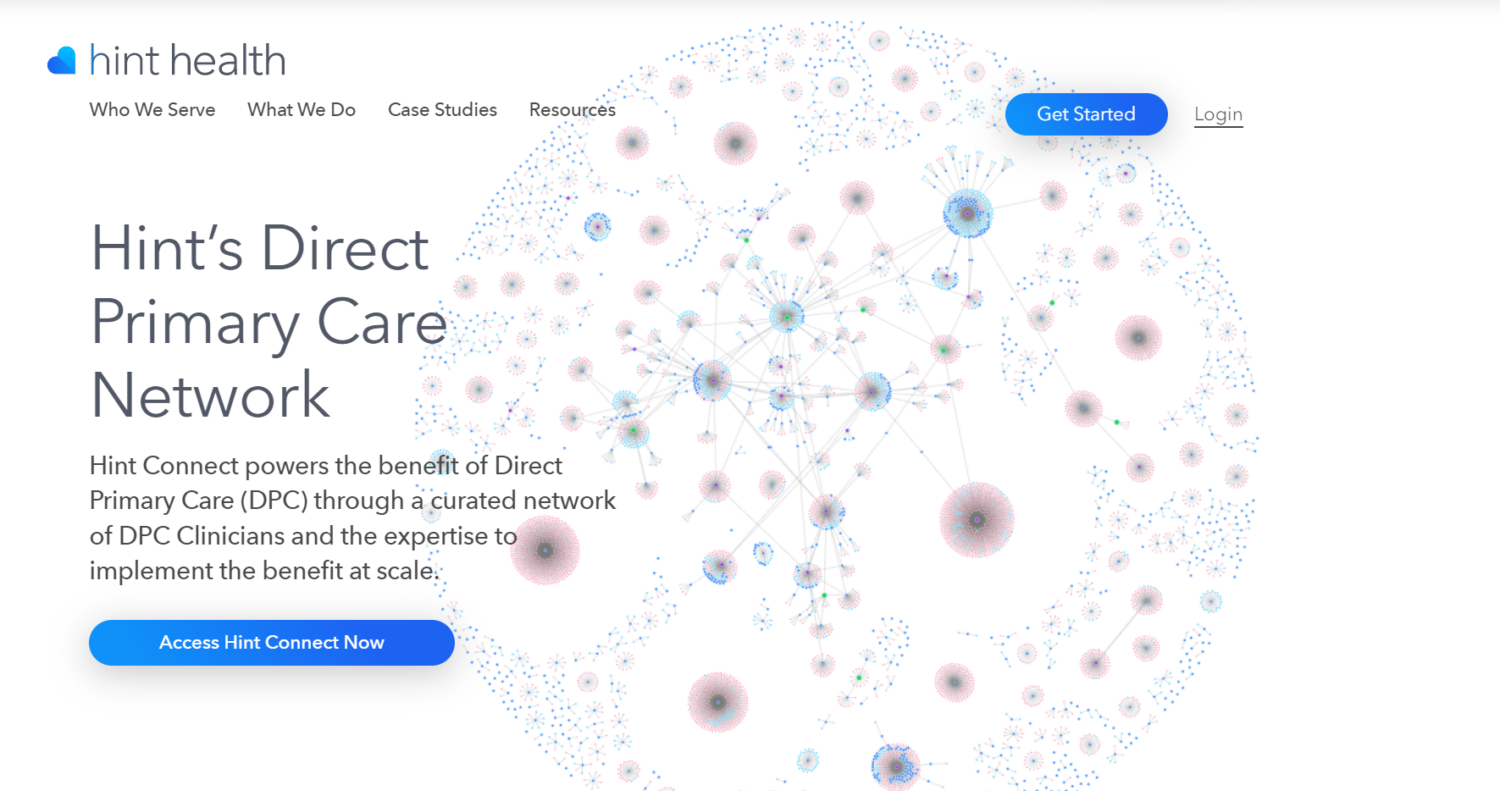 Hint & Eden Partner to Expand Virtual Direct Primary Care Offering Nationwide
What You Should Know:
Hint Health, the company powering the Direct Primary Care (DPC) movement, and Eden Health, a leading national virtual and in-person primary care provider, today announced a partnership to expand the Hint Connect footprint with a virtual DPC offering across all 50 states.
This partnership allows employers to offer a DPC network nationwide for patients who don't have convenient access to a DPC practice in their communities.
Innovation in Healthcare Via In-Person and Virtual Direct Primary Care Plans
According to a poll, less than half of Americans are satisfied with the quality of U.S. healthcare. Long wait times to see a doctor, short appointments, and lack of coordination between care settings leave patients feeling like no one cares about them or their health. Furthermore, healthcare costs continue to rise despite a worsening patient experience.
The benefits of Direct Primary Care include:
Access: DPC physicians typically offer same-day or next-day appointments and use technology like telemedicine, e-mail, and text messaging to make themselves more accessible to their patients on demand.
Quality: DPC providers are able to spend more time with their patients. Standard primary care providers only have an average of 17 minutes to spend on each patient; with DPC, providers spend up to an hour with patients to uncover the root cause of complex health issues and offer holistic care.
Cost: DPC is proven to sharply decrease costs and utilization in higher cost of care settings, including emergency department, hospital inpatient, and outpatient specialty costs. With DPC, patients pay one transparent, monthly fee and know exactly what is covered. They are able to visit the doctor when needed, instead of waiting until healthcare concerns get worse.
Hint Connect is a nationally scaled network of Direct Primary Care practices that excels at building trusted clinical relationships locally. When employers or plans offer Hint Connect, members can choose between a fully virtual primary care model or an in-person/virtual hybrid based on their personal preference, geography, and health needs. When members select the in-person/virtual hybrid model, they and their families register with Hint Connect and choose a nearby DPC location. There is no copay or coinsurance for visits.
When members choose the fully virtual primary care experience with Eden Health, they will be able to connect with their provider within minutes and at the touch of a button, 24/7/365. Unlike many other telehealth solutions, patients meet with the same clinician throughout their care journey, allowing them to develop a trusting, longitudinal relationship with their provider. All clinicians are fully-employed by Eden Health and are dedicated to serving their patient panel virtually. Patients receiving virtual care through Eden Health have access to primary care, urgent care, chronic disease management, wellness and care coordination services, all through a single app and free of cost.
"Eden Health clinicians are more than just someone picking up extra hours after their full-time shift ends," said Hint Health CEO, Zak Holdsworth. "Eden's pioneering work to champion a true virtual Direct Primary Care model will allow us to further achieve our mission of making DPC the new standard in U.S. healthcare."
This partnership means that employers and plans will no longer have to make the tough decision between local options and virtual-only options. Instead, employees will have the opportunity to choose the plan that's right for them to receive the highest quality, full access, primary care for one flat membership fee built into their health plan. Hint Connect simplifies enrollment and eligibility management, billing, and invoicing for a seamless benefit management experience.
Together, Hint and Eden offer a uniquely comprehensive solution for organizations looking to solve the national problem of healthcare access and quality.