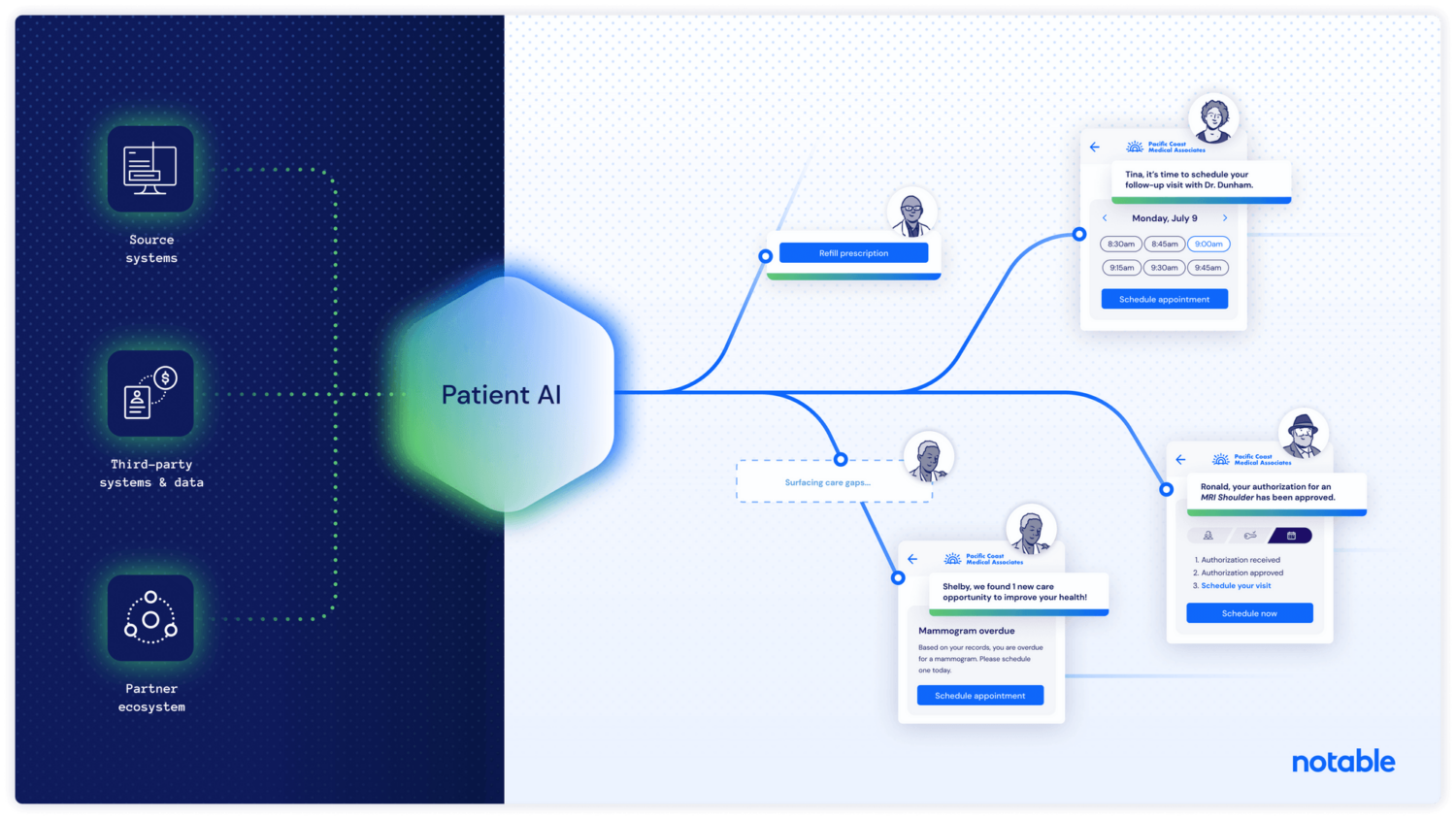 What You Should Know:
Notable, an intelligent automation company for healthcare, launches Patient AI, a solution leveraging large language models (LLMs) and GPT (the technology powering ChatGPT) to bring personalization at scale to healthcare.
Using GPT to scan existing clinical documentation, this tech can detect missed diagnoses, identify lapsed insurance cards, incorrect addresses, eligible clinical trials, or costly care gaps in real-time across an entire patient population.
How Patient AI Works
Patient AI continuously reviews millions of data points across medical records and third-party data sets to develop a comprehensive clinical and social understanding of each patient. These insights are automatically translated into personalized recommendations that are surfaced to the patient before, after, and in between encounters through adaptive design without any staff involvement. The result is that patients are engaged at precisely the right moment to take action in achieving their health goals.
For example, a patient with lung cancer who frequently misses appointments due to a lack of transportation can be matched by Notable to:
A one-click ride booking with a rideshare service
A recommendation to learn more about a clinical trial to treat symptoms of her cancer
An opportunity to request a refill of an expiring medication
The option to reschedule multiple upcoming appointments into a single day
Alternatively, a patient being discharged after knee surgery can be matched with:
A home health nurse
A medical equipment provider for crutches
A series of periodic questionnaires to assess patient-reported outcomes (PROs)
Notable presents all of these services to patients in an intuitively designed digital experience.
Previously, this level of personalization required teams of professionals – including care coordinators, medical assistants, and nurses – and multiple hours of work to deeply examine a patient's clinical history, assess social determinants of health (SDOH), and manually contact the patient. Patient AI powers this level of proactive, personalized care without any increase in staff.