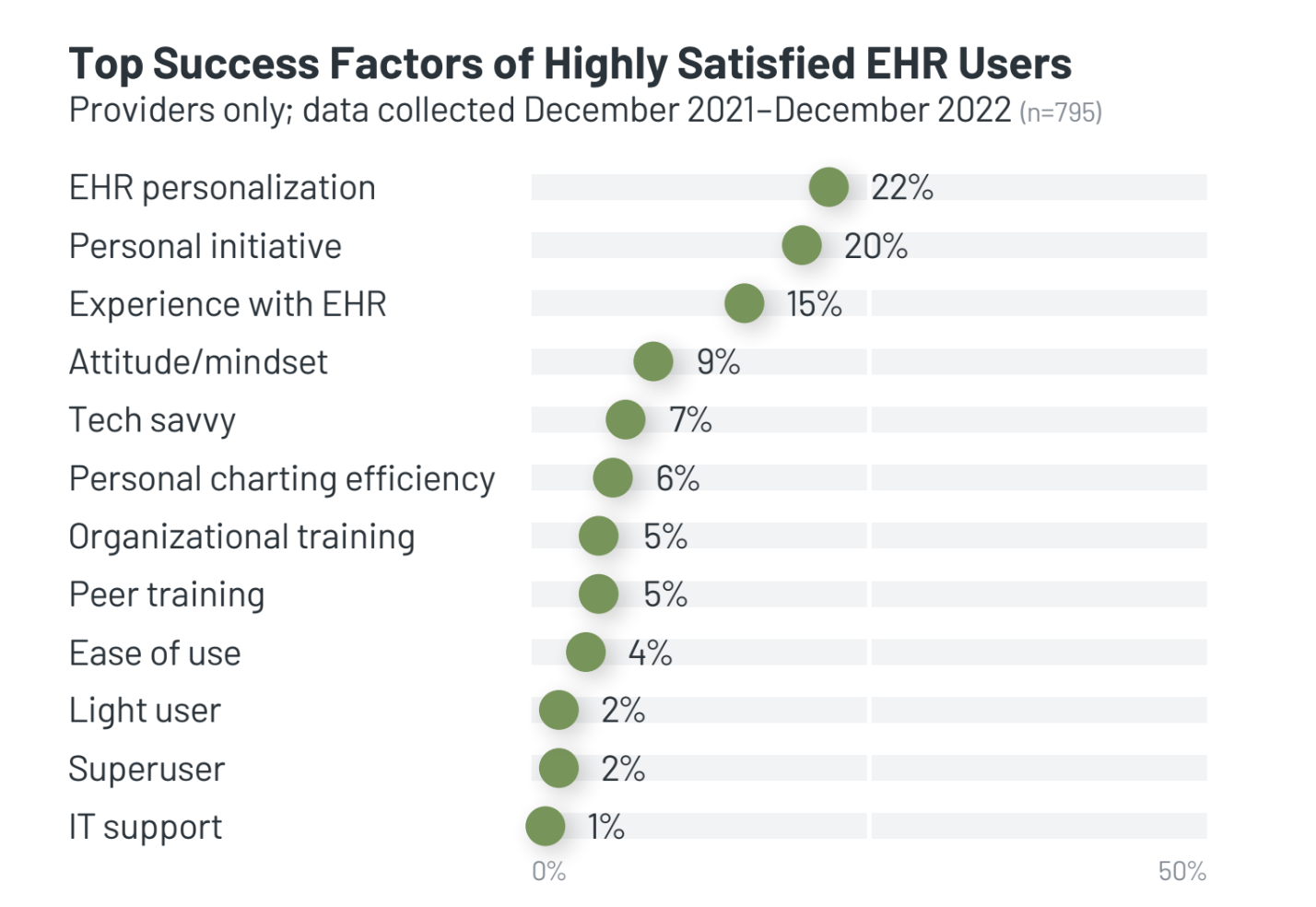 What You Should Know:
The goal of the Arch Collaborative is to help organizations understand not just how to make the EHR usable but how to help clinicians embrace it as a tool essential for delivering great care.
To that end, this report examines the responses of over 3,000 highly satisfied EHR users to identify what they do differently from less satisfied peers. Their insights reveal specific areas that other users and organizations can focus on to improve their own satisfaction.
Successful User's Guide to High EHR Satisfaction
The Arch Collaborative is a group of healthcare organizations committed to improving the EHR experience through standardized surveys and benchmarking. To date, almost 300 healthcare organizations have surveyed their end users and over 380,000 clinicians have responded. Reports such as this one seek to synthesize the feedback from these clinicians into actionable insights that organizations can use to revolutionize patient care by unlocking the potential of the EHR.
Key insights include:
Highly Satisfied Users Embrace the Three Pillars of EHR Satisfaction: On average, highly satisfied users report a Net EHR Experience Score (NEES) more than twice as high as the average clinician. Similar trends are also evident when it comes to the Arch Collaborative's three pillars of EHR satisfaction—user mastery, shared ownership, and personalization.
User Mastery: Highly satisfied users are 3.8x more likely to agree or strongly agree that initial training prepared them well to use the EHR.
Shared Ownership: Highly satisfied users are 6.6x more likely to agree or strongly agree that their organization implemented the EHR well.
Personalization: Highly satisfied users are 1.8x more likely to have highly personalized EHR.
The Most Successful EHR Users Take Personal Ownership for Mastering the EHR: Highly satisfied EHR users give a variety of responses when asked what differentiates them from less satisfied peers, but the most common success factor (reported by 27%) is personal initiative. This includes proactive efforts by the clinician to learn the EHR and seek help when they have questions. The second most common response is that the clinician is experienced with the specific EHR in use (from years of use at either the current organization or a previous employer). Personalization and having a good attitude tie for the third most common factors. The table below outlines these and other top factors and shares relevant case studies (where available) from Arch Collaborative organizations that give insight into how these factors can be encouraged.
Providers- Use of Personalization Tools Is the Top Success Factor: Highly satisfied providers most commonly cite use of personalization tools as the reason for their success with the EHR. EHR personalization is important for providers because it can enhance their overall experience with the system by making it feel reliable and efficient. However, provider comments about personalization reveal that too often, providers feel they are on their own when it comes to understanding what personalizations are available to them and how to make them and then finding time to implement them. This aligns with the second most common factor in provider success, which is a personal initiative to learn the EHR.
Nurses: Personal Initiative Is by Far the Most Influential Factor for Highly Successful Nurses: 30% of highly successful nurse respondents say being proactive about learning the EHR is the key to their success, making it the clear dominant factor among the highly satisfied. Experience with the EHR and a positive mindset are the second and third most common responses. Personalization tools are less important for nurses than they are for providers, given that they are less prevalent in nurse workflows.