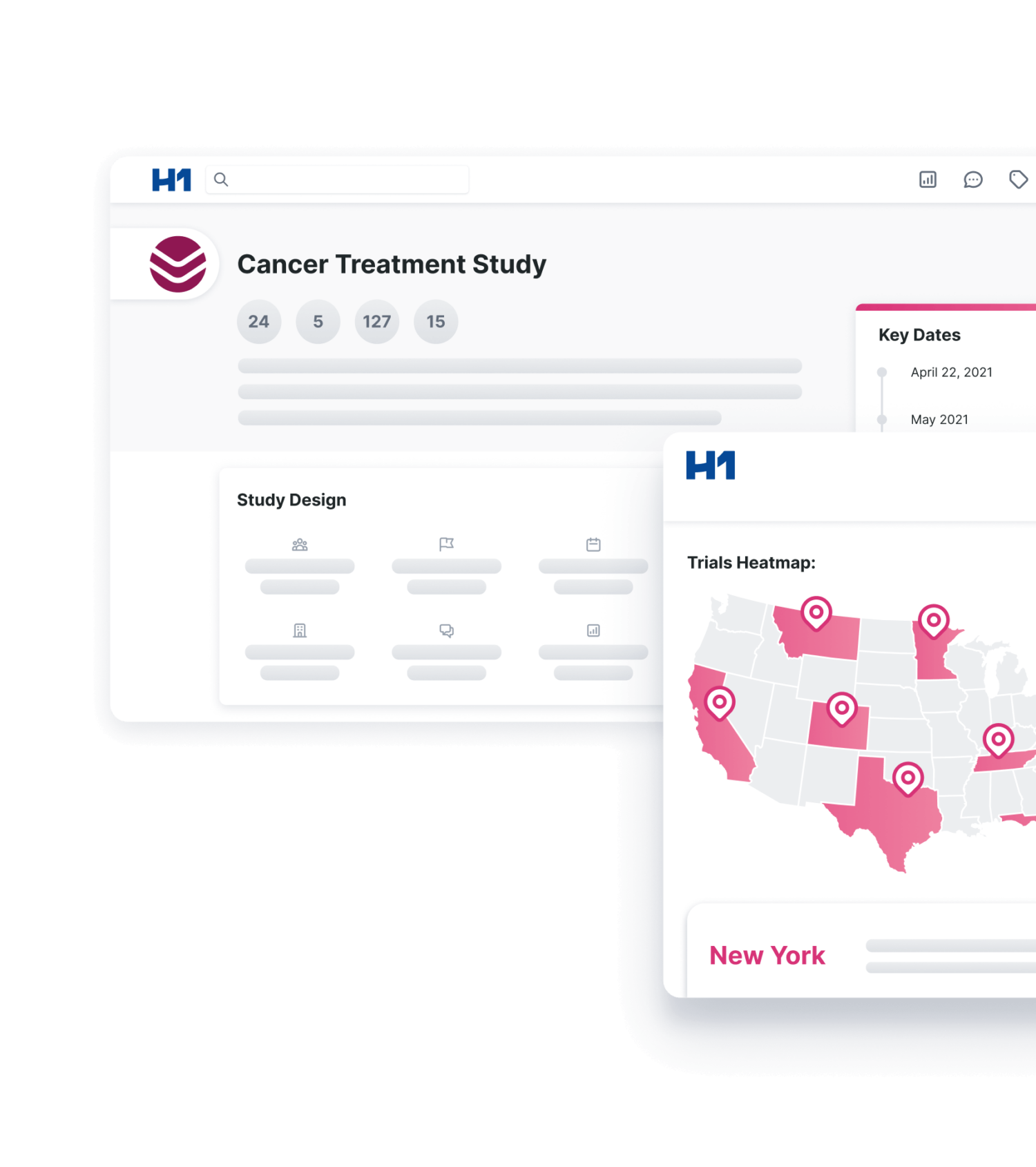 What You Should Know:
– H1, the connecting force for global healthcare provider, clinical, science, and research information, today announced the availability of indication-level diversity insights in addition to institution, provider, and patient diversity data within its Trial Landscape solution.
– Additionally, H1 has successfully onboarded its first customer – a top 20 pharmaceutical company – onto the H1 Data Network, a new solution that aggregates sponsor-contributed site and principal investigator (PI) performance data from clinical trial management systems (CTMS) to fuel transparency and clinical trial design.
Healthcare Data Leader H1 Expands its Offerings With New Capabilities
Site feasibility and clinical operations teams at leading pharmaceutical companies use H1 Trial Landscape to discover diverse physician and patient populations and support more representative clinical trial participation. Trial Landscape is an exhaustive clinical trial intelligence repository, incorporating data from public and proprietary sources including over 10 million healthcare providers (HCPs) and over 420,000 clinical trials. It is the first solution of its kind to fully integrate diversity and inclusion insights at the site, HCP, patient, and now, the indication levels – accelerating site and PI research, validation, prioritization, diversity, and selection.
By moving beyond the site level to include indication-level data, pharmaceutical companies can surface diversity insights on patients at a more granular level to design more inclusive clinical trials. For example, a user can now identify what percentage of breast cancer patients are African American in Georgia so, if they design a clinical trial in that state, they can recruit a representative population. With access to patient data this granular, clinical operations teams can better plan and design diverse clinical trials.
With the new H1 Data Network, pharmaceutical clients can contribute and share their CTMS data with other companies within the network and increase transparency within the industry. Unlike other networks, the H1 Data Network is open to pharmaceutical companies of all sizes, ensuring that midmarket and smaller companies have the same access to clinical trial performance data as big pharma. A top 20 pharmaceutical company is already contributing its data to the H1 Data Network, with many more planned in the near future.
"Ensuring diversity in clinical trials is not just our mission; it's a moral imperative and is essential for the development of effective and equitable healthcare solutions," said Ariel Katz, CEO and co-founder of H1. "We continuously strive to improve our technology and our data to support this mission. These new capabilities are the latest advancements to equip pharmaceutical companies with the insights needed to meet this imperative by creating more diverse clinical trials and sharing that data back with the broader community."
While the Food and Drug Administration (FDA) has encouraged clinical diversity over the past few decades, it is only now being enforced. The recently enacted 2023 Omnibus Spending Bill (Public Law 117-328) requires that diversity action plans be submitted for clinical trials used by the FDA to decide whether drugs are safe and effective. Other initiatives supporting clinical trial diversity include the National Institutes of Health's recently released Minority Health and Health Disparities Strategic Plan 2021-2025, which focuses on improving diversity and inclusion in NIH-funded research with updated clinical trial policies and guidelines. With these laws, it will be up to pharmaceutical companies and researchers to engage and recruit diverse patient populations to take part in their trials.