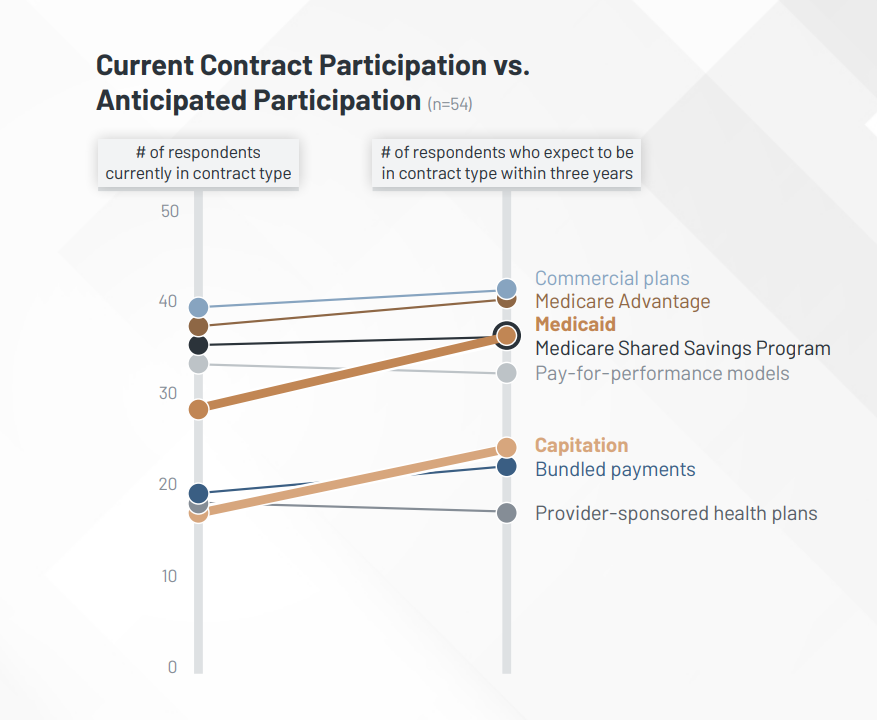 What You Should Know:
– Value-based care (VBC) has been established as a priority among healthcare organizations and payers as participants have gained more experience in managing their quality metrics and contracts, ultimately realizing returns on their investments.
– For their latest report, Value-Based Care Reimbursement 2022, KLAS talked to 54 healthcare executives—including CEOs, CFOs, CIOs, CMIOs, COOs, VPs and directors of population health, and VPs of analytics—to gauge how they are moving beyond pay-for-performance into risk-bearing contracts over the next three years and their perceptions on which vendors can help them achieve their upcoming goals with VBC.
Key Themes and Ideas Regarding Value-Based Care Reimbursement 2022
1. Significant Growth Anticipated for Medicaid and Capitation Contracts: Most respondents report strategic plans to expand their VBC contracts over the next three years. Participation in commercial plans, Medicare Advantage, and Medicare Shared Savings Programs will continue to be high, while Medicaid plans—which have the potential to impact a significant number of lives—will see the biggest growth. The administration of capitation contracts can be challenging for those who don't have experience with them, but they are growing in appeal, as they allow for more predictable revenue than traditional fee-for-service models do.
2. Percent of Revenue Tied to VBC Varies Widely: VBC is making headway, but the depth of its adoption varies across organizations. Some hospitals are just starting out and have little to no revenue from VBC contracts. On the other hand, ACOs and clinically integrated networks, among others, may receive most or all of their revenue from value-based reimbursement, and they represent all organizations in this sample with over 90% of their revenue tied to VBC. Nationally, the average percentage of revenue tied to VBC contracts is about 10%. Even among this report's sample, which is composed mostly of more progressive organizations, 50% receive one-fifth or less of their revenue from value-based reimbursement.
3. Respondents Overwhelmingly Expect to Bring in More Revenue from VBC in the Future: A vast majority of respondents anticipate that a larger percentage of their revenue will be tied to VBC three years from now. Key drivers of that expectation are newly available opportunities for VBC contracts and market pressures from payers and the government as they move the industry in the direction of VBC.
4. Provider Organizations Are Consolidating Their VBC Vendors: Overall, provider organizations are reducing the number of technology vendors or services firms they use to support VBC.† Only 20% of respondents use more than two vendors to help them tackle VBC; wanting a one-stop shop for data aggregation, analytics, and reporting, the majority have consolidated to either one or two.
5. Epic, Arcadia, and Innovaccer Seen as Most Able to Assist Organizations with Future VBC Needs: Epic's broad customer base feels that the vendor will be able to assist them with their future VBC needs due to improvements Epic is making to Healthy Planet. Respondents also acknowledge the advantage of Healthy Planet being in the providers' day-to-day workflow, as it is integrated with the main Epic medical record. Respondents note that Arcadia will be able to provide for future needs because they offer a full suite of products, including robust data aggregation, reporting, and AI coding capabilities. Additionally, respondents highlight Arcadia's ability to close quality gaps and view both clinical and financial data in one report. Likewise, respondents highlight Innovaccer as a vendor that will be able to assist with VBC in the future because of their impressive dashboards and predictive analytics. Additionally, Innovaccer is reportedly willing to build customized solutions to meet customers' unique needs.
"If we decide we want to link more robust executive dashboards to track our performance with value-based care as we get bigger and we need better dashboards than what we can get from Epic or our current vendor, we may need the product. We are fine now, but as we grow, we may need better dashboards. I have seen Arcadia's executive tracking dashboards, and they look phenomenal. The product would be a replacement. I would use Arcadia's predictive analytics as well because they are as good as, if not better than, what we have." —VP of population health