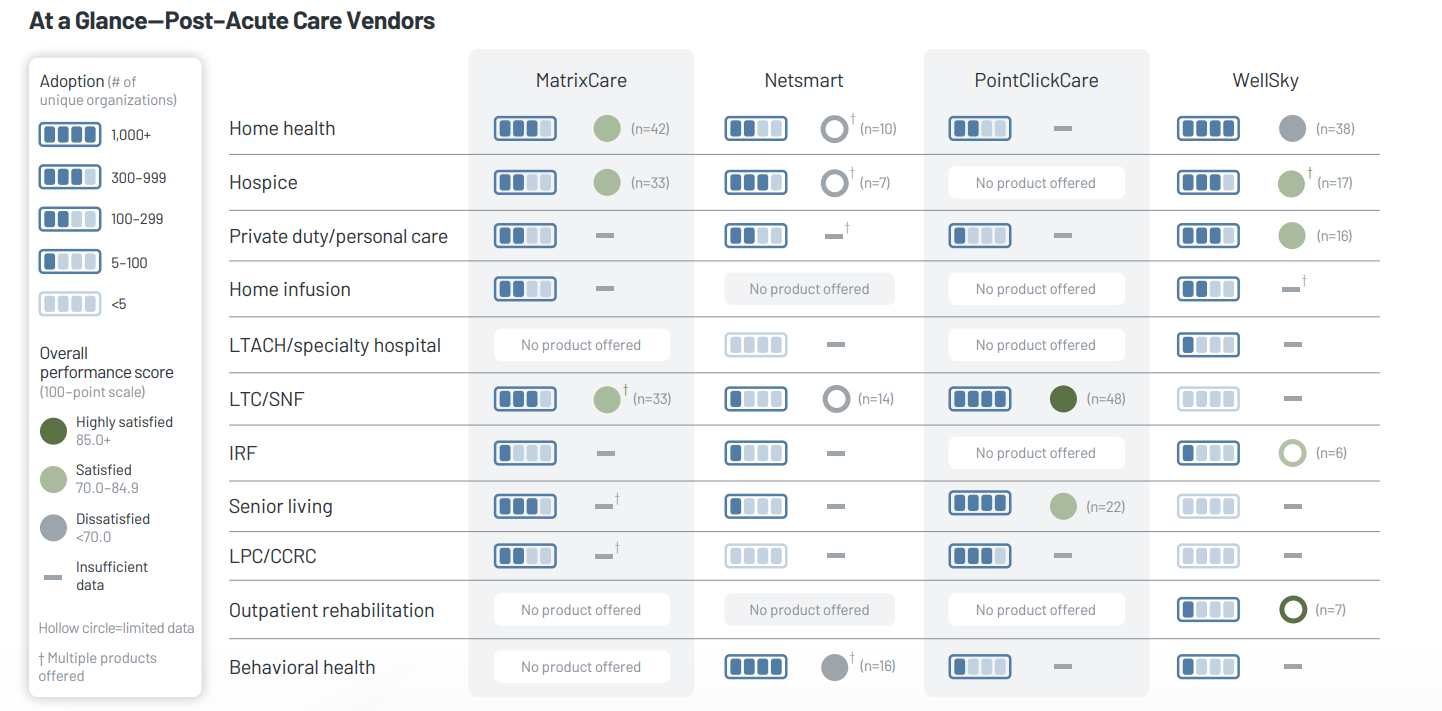 What You Should Know:
– A new report from KLAS examines what solutions are offered, how they are being adopted, and how well they meet setting-specific functionality needs (particularly for home health and LTC/SNF)
– The KLAS report mainly focuses on vendors specific to post-acute care but also provides a brief look at the post-acute care solutions of enterprise acute care EMR vendors.
Trends Concerning Post-Acute Care EMR Product Suites in 2022
Most providers in post-acute care settings want technology built for their specific area, but they face challenges with interoperability, analytics, value-based reimbursements, and care coordination. Increasingly, organizations are looking for vendors that can meet all their post-acute care needs. Several vendors are answering the call, despite the highly varied, unique challenges associated with each care setting.
The key trends and findings from KLAS' latest report concerning post-acute care EMR product suites in the year 2022 are listed and explained as follows:
1. MatrixCare Broadly Adopted While Giving Consistent Satisfaction: No vendor today has delivered solutions across the entire breadth of post-acute care settings, but there has been progress. Typically, organizations offer either home-based or facility-based care, so their purchase decisions are usually driven by one type of care or the other. Overall, MatrixCare has achieved broad adoption (i.e., solid adoption across several care settings) and performs consistently well in home health, hospice, and LTC/SNF. WellSky, in part through some recent acquisitions, offers products for all measured care settings; however, adoption remains very low in several key settings, such as LTC/ SNF. The table below shows a detailed picture of vendors in all care settings—including their product offering, customer adoption, and (where available) customer satisfaction ratings.
2. A Look at Enterprise EMR Vendors: Despite many gaps across post-acute care settings, EMR vendors generally receive good marks for the post-acute care products they do offer; it is worth noting that leaders at the enterprise level tend to be more satisfied than users that work in the individual care settings. Customers using Epic's post-acute care technology are highly satisfied overall. They note that Epic has gaps in key areas (e.g., tablet-based documentation for home health) and that the workflows continue to be geared more toward inpatient settings. However, clients say they are very confident in Epic's continuing development and ability to keep up with regulatory requirements. MEDITECH has seen less adoption of their post-acute care technology—MEDITECH EMR clients tend to include fewer post-acute care facilities compared to other vendors. Those who use MEDITECH's post-acute care solutions for home health and hospice (which were acquired and are separate from the Expanse platform) are moderately satisfied and feel the value proposition is good.
3. MatrixCare Continues to Lead in Home Wealth with Strong Mobile Workflows: most provider organizations tend to consider a vendor for either home- or facility-based settings. For home-based settings, performance in home health is often a key indicator of satisfaction in other related areas. When it comes to home health, customers report MatrixCare's mobile technology for iOS and Android devices helps support clinician workflows,
and they feel confident that the vendor will continue development in areas
like interoperability and billing workflows and analytics. WellSky customers feel disconnected from their vendor, and this results in slow or insufficient development of things like mobile technology and revenue cycle reporting. Netsmart clients report gaps in functionality, and this, in combination with lacking relationships, leads some to view their home health solutions as outdated—in particular, customers want to see better upgrade testing and increased support resources to help them leverage their technology before they would be willing to move to the go-forward myUnity platform.
4. PointClickCare Delivers Innovation in LTC/SNF: Customer satisfaction in LTC/SNF settings is often a key indicator of satisfaction in other facility-based settings. The LTC/SNF market is dominated by PointClickCare, whose customers highlight the product development and, consequently, the high clinician usability; the ease of use is supported by regular updates built on customer-driven development.
5. Customers Want More Financial and Drill-Down Reporting: Customers of all post-acute care vendors share concerns with their products lacking needed functionality. Reporting is one of the most common functionality requests from each customer base. Overall, customers want to be able to bring together data from third-party technologies and get better financial and clinical insights at the organizational level. While PointClickCare clients feel the vendor has done well at building out needed reporting functionality for LTC/SNF, they want more flexibility to analyze data from the PDF reports that are generated. MatrixCare customers are also successful with many aspects of the vendor's reporting, but some have been held back by insufficient financial claims reporting. Interviewed WellSky customers experience glitches that prevent them from accessing reports or drilling down for more information. Netsmart customers have a variety of functionality requests; many want additional, customizable reporting, while others cite the need for better integration to improve the ingestion of data from HIEs.