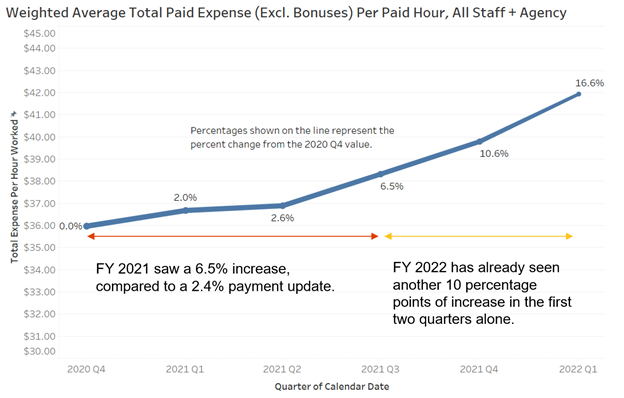 What You Should Know:
– Centers for Medicare & Medicaid Services' (CMS) payment adjustments did not adequately address hospitals increased costs for FY 2021, according to new data from Premier.
– The data reveals this discrepancy has resulted in hospitals receiving only a 2.4 percent rate increase, compared to a 6.5 percent increase in hospital labor rates, which account for 76 percent of hospital costs.
– The data CMS uses to account for real inflation in the cost of labor and other expenses is unlikely to reflect reality and produce an accurate payment update for the FY 2023 IPPS rule, due this spring.
---
PINC AI™ Data Analysis
CMS is expected to release proposed rules for the Inpatient Prospective Payment System (IPPS). For the FY 2021 and FY 2022 rules, CMS applied upward payment adjustments of 2.4 and 2.7 percent, respectively. However, a recent PINC AI™ analysis finds that CMS's payment adjustments did not adequately address hospitals' increased costs. According to new data, hospitals' labor rates alone jumped 16.6 percent on a per-paid-hour basis since Q4 2020 (start of government FY 2021) and do not show signs of slowing. Labor makes up about 67.6 percent of the CMS market basket calculation used to adjust hospital payments. A very high payment update in FY 2023 will be needed to match the rates most acute care providers are now paying their staff. These costs do not appear to be exclusively related to the impacts COVID-19 has had on labor shortages as many clinical staff were in short supply long before the pandemic.