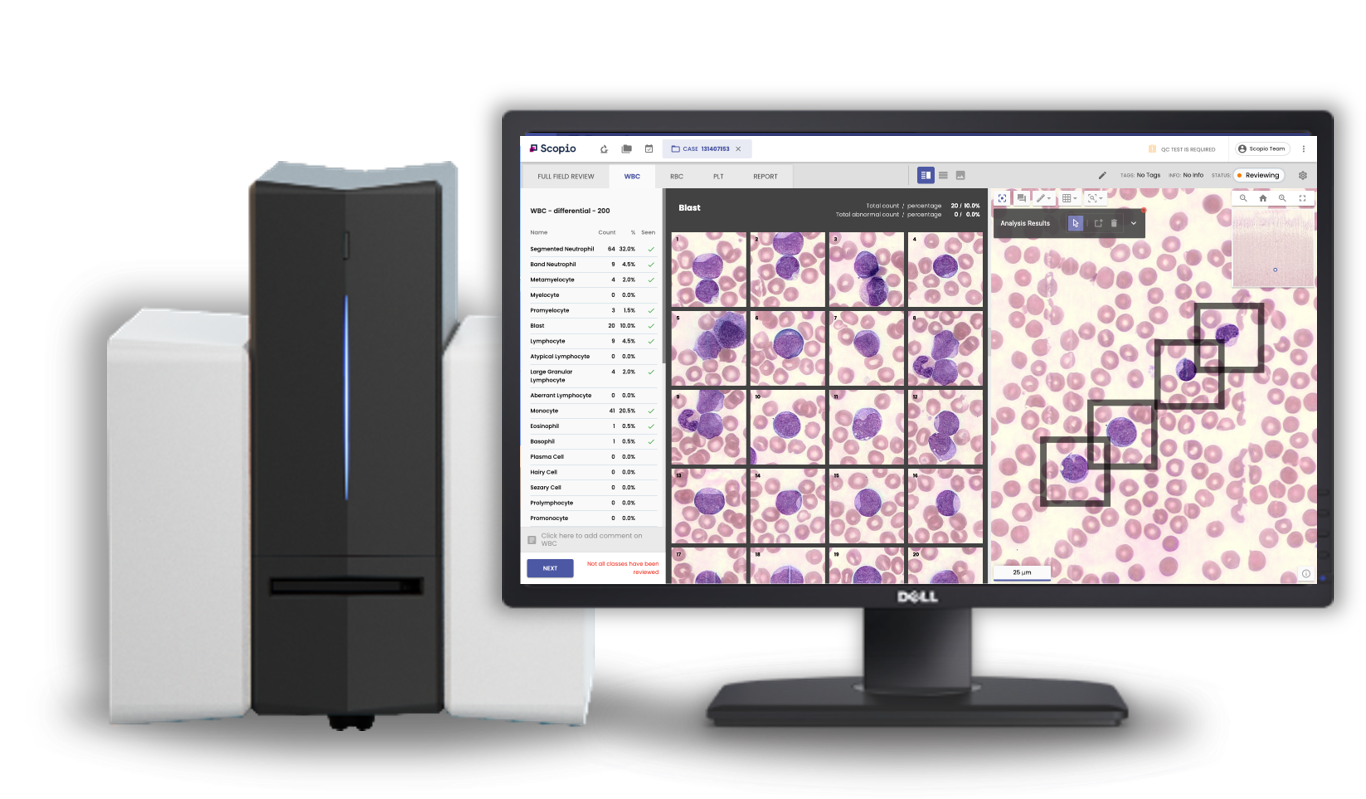 What You Should Know:
– Scopio Labs, provider of the world's first full-field digital cell morphology solution, today announced a $50M investment for its end-to-end hardware and software platform for digitizing, quantifying and analyzing hematology and other digital cytology samples.
– The Series C round included OurCrowd, Aurum Ventures, Mizrahi-Tefahot Bank Invest and Ilex Medical, with the participation of strategic investors operating in the field and existing investors.
---
Scopio puts Peripheral Blood Smears front and center
Blood tests are among the most frequent medical procedures in the world, with billions conducted every year. For blood tests, a lab tech looking at the slide under a microscope can only see a tiny part of the sample at a time. A few cancerous cells mixed in with hundreds of thousands of normal cells can be missed unless someone gets lucky. Scopio has invented the first machine that can digitize whole slides at ultra-high quality, creating an image that can be remotely zoomed, dragged and navigated like a Google Map.
The full digitized slide can then be explored, scrolled and zoomed at 100X magnification (interactive demo here) to get ultra-sharp views of individual cells, visible in the full context of the sample. Once scanned, Scopio images can be accessed anywhere, freeing hematopathologists and clinicians from the lab and the microscope so they can review and collaborate wherever they are. The company's FDA-cleared and CE-marked Full-Field Peripheral Blood Smear (Full-Field PBS) Application supports detection, pre-classification and quantification for blood cells. More AI solutions are under development, including for bone marrow aspirates (BMA).
Why It Matters
Remote diagnostic healthcare has grown in the last decade, with subfields like teleradiology enabling experts to review images from anywhere in the world. The Covid-19 pandemic has accelerated this trend of doing as much as possible remotely. Scopio brings the remote-work revolution to hematology and cell morphology, enabling a new subfield of telehematology.
"In the 21st century, people shouldn't be looking through microscopes, manually counting cells," said Itai Hayut, co-founder and CEO of Scopio. "Scopio's full-field imaging and AI platform means tens of thousands of cells in a single sample can be examined, counted and analyzed instantly and reviewed by a specialist regardless of location, leading to faster, easier and earlier detection and diagnosis of cancers and many other life-threatening medical conditions."