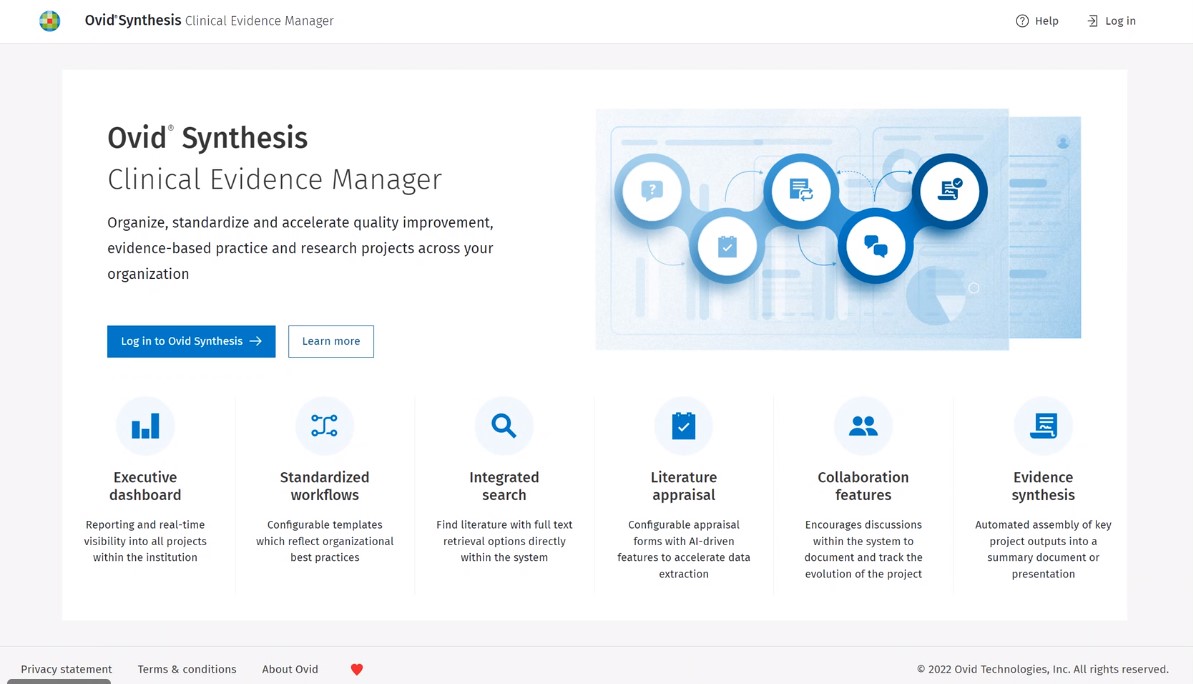 What You Should Know:
– Wolters Kluwer Health announced the launch of Ovid® Synthesis, a suite of applications to power evidence-based workflows in hospitals and health systems.
– The first application is called Clinical Evidence Manager, developed in collaboration with Duke Health, WVU Medicine and other healthcare organizations, to provide a holistic view of all quality improvement research projects across an institution.
Streamlining the Research Process
Providers are continually engaged in evidence-based research initiatives in an effort to improve the quality of patient care at their organizations, but these initiatives are often time-consuming, disorganized and inefficient. Lack of communication among departments, varying levels of research experience and toggling between IT systems are all common pain points.  Clinical Evidence Manager aims to streamline the entire research process, and ultimately shorten the cycle between the identification of clinical problems and the implementation of clinical solutions based on the latest medical evidence.
Ovid Synthesis Clinical Evidence Manager Key Features
Ovid Synthesis Clinical Evidence Manager was developed in collaboration with Duke Health and the West Virginia University Health System (WVU Medicine), among other leading healthcare institutions. The expert solution streamlines the literature review and evidence appraisal process with artificial intelligence (AI), increases communication and collaboration among departments and facilitates decisions on implementation.
The solution supports a range of stakeholders with varying levels of research experience through easy-to-use tools and features including:
– Executive and project level dashboards provide real-time visibility into projects across an institution
– Standardized workflows with configurable templates to reflect organizational best practices
– Integrated literature search directly within the system eliminates toggling between windows
– Collaboration tools to promote team member interaction across sites help to cut costs and timelines
– Built-in literature appraisal with configurable appraisal forms and AI-driven features to increase process efficiency
– Automatic document generation of project findings in Microsoft Word and PowerPoint formats, including dynamically generated evidence tables
"Evidence-based research initiatives at health systems hold the key to better patient outcomes and financial performance, but these programs are time-intensive making it difficult to efficiently surface and implement new evidence into clinical practice," said Vikram Savkar, Senior Vice President & General Manager, Medicine Segment, Health Learning, Research & Practice business at Wolters Kluwer. "In the wake of a pandemic that laid bare the weaknesses of our current delivery system, we are bringing to market an important evidence-based practice (EBP) workflow solution that aims to improve the cycle between identification of clinical problems and implementation of clinical solutions based on the evidence."