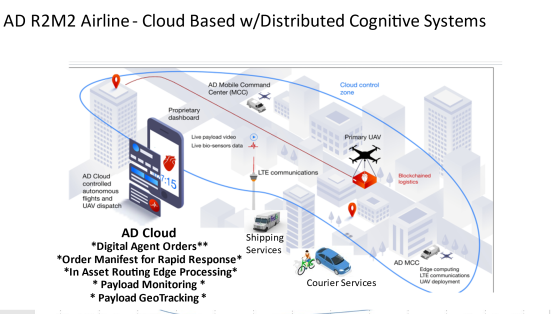 What You Should Know:
– Aquiline Drones (AD), an American drone manufacturer and cloud technology enterprise announced the formation of AD Airlines after being awarded its Air Carrier Certificate by the FAA on September 16, 2021, which enables AD to commercialize its lifesaving tissue and organ delivery service.
– Specifically, AD Airlines will implement its patent-pending and unique Mixed Modal Transport Model (R2M2), starting with the use of manned aircraft, and gradually incorporating drones as FAA approvals are realized.  R2M2 is an Artificial Intelligence (AI)-driven transportation logistics platform supported by the AD Cloud.  It uses AI algorithms embedded in AD's cognitive agent "Spartacus' to manage a hyper-ledger blockchain platform to optimize transportation logistics.  Essentially, AD Airlines plans on using both drones and planes on its Air Carrier Certificate to provide a first-ever comprehensive solution to the human organ and tissue transplant delivery system within the medical industry.
AD Airlines establish to improve human tissue and organ delivery
AD Airlines will be used exclusively to expedite and improve the current airborne delivery system for human tissue and organs in the U.S. by at least 30%, starting immediately.  AD Airlines will initially focus on the Northeast region (region 11), working with organ procurement organizations (OPOs) and the Organ Procurement and Transportation Network (OPTN) to eventually expand its reach across the nation.  Working in partnership with Transportation Coordinators of America (TCOA) and American Expediting, initial revenue opportunities have already been created through inbound orders.
Additionally, AD runs its drone operation like a traditional airline subjecting its drone pilots – both employed and contractual, to similar scrutiny and training akin to U.S. airline pilots.  As such, drone pilots enrolled in AD's Flight to the Future drone pilot training program (www.flighttothefuture.com) subscribe to FAA-mandated drug and alcohol screening, a safety management system (SMS) and are managed through SkedFlex – an industry-leading airline crew resource management platform.
"Every year, more than 40,000 patients die because they cannot get their life-saving organs in time.  This is not due to a lack of available donated organs, but rather, a cumbersome and archaic transportation system and I can't think of a better use and combination of AI, aviation, drone and cloud technology, other than to save lives," said Barry Alexander, Founder and CEO of Aquiline Drones.  "Between AD's U.S.-manufactured drones, its in-house AI lab, the AD Cloud and a growing fleet of aircraft, we are on a mission to eliminate the current 20% discard rate for unused human organs and ensure that they're physically in the hands of the transplant surgeons in time to save a patient."