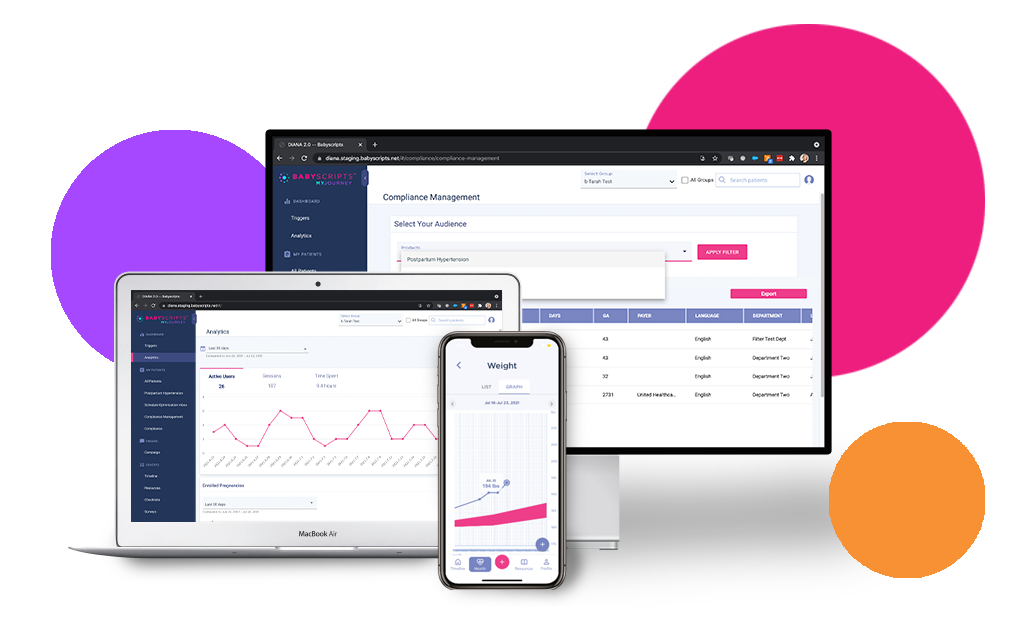 What You Should Know:
– Babyscripts, a Washington D.C.-based virtual care platform for managing obstetrics, announced it has raised $12M in  Series B funding led by MemorialCare Innovation Fund, a strategic healthcare investment company, and will focus on the rollout of Babyscripts Virtual Maternity Care solution to providers across the US, as well as the development of care models specifically targeted to payers. Other investors in the Series B round include Philips and the CU Healthcare Innovation Fund in this first close. Banner Health, WellSpan Health, University Hospitals, and the Froedtert & the Medical College of Wisconsin health network are also part of the Series B round because of their participation in Babyscripts' Strategic Partner Program.
– As part of the investment, Babyscripts will increase focus on its payer offerings, developing additional care models that will enable health insurance plans to upgrade and expand its use of technology and to support network providers by giving them the tools they need to drive better outcomes.
– Babyscripts enables payers to identify member pregnancy and detect clinical and social risks earlier, educate pregnant members, increase member visit attendance, and improve care coordination, driving safer deliveries, saving the lives of newborns and their mothers. Babyscripts has been shown to reduce costs to health plans through better compliance with proven, optimal prenatal and postpartum care guidelines and earlier identification and intervention of complications such as those related to blood pressure.
A New Model for Obstetrical Care
Babyscripts has spent the last seven years building the market's most extensive clinically validated virtual care platform allowing OBGYNs to deliver a new model of prenatal and postpartum care. Via a mobile app and internet-connected devices for remote monitoring, Babyscripts offers digital education and risk-specific experiences to allow providers to manage up to 90% of pregnancies virtually, allowing doctors to detect risk more quickly and automate elements of care. Through a unique joint deployment model, the Babyscripts solution incorporates payers that sponsor the use of the Babyscripts platform at participating sites to identify and triage member risk, improve care coordination and reduce costs, while targeting and reducing systemic racial and ethnic inequities in both maternal and infant outcomes.
Babyscripts' three-tiered approach to virtual maternity care allows providers to deliver risk-specific care to pregnant mothers at any time, in any place, through a mobile app and internet-connected monitoring devices:
Maternal Digital Education: Virtually connect with expectant and new mothers between visits with a custom mobile app.
Maternal Health Monitoring: Virtual management of pregnant patients through remote monitoring for blood pressure, weight, blood sugar, social determinants of health (SDOH)
Maternal Population Health: Improve patient/member care through a unique collaboration between the care team and the payer.
To date, Babyscripts manages more than 200K unique pregnancies across 30 states. With this additional funding, Babyscripts will offer providers and payers the best-in-class digital health solution for pregnancy and postpartum care management, building on a wealth of on-the-ground experience and user data to offer the only configurable, fully risk-stratified digital education and remote patient monitoring solution on the market.
"This funding will help us continue to acquire market share while also allowing us to focus on honing our solution," says Babyscripts President and Co-founder, Juan Pablo Segura. "We have the user data, we have the outcomes data, we have the infrastructure in place to scale, to provide access to all expecting mothers, especially those who most need it. Our experience in the space coupled with this new round of funding is going to help us usher in the next generation of obstetrics: a comprehensive solution that will automate and streamline the care delivery process, identifying patient risk and delivering risk-specific solutions directly to the patient based on their data, without the need for administrative input.