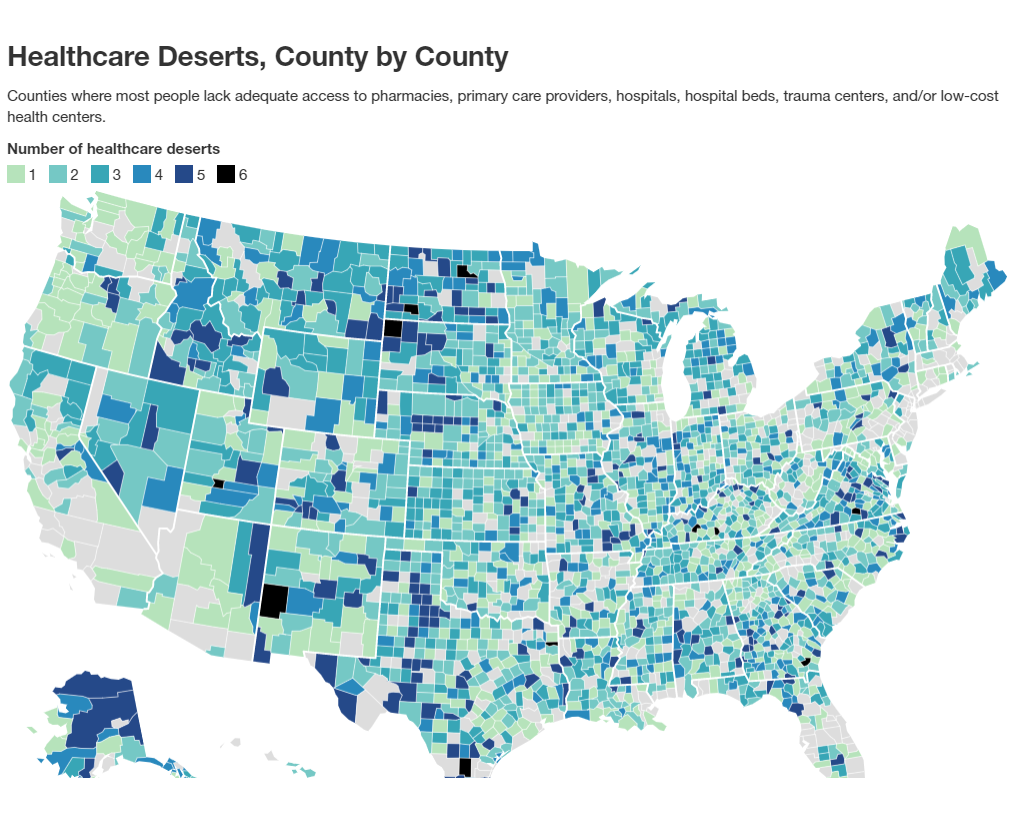 What You Should Know:
– Over 80 percent of the country lacks adequate healthcare infrastructure in some shape or form, according to recent report findings from GoodRx Research. The research finds that over a third of the U.S. population lives in a county where there is less than adequate access to pharmacies, primary care providers, hospitals, trauma centers, and/or low-cost health centers.
– The report offers an in-depth look at the uneven distribution of healthcare across the U.S.
Defining Access to Healthcare
Access to healthcare can be defined as having an adequate supply of services to help people maintain or improve their health. These services span many dimensions of healthcare, including medications, primary care providers, hospitals, emergency services, and community health centers. Access is also affected by socioeconomic factors like affordability, internet access, and health literacy. In an ideal world, everyone would have equal access to necessary health services and the means to gain access to these services. But this just isn't the case.
Impact of Healthcare Deserts
To identify these "healthcare deserts," the team looked at where people lack adequate access to six key healthcare services: (1) pharmacies; (2) primary care providers; (3) hospitals; (4) hospital beds; (5) trauma centers; and (6) low-cost health centers. Today, nearly 8.4 million people live in counties with at least four of the six types of healthcare deserts
Pharmacy Deserts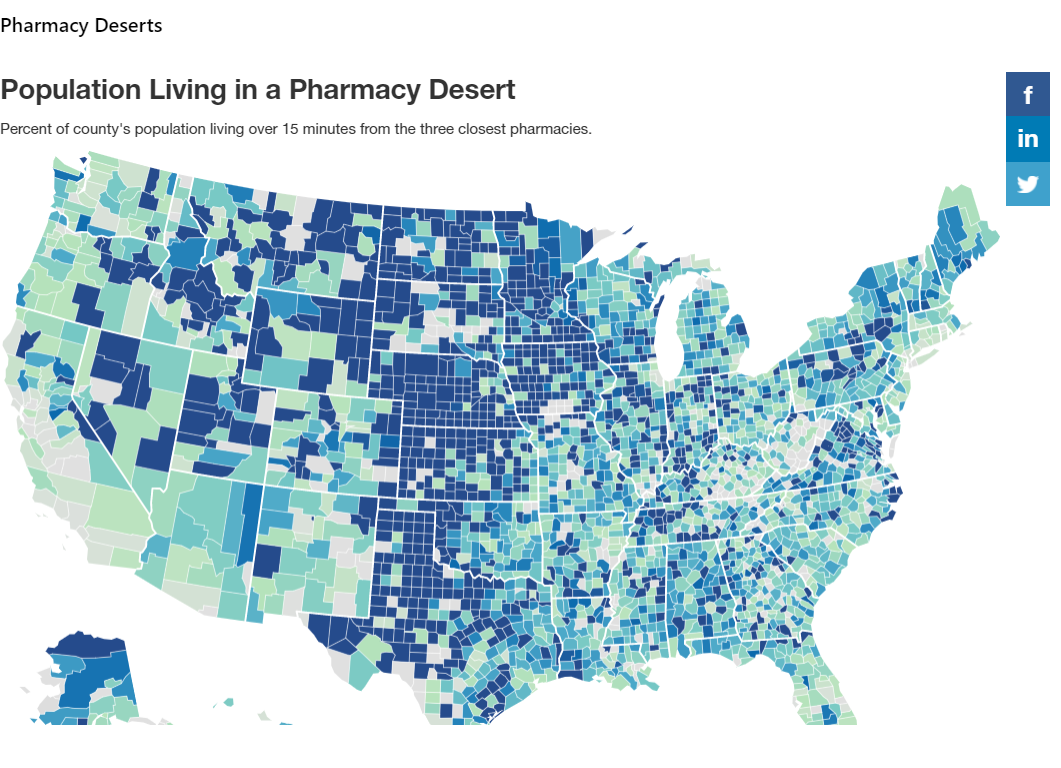 The report finds that over 40% of counties are pharmacy deserts, where most people have to drive more than 15 minutes to reach nearby pharmacies. GoodRx estimates that over 41 million Americans live in a pharmacy desert.
South Dakota, Montana, Nebraska, and Kansas have the largest number of counties that lack sufficient access to a pharmacy. In much of the state, residents have to drive more than 15 minutes to access a pharmacy. So while they
may have access to a provider to obtain a prescription, filling that prescription may be more difficult.
Primary Care Deserts
On average, healthcare provider deserts have 1 full-time primary care provider for every 10,449 people — a potential patient caseload over three times the recommended level. In total, roughly 13 million people live in a primary care provider desert. In 294 counties — over 9% of all U.S. counties — the majority of residents live in an area with a primary care provider shortage.
Hospital Deserts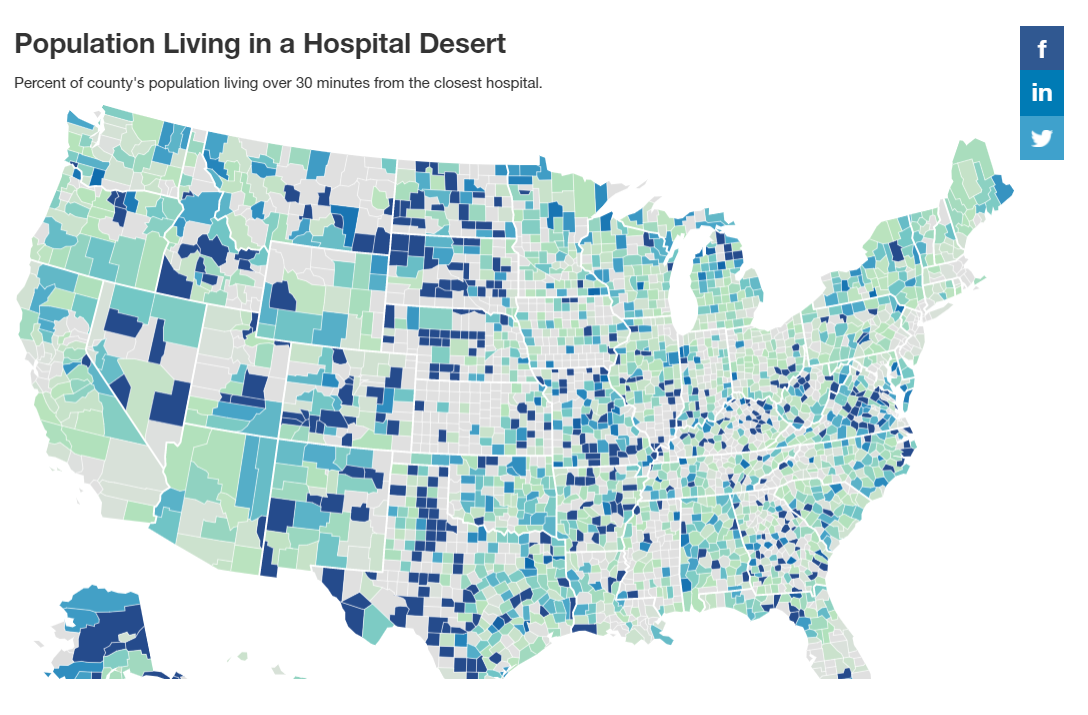 As with healthcare provider deserts, many hospital deserts are located in rural areas. Vermont, Alaska, Arkansas, Alabama, and Maine have the largest share of the state population living in a hospital desert, many of which are concentrated in rural areas. In Essex County, Vermont — where there is only one health center and
a lack of specialty services — patients recount driving hours to get the care they need. Hospitals also tend to operate where the local economic conditions are favorable, so many hospital deserts are located in neighborhoods with lower income and higher rates of uninsurance. Even in large cities like Houston, hospital closures can lead to hospital deserts.
Hospital Bed Deserts
Nearly 47% of counties are hospital bed deserts, where over 80 million people don't have access to enough hospital beds. As the COVID-19 pandemic has proved, having sufficient hospital bed capacity can mean the difference between life or death. In states like South Dakota, where over 22% of the population lives in a hospital bed desert, a surge in
hospitalizations with limited bed capacity can force patients to be flown out of state for care.
Trauma Center Deserts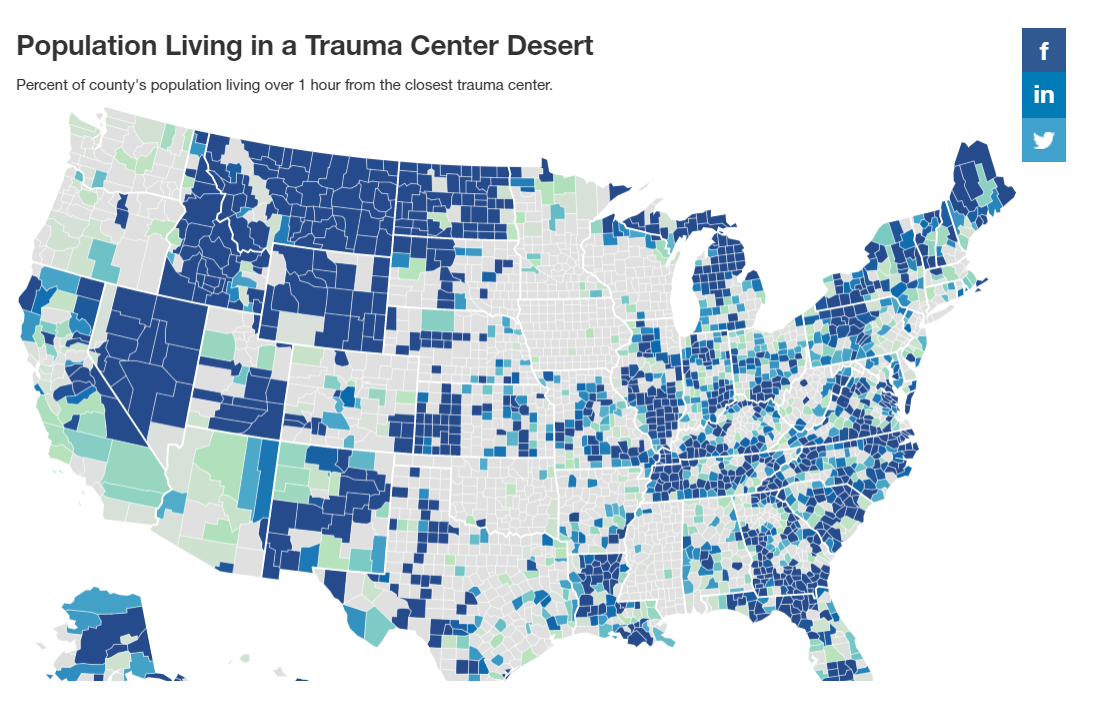 When accessing a trauma center, every second counts. Doctors often refer to the "golden hour," which is the concept that a patient needs to receive definitive care within an hour of injury to increase their chances of survival. However, residents in 40% of counties throughout the U.S. live in a trauma care desert, meaning they have to drive more than 60 minutes to get to the nearest trauma center. Nearly 49 million people live over an hour away from a hospital equipped
to handle major traumatic injuries.
Montana, North Dakota, Wyoming, Nevada, and Idaho currently have the most trauma desert counties. In these states, the majority of residents will not be able to access a trauma center within the "golden hour.
Low-Cost Health Center Deserts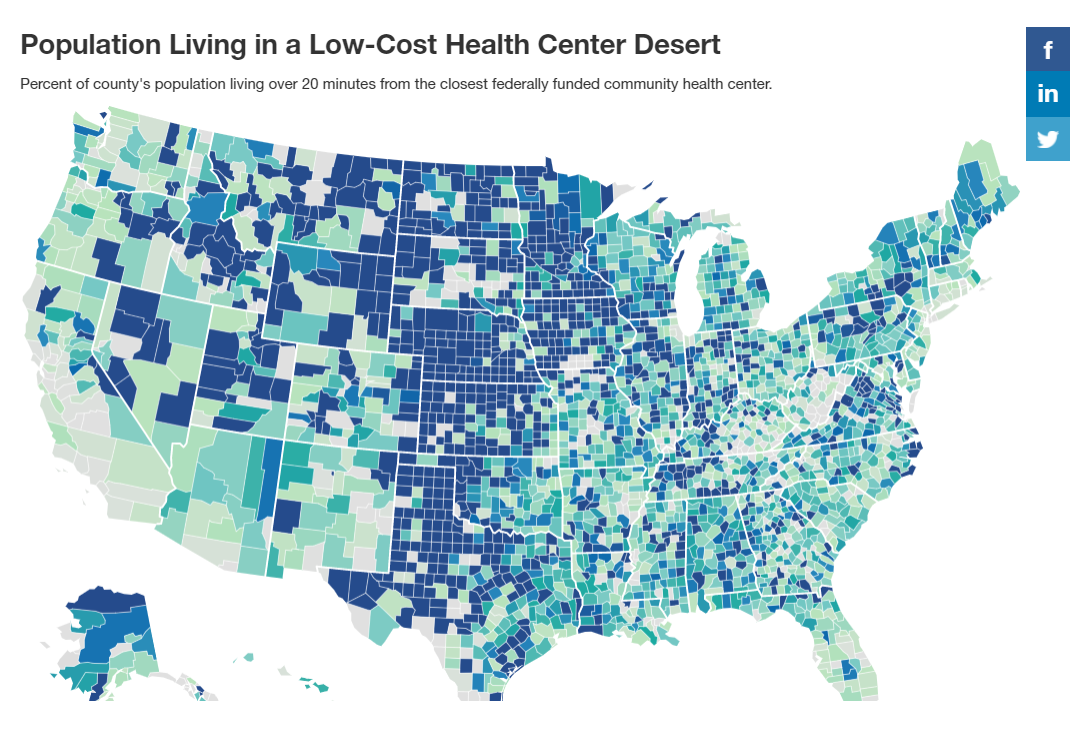 Federally funded community health centers are critical, especially in underserved communities. In 2019, nearly 30 million people across the U.S. visited an HRSA health center. Of that group, 91% were at or below 200% of the federal poverty level, 48% were enrolled in Medicaid or the Children's Health Insurance Program (CHIP), 23% had no insurance, and 5% were homeless. Moreover, 31% of all patients were children, and 63% were of a racial and/or ethnic minority group.
Residents in much of the central part of the U.S. live in low-cost health center deserts. Specifically, in Nebraska, Kansas, North Dakota, and Texas, much of the population has to drive more than 20 minutes to access affordable primary care.
Texas, for instance, has the highest uninsured population in the country, with 18.4% of residents lacking health insurance.
Social Determinants of Health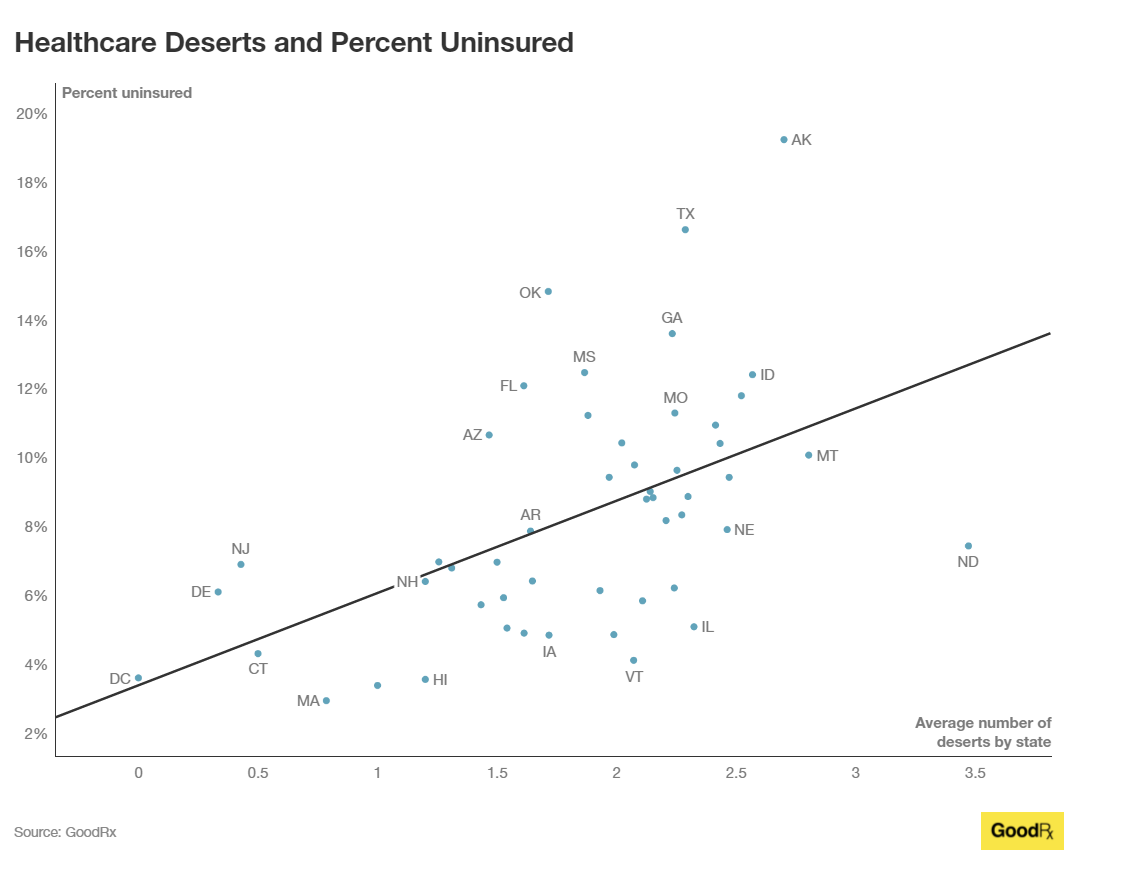 The report also shows how healthcare deserts are more likely to occur where residents have lower-incomes, less insurance coverage, and more limited internet access. States with a higher rate of population lacking internet access according to the census tend to have more healthcare deserts.
The report finds:
– North Dakota, New Mexico, and Mississippi stand out as having both poor access to healthcare services and internet access. New Jersey, for instance, has few counties with any sort of healthcare desert, and only 14% of the population is without access to the internet.
– Montana, Idaho, and New Mexico, for instance, have lower median household income (according to the census) as well as more healthcare deserts. Many Southern states also suffer from both low median income and inadequate access to healthcare.
– Texas, Idaho, Georgia, and Alaska, for instance, have a large number of uninsured individuals (according to the census) on top of more healthcare deserts. In Idaho, 12% of the population lacks insurance, and, in Georgia, 14% of the population lacks insurance.
Report Background/Methodology
The GoodRx Research team utilized data on 60,249 community retail pharmacies were sourced from DataQ and the
GoodRx database. Data on primary care providers were sourced from Health Resources & Services Administration (HRSA) primary care health professional shortage areas (HPSAs). Data on 7,513 hospitals and 2,020 trauma centers were sourced from Homeland Infrastructure Foundation-Level Data (HIFLD) and the Indian Health Service (IHS). Data on 11,643 federally funded community health centers were sourced from HRSA and IHS. Demographic data on county population, internet access, household income, and insurance coverage were sourced from the 2019 American Community Survey 5-year data.
Pharmacy, hospital, and trauma center deserts are geographical deserts based on driving time thresholds from each census tract population centroid. At the county level, a county is considered a healthcare desert if more than 50% of the county's population lives in healthcare desert census tracts.