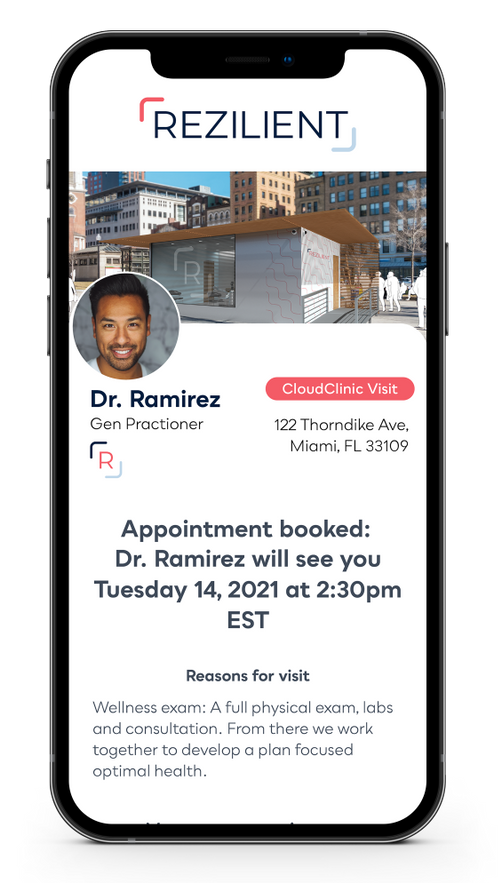 What You Should Know:
–  Rezilient Health, a St. Louis-based, concierge primary care practice that uses connected digital devices and an advanced video platform to bring doctors remotely to its CloudClinics today announced it has closed its oversubscribed $2.5M seed funding. The seed funding was led by Unseen Capital, with participation from Techstars, Headwater VC, The Council, and The Living Fund. 
– Founded in 2016 by Danish Nagada, MD and Jeff Gamble, Ph.D., Rezilient Health bridges the convenience of telehealth with the broad scope of in-person care by offering Cloud Clinics where families can get virtual access to their doctor as well as physical exams, labs, and imaging.  Rezilient plans to use the funding to expand its engineering and software development teams and roll out CloudClinics in the St. Louis area.
CloudClinics: Primary Care, Redefined
The COVID-19 pandemic sparked rapid adoption of telehealth while the number of primary care visits declined. Today's patients demand convenience with on-demand care options; however, the inability to perform objective physical assessment has been a barrier. To combat this, Rezilient designed membership-based CloudClinics to serve as a hybrid approach: physical, strategically located spaces paired with diagnostic systems that allow doctors to control appointments remotely.
Cloud Clinic: How It Works
Rezilient membership gives patients access to same-day appointments at any CloudClinic and 24/7 virtual care. The Rezilient app guides patients through choosing the most appropriate appointment for their care needs. When a patient arrives at a CloudClinic, they aren't met with a waiting room but instead, by a nurse who facilitates the high-touch aspects of the appointment, like taking vitals and labs. Rezilient's care delivery model gives members more time with their doctor–the average appointment time is 30 minutes
The doctor appears on a large monitor, while the nurse acts as the doctor's hands. Doctors can remotely listen to a patient's heart or examine their eardrums with integrated digital medical devices. Everyone—patient, nurse, and doctor—is seeing the same thing, in real-time. After the appointment, patients can schedule a telehealth follow-up with the same doctor right in the app. The service is accepted by all major insurance plans offered by Aetna, Blue Cross Blue Shield, Cigna, Humana, and UnitedHealthcare.
St. Louis CloudClinics Launch
Rezilient is launching its first CloudClinics with major employers in the St. Louis region in fall 2021 offering primary care, urgent care, and mental healthcare. CloudClinics will be strategically placed near employee workplaces and in their local neighborhoods, effectively making it easier for them to access care. National roll-out in partnership with other major employers is slated for 2022.