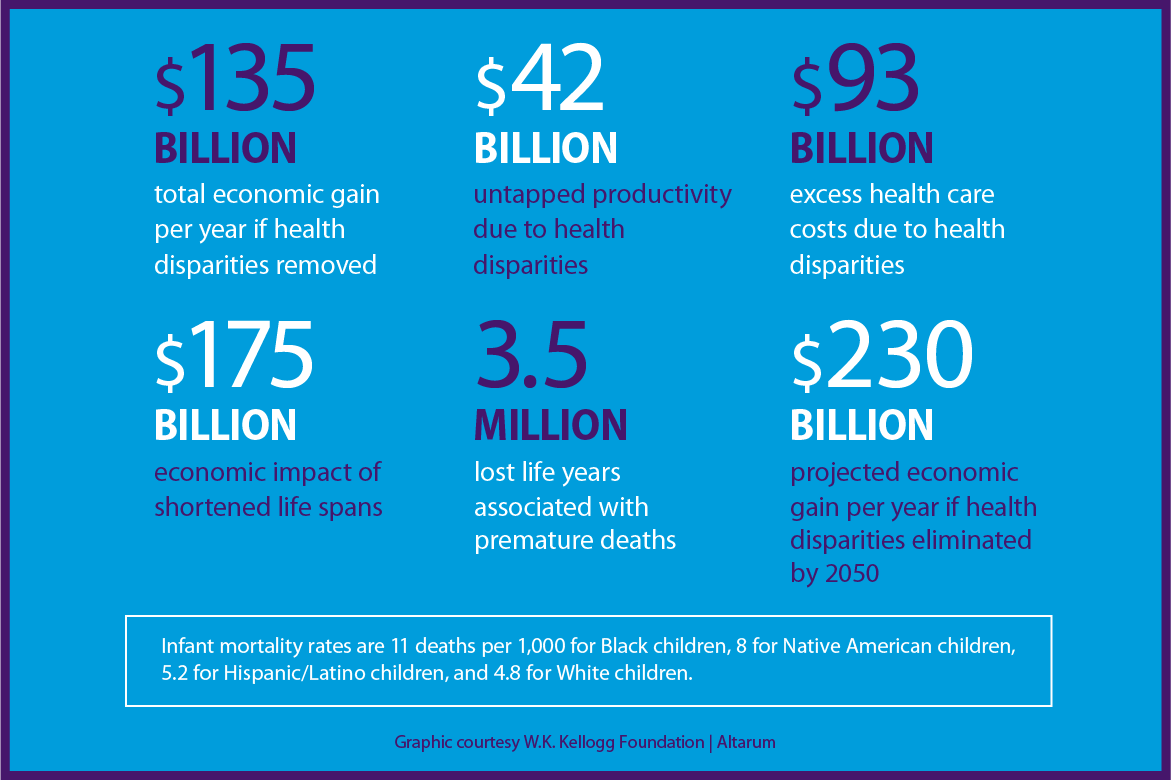 What You Should Know:
– The American Medical Association (AMA) today announced the creation of an external advisory group, the Equity and Innovation Advisory Group dedicated to advance equity in healthcare innovation.
– The advisory group plans to recommend strategies that will help drive equitable resources to health solutions created by marginalized innovators and include marginalized patients' voices in health innovation development processes – with a target of ultimately reaching a measurable improvement in health outcomes and reduction of health inequities within marginalized populations.
Innovation has potential to advance health equity
Data shows that Black, Latinx, women, LGBTQ+, and other innovators from historically marginalized communities have been drastically underfunded and under-represented in solution design efforts, contributing to a health solution landscape that neglects and often harms these patient populations – exacerbating and perpetuating health inequities. Investing in solutions designed by and for marginalized communities is not just the right thing to do; research indicates that it's a wise investment. Economic opportunity associated with increased investment in women and minoritized founder–led companies is estimated to be over $4 trillion, while reducing racial health inequities is estimated to generate economic gains of $135 billion per year, according to research from Morgan Stanley and by the W.K. Kellogg Foundation and Altarum.
The Equity and Innovation Advisory Group Overview
The Equity and Innovation Advisory Group will provide guidance and support for the AMA to ensure equitable innovation in health care, an approach outlined in the AMA's three-year strategic plan dedicated to embedding racial justice and advancing health equity. The advisors are tasked with providing direction on a shared vision for a U.S. health care innovation sector that:
– prioritizes resource allocation for meaningful solutions to advance health, racial, and social justice
– ensures that the race, ethnicity, sexual orientation, and gender identity of innovators and investors mirror that of the nation
In addition to advising on embedding racial justice and health equity within AMA's existing healthcare innovation work, the group will also bolster efforts on the following equity objectives:
– Equipping the health care innovation sector to advance equity and justice
– Centering, integrating, and amplifying historically marginalized and minoritized patients, innovators, and investors in health innovation
– Engaging in cross-sector collaboration and advocacy efforts
AMA External Equity & Innovation Advisory Group members
Comprised of 14 industry leaders with a vast array of expertise at the intersection of health equity and health innovation, the group's newly announced members include:
Abner Mason – Founder and CEO, ConsejoSano
Andrey Ostrovsky, M.D. – Managing Partner, Social Innovation Ventures
Chris Gibbons, M.D., M.P.H. – Founder and CEO, The Greystone Group
Courtney D. Cogburn, PhD – Associate Professor, Columbia University School of Social Work
Ivelyse Andino – CEO and Founder, Radical Health
Ivor Braden Horn, M.D., M.P.H. – Director of Health Equity & Product Inclusion, Google
Katie Drasser – CEO, RockHealth.org
Lisa Fitzpatrick, M.D., M.P.H, M.P.A. – Founder and CEO, Grapevine Health
Michael Penn, M.D., PhD – Founding Partner, Health Equity Ventures
Monique Smith, M.D., M.S. – Founding Director, Health DesignED, Emory University
Nathalie Molina Niño – Managing Director, Known Holdings
Sandee Kastrul – President and Co-Founder, i.c.stars
Shantanu Nundy, M.D., M.B.A. – Primary Care Physician and Technologist, Accolade Health
Urmimala Sarkar, M.D., M.P.H. – Professor of Medicine, University of California San Francisco
"The health innovation sector has incredible potential to advance health equity, but most industry models do not incorporate an equity lens – risking automation, scaling, and exacerbation of health, racial, and social inequities," said AMA Chief Health Equity Officer Aletha Maybank, M.D., M.P.H. "The external Equity and Innovation Advisory Group exists to hold us accountable in meaningful ways to ensure that historically marginalized communities have equitable access to health innovation design, start-up development, and investment opportunities, as we laid out in AMA's Strategic Plan to Embed Racial Justice and Advance Equity."