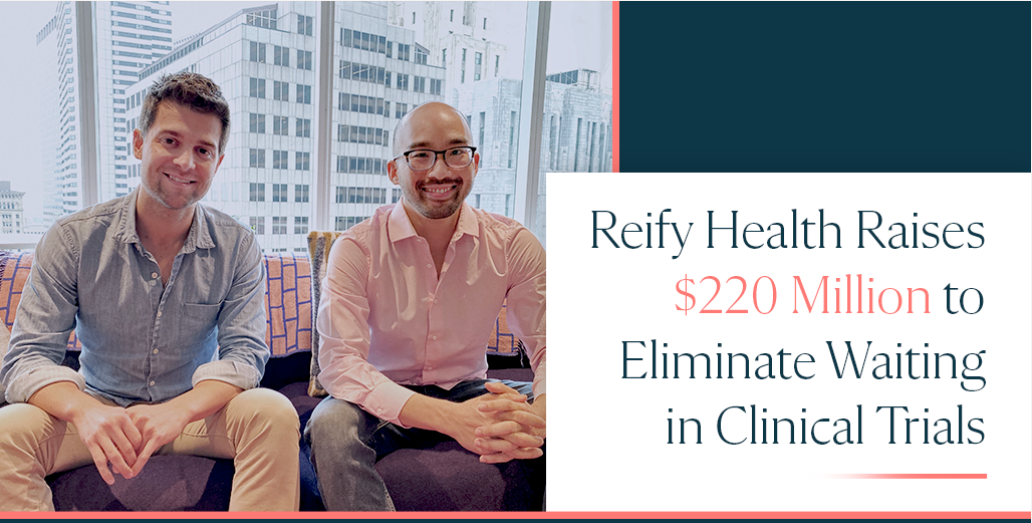 What You Should Know:
– Reify Health, a Boston-based company paving the way to faster, predictable, and more accessible clinical trials, today announced it has raised $220M in a Series C funding round led by Coatue Management, joined by ICONIQ Growth and Adams Street Partners, as well as existing investors Sierra Ventures and Battery Ventures. This latest funding brings the company's valuation to $2.2B.
– Reify Health has built a new foundation for how clinical trials are run through its business entities, StudyTeam and Care Access. StudyTeam delivers the best-in-class technology platform for optimizing patient recruitment and enrollment, and is used by top-20 global biopharma companies such as Amgen, AstraZeneca, and Eli Lilly and Company, and approximately 4,000 research sites across 65 countries.
– Reify Health will use the additional funding to fuel rapid growth and expansion of both business entities. Care Access will accelerate global operations and foster deep partnerships with clinics and other healthcare organizations. The StudyTeam platform will continue to scale and expand its functionality that enables the numerous stakeholders in decentralized trials to execute the complex logistics required to bring trials to patients anywhere.
Eliminating the "Sit and Wait" Paradox for Clinical Trials
Getting new medicines into the hands of patients depends on clinical trials. However, biopharma companies are only able to activate a few dozen research sites worldwide, on average, for each trial due to logistical complexities. Each research site does its best to engage patients nearby, but most patients are simply not close enough to access the clinical trial. This creates a natural bottleneck in getting clinical trials enrolled and completed.
The result of this operational bottleneck is a "Sit and Wait" paradox that has persisted in the industry for decades. There are more than enough patients to complete the vast majority of clinical trials, but biopharma companies and research sites have been forced to sit and wait for patients to come to one of the few locations where the trial can take place. Each trial takes months or years longer to enroll than necessary. Patients suffering from debilitating conditions like Alzheimer's and late-stage breast cancer wait for years on slow clinical trials for potential cures.
"What we're doing, and the future of clinical trials overall, goes beyond decentralized trials," said Michael Lin, Executive Chairman of Reify Health. "We need to have a global healthcare system proactively reaching out to patients everywhere and mobilizing the resources necessary to bring trials to them."