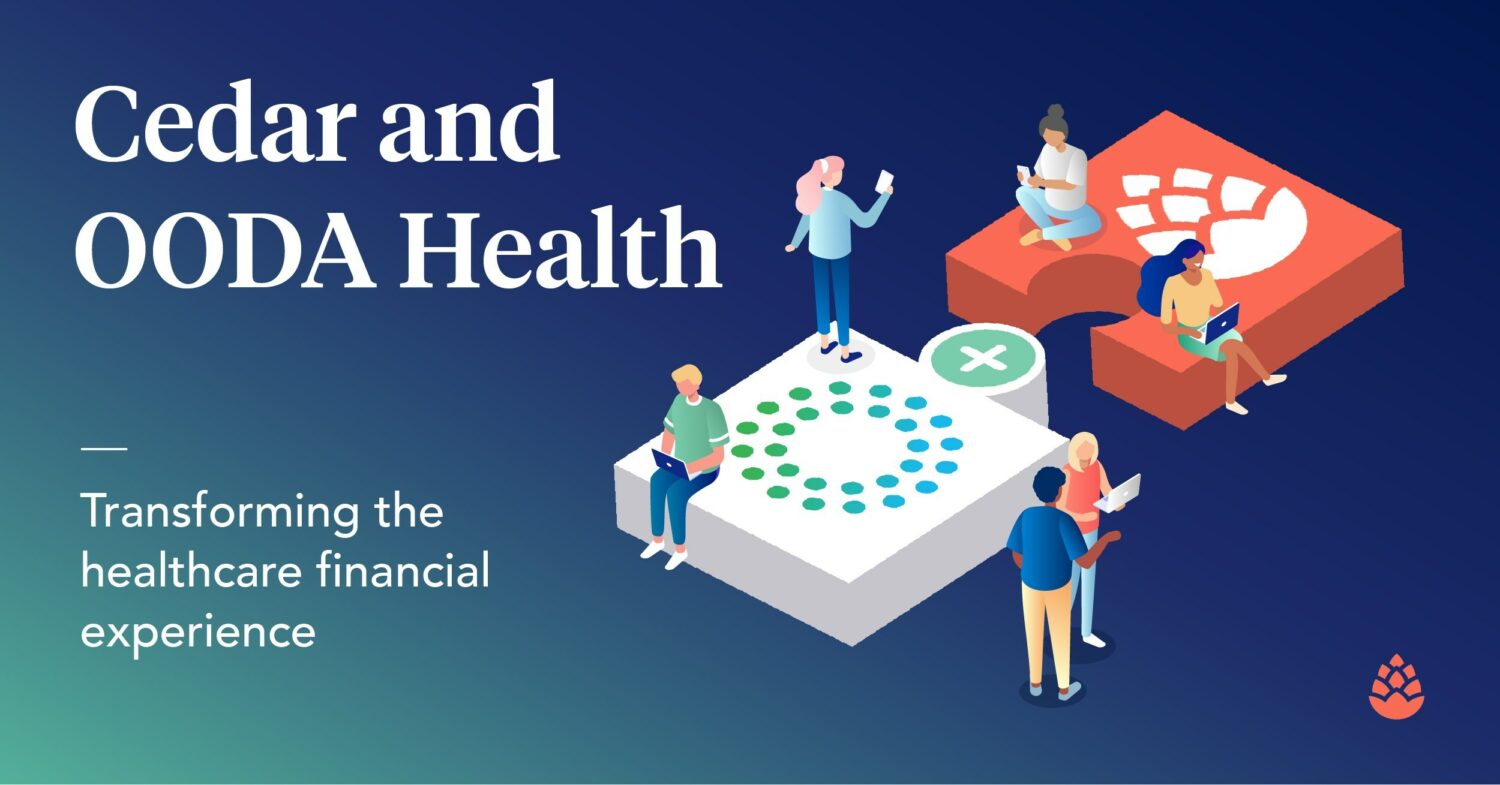 What You Should Know:
– Cedar, a healthcare financial technology platform, today announced it has entered into a definitive agreement to acquire OODA Health, a healthcare technology company focused on improving the healthcare administrative experience with payers and providers, for $425M.
– By bringing together providers and payers onto one healthcare financial technology platform, Cedar will be the only complete solution to address the full set of challenges consumers face when paying for healthcare.
– The boards of directors of Cedar and OODA Health and the stockholders of OODA Health have approved the transaction. The transaction is expected to close this month, subject to receipt of required regulatory approvals and satisfaction of other customary closing conditions.
OODA Health Background
Founded in 2017 by a team of experienced digital health and technology executives, OODA Health is transforming the administrative experience in healthcare by enabling collaborative, real-time interactions between providers, members and payers. With the OODA Health solution, claims adjudication will be instantaneous, and providers will be paid upon patient checkout. Payers will assume responsibility for patient collections, guaranteeing immediate payment to the provider and relieving physicians from chasing patients for money. Care management strategies will be based on real-time patient risk models, rather than retrospective claim reviews. Critical interactions will occur at the point of care, rather than months after an encounter.
Acquisition Strengthens Cedars as Comprehensive Healthcare Fin-Tech Platform
With the acquisition of OODA Health, Cedar is further positioned to lead the industry as the most comprehensive healthcare financial technology platform, already engaging with more than 300,000 consumers a day. OODA Health's platform connects payer workflows for nearly 20 organizations, such as Blue Cross Blue Shield of Arizona, CommonSpirit Health and Blue Cross Blue Shield of Massachusetts, and Cedar currently partners with more than 35 healthcare providers across the United States, including Yale New Haven Health (YNHHS), Summit Health, Novant Health and ChristianaCare.
In addition, Cedar will focus on empowering consumers with more transparency and assurance when it comes to the financial experience in healthcare, broadening its product roadmap to prioritize features that are powered by integrations with providers and payers, as well as automation use cases that advance the consumer financial experience and healthcare affordability.
Post-Acquisition Plans
As part of the acquisition, Florian Otto will continue to serve as CEO for the combined company, and OODA Health's Seth Cohen will become President of Cedar, in addition to joining Cedar's board of directors. Additionally, Cedar co-founder Arel Lidow and OODA Health co-founder Anshul Amar will serve as Co-Chief Makers within the executive team. The company will be headquartered in New York City and will expand its footprint as a result of the transaction with additional offices in San Francisco and Salt Lake City.
"Cedar's mission has always been to transform healthcare and deliver the best possible financial experience for consumers," said Florian Otto, CEO and co-founder of Cedar. "We've made great progress toward that goal, but consumers still need greater financial clarity and more affordable healthcare — and the experience with one's provider or one's payer is just part of the issue. Both Cedar and OODA Health are forward-thinking when it comes to putting consumers first, and we believe that by bringing our companies together, we can identify new opportunities to help consumers — as well as payers and providers — navigate an increasingly complicated healthcare system, leading to better outcomes for all parties involved."