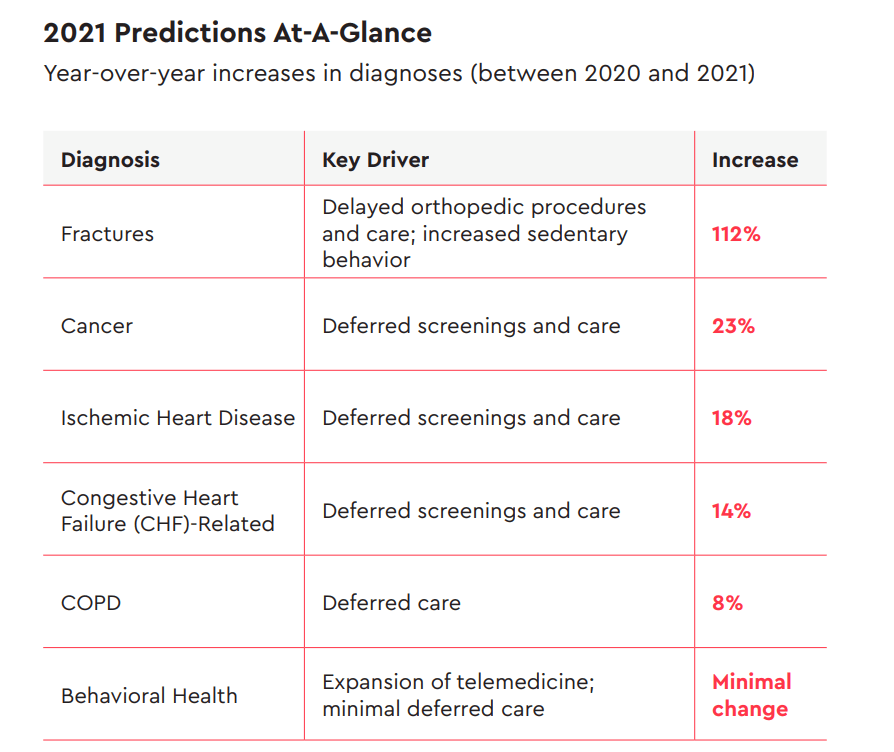 What You Should Know:
– COVID-19 care deferrals lead to three major boomerang conditions that payers and providers must proactively address in 2021, according to a newly released report by Prealize.
– COVID-19's hidden victims—those who avoided or deferred care during the pandemic—will increasingly return to the healthcare system, and many will be diagnosed with new conditions at more advanced stages. Healthcare leaders must act now to keep this boomerang from driving worse outcomes and higher costs.
---
Prealize, an artificial intelligence (AI)-enabled predictive analytics company, today announced the publication of a new report that explores key medical conditions payers and providers should proactively address in 2021. Healthcare utilization for preventive care, chronic care, and emergent care significantly decreased in 2020 due to the COVID-19 pandemic, which will result in an influx of newly diagnosed and later stage conditions in 2021. Prealize's 2021 State of Health Market Report: Bracing for Impact identifies the top at-risk conditions based on Prealize's claims analysis and predictive analytics capabilities.
Report Background & Methodology
Many procedures and diagnoses fell significantly in 2020, with several dropping nearly 50% below 2019 levels between March and June. Total healthcare utilization fell 23% between March and August 2020, compared to the same time period in 2019.
To explore the full scope of healthcare utilization and procedural declines in 2020, and assess how those declines will impact patients' health and payers' pocketbooks in 2021, Prealize Health conducted an analysis of claims data from nearly 600,000 patients between March 2020 and August 2020.
Prealize identified the three predicted conditions likely to see the largest increase in healthcare utilization in 2021:
1. Cardiac diagnoses will increase by 18% for ischemic heart disease and 14% for congestive heart failure
These increases will be driven by 2020 healthcare utilization declines, for example, patients deferring family medicine and internal medicine visits. These visits, which help flag cardiac problems and prevent them from escalating, declined 24% between March and August of 2020.
"Cardiac illnesses are some of the most serious and potentially fatal, so delays in diagnosis can lead to significant adverse outcomes," said Gordon Norman, MD, Prealize's Chief Medical Officer. "Without early recognition and appropriate intervention, rates of patient hospitalization and death are likely to increase, as will associated costs of care."
2. Cancer diagnoses will increase by 23%
Similar to cardiac screening trends, significant declines in 2020 cancer screenings will be a key driver of this increase, with 46% fewer colonoscopies and 32% fewer mammograms performed between March and August 2020 than during that same time period in 2019.
"Cancer doesn't stop developing or progressing because there's a pandemic," said Ronald A. Paulus, MD, President and CEO at RAPMD Strategic Advisors, Immediate Past President and CEO of Mission Health, and one of the medical experts interviewed for the report. "In 2021, when patients who deferred care ultimately receive their diagnoses, their cancer sadly may be more advanced. In addition, an increase in newly diagnosed patients may make it harder for some patients to access care and specialists—particularly for those patients who are insured by Medicaid or lack insurance altogether."
3. Fractures will increase by 112%
This finding, based on combined analysis of osteoporosis risk and fall risk, is particularly troubling for the elderly patient population.
A key driver of increased fractures in 2021 is the number of postponed elective orthopedic procedures in 2020, such as hip and knee replacements. These procedural delays are likely to decrease mobility, and therefore, increase risk of fractures from falls.
"In elderly patients, fractures are very serious events that too often lead to decreased overall mobility and quality of life," said Norman. "As a result, patients may suffer from physical follow-on events like pulmonary embolisms, and behavioral health concerns like increased social isolation."
Why It Matters
"These predictions are daunting, but the key is that providers and payers take action now to mitigate their effects," said Prealize CEO Linda T. Hand. "It's going to be critical to gain insight into populations to understand their risk at an individual level, build trust, and treat their conditions as early as possible to improve outcomes. The COVID-19 pandemic has challenged every aspect of our healthcare system, but the way to get ahead of these challenges in 2021 will be to proactively identify and address patients most at risk. We're going to see proactive care become an important driver for success next year, as providers and payers seek to mitigate unnecessary and expensive procedures that result from 2020's decreased medical utilization. The right predictive analytics partner will be critical to providers and payers being able to take the right course of action."
---