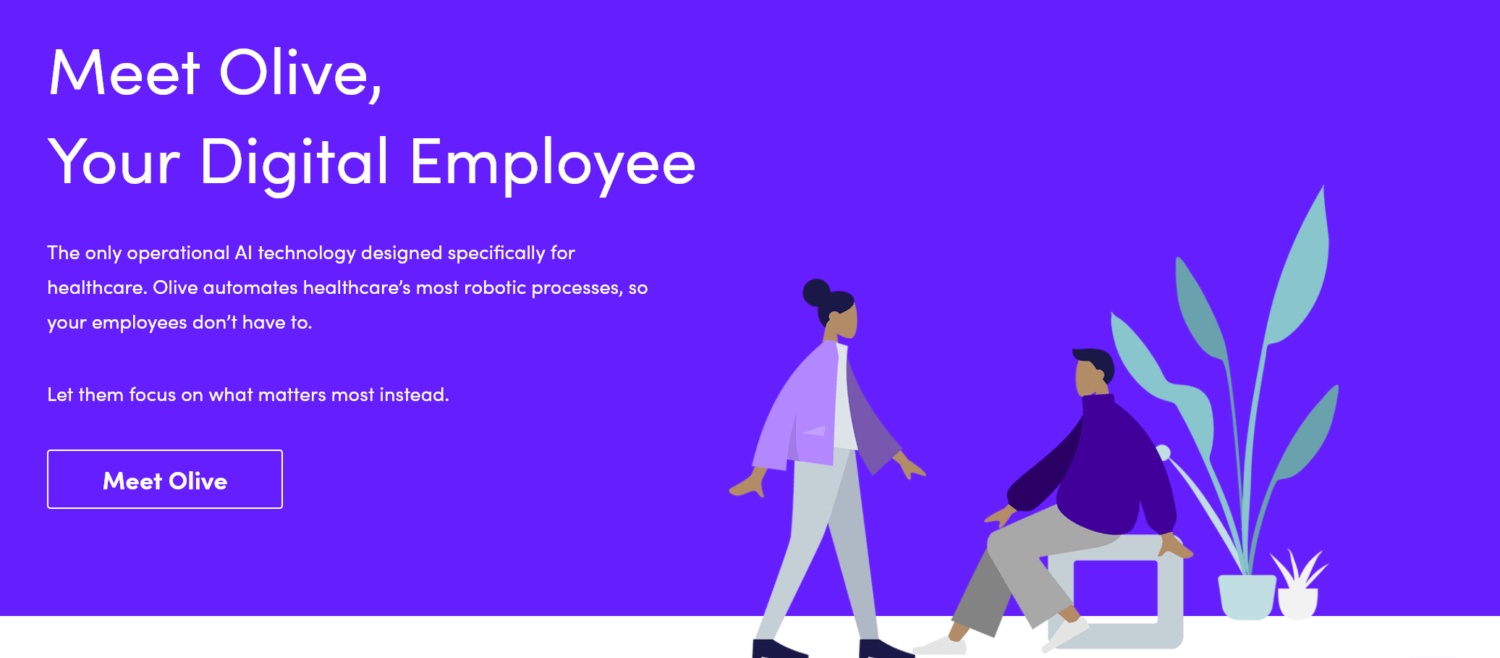 What You Should Know:
– AI workforce management for healthcare provider Olive lands an additional $225.5M in funding, bringing the company's valuation to $1.5B.
– This latest funding round will enable Olive to accelerate product development, and the company plans to announce more capabilities in 2021 to support the entire healthcare ecosystem.
---
Olive, the company creating the AI workforce for healthcare, today announced an additional $225.5M in financing led by Tiger Global and joined by existing investors General Catalyst, Drive Capital and Silicon Valley Bank along with new investors GV, Sequoia Capital Global Equities, Dragoneer Investment Group and Transformation Capital Partners. Olive has now secured $385 million in financing in the last nine months and $448 million since the company's founding in 2012. This new round brings the company's valuation to $1.5 billion.
AI‑Powered Digital Employee Built Specifically For Healthcare
Founded in 2012, Olive builds artificial intelligence and RPA solutions that empower healthcare organizations to improve efficiency and patient care while reducing costly administrative errors. Olive is the only healthcare-specific artificial intelligence solution sold as a service – that means one annual price and an all-in-one approach to hiring a digital employee.
Working alongside healthcare employees, Olive is trained to think cognitively and make complex decisions faster, and more accurately than human employees. She never misses a day of work. She never makes unprogrammed mistakes. And every Olive learns collectively, like a network, so that healthcare organizations never have to solve the same problem twice.
Olive Core Offerings
Olive's three capabilities work together to scope, build, and optimize workflows that directly impact your organization's most meaningful metrics:
Alpha: Enables Olive to identify and implement high-value automation, so organizations can confidently prioritize top processes for automation and accelerate time to build them.
Omega: Enables issue prediction, prevention, and resolution to drive Olive's continued success, utilizing data and quality alerts to track Olive's progress and address potential issues 72 hours in advance.
Deep Purple: Gathers this contextual information, allowing Olive to find new connections and opportunities to improve her work.
Recent Milestones
Throughout 2020, Olive has cemented itself as critical to the infrastructure of over 600 U.S. hospitals, including 22 percent of the top 100 health systems in the country. Olive's disruptive innovation will continue to intensely focus on addressing healthcare's most burdensome issues as the industry copes with more demands than ever. According to "The State of AI in 2020," a recent study released by McKinsey, COVID-19 has driven AI investment in healthcare faster than in any other industry. Since its $106 million in Series F financing mid-September, the company has announced Olive Helps, support of Tufts Medical Center's COVID-19 testing and an expanded leadership team, including the formation of the Cybernetics division.
Leadership Appointments
This latest funding round will enable Olive to accelerate product development, and the company plans to announce more capabilities in 2021 to support the entire healthcare ecosystem. To help with this expansion, Olive has bolstered its executive team with two new hires:
– Ali Byrd joins as Chief Financial Officer, bringing nearly 25 years of software industry experience as an operator, advisor and investor charged with strategic and financial decision-making to support and extend Olive's market leading growth trajectory.
– Shoshana Deutschkron joins as Chief Marketing Officer, bringing more than two decades of experience in technology marketing and leading the charge to raise awareness of Olive's disruptive efforts aimed at fixing the broken healthcare system.
"For every dollar Olive makes, healthcare saves five. That amounts to pretty incredible cost savings throughout the industry, and it's helped us become an indispensable part of hospitals' recovery plan during the pandemic," said Sean Lane, CEO of Olive. "In the year ahead, we're setting our sights on the big picture — investing in R&D to bring more solutions to hospitals and health systems that not only disrupt the industry, but also help to fix a broken system at a critical time for humanity."