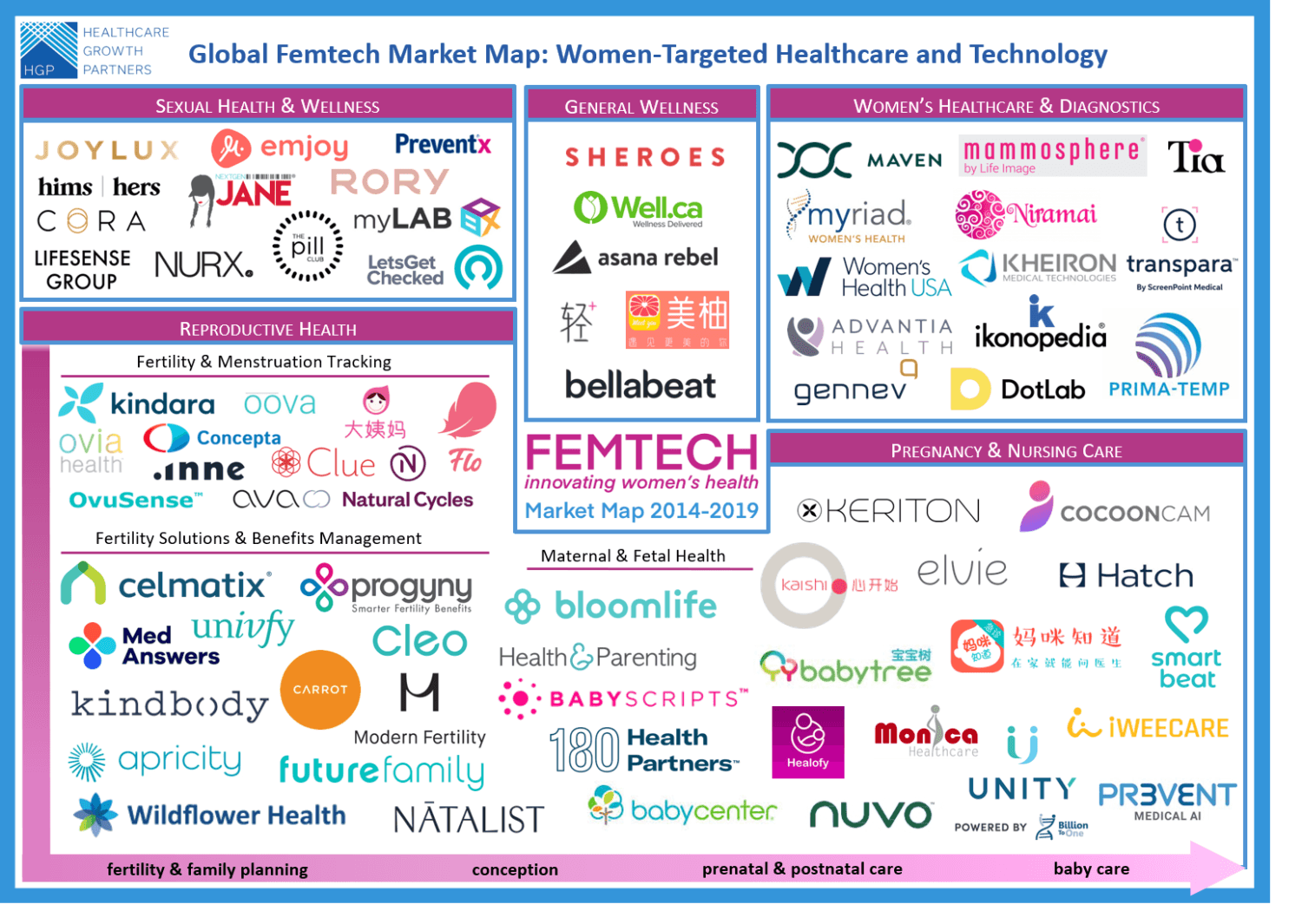 In recent years the technological field has taken revolutionary steps to balance out gender disparities. This has led to the advent of a female-centric health technology market that utilizes tech as a proponent for women's health and overall wellness.
You must have seen (or at least heard of) an app that focuses explicitly on women's issues. These tools are part of a growing collaboration between health and technology known as femtech. Areas that are currently represented include sex and reproduction, menstruation, fertility, and pregnancy.
The femtech industry is relatively young. It is still primarily underfunded, although experts predict that it will grow exponentially in the coming years. Projections estimate that the femtech sector will expand twice fold to include more topics in women's health and technology.
However, before we look at the impact of femtech in society, we need to understand this dynamic 21st-century innovation's basic concepts. Read on to find out exactly what it is and why it is emerging in modern-day corporate strategies and programs.
So, What Is Femtech?
Femtech is an anecdote for 'female technology.' It is a term that defines tools that utilize tech solutions to enhance women's health in areas including:
– General healthcare
– Pregnancy and post-care
– Sexual wellness
– Reproductive system issues
– Fertility solutions
– Menstruation
– Chronic conditions and hormonal disorders
The application of software, diagnostics, wearables, and apps to feminine products and services addresses women's wellness challenges. Currently, mobile phone apps that keep track of fertility and pregnancy account for more than 50% of the femtech market.
The mainstream popularity of femtech arose after creating the first period and fertility tracking app in 2016. Since then, the concept of digital women's health has been incorporated into healthcare strategies to encourage female inclusion.
Contributing Factors to The Current Success of Femtech
Several aspects have helped propel the agenda of femtech. More women are taking up tech roles that were traditionally held by men. As this representation grows, awareness of health issues that primarily affect women is increased. It has always been global healthcare providers' mission to develop strategies that enhance penetration into middle and low-income countries.
Infectious diseases are increasing in prevalence among females in these regions, which has led to an upsurge of funding. Financial donations and grants of this nature work to digitalize women's health. Thanks to femtech, women all over the world can access several services and products. Some companies operate a telemedicine app that offers free or paid consultations and provides prescriptions. 
Femtech and Technology: An Innovative Crossroads
As the number of entrepreneurs venturing into femtech increases, women are becoming more discerning about the products they use on their bodies. Femtech ventures to promote innovative alternatives to educate and destigmatize issues for girls and women on a global scale while promoting environmentalism. You will find numerous startups, policy formations, and tech enterprises that design and develop female ware.
For instance, to reduce the colossal waste burden, corporations are using AI-enabled molding machines to mass-produce biodegradable disposable or reusable tech gadgets for period care like menstrual cups. Such hygiene products are projected to significantly reduce economic and environmental costs while helping achieve the UN 2030 sustainability goals #5 and #6.
4 Challenges Faced by Femtech
Recent analytic studies reveal several hindrances to the femtech industry. Currently, women are significantly underrepresented as viable decision-makers. This may be triggered by forces such as:
1. Lack of sufficient funding for service and product development, especially in low-income regions like Sub-Saharan Africa.
2. An economic burden hinders smartphone penetration, female products, and wearable devices among women in some rural and marginalized parts of the world.
3. Inadequate models for pricing and branding campaigns.
4. Fear of introducing pink tax; an unfair levy applied to products when they are marketed to women.
The Future of Femtech
Currently, there are a few hundred startups in the femtech marketplace. Their primary focus is on women-based care, such as fertility tracking and pregnancy apps. A significant percentage of these entrepreneurial endeavors are owned and run by women.
We anticipate seeing more investment from healthcare venture capitalists, which will grow the femtech industry. Within a forecast period of ten years and with the help of affordable and accessible technology, the service segment is envisioned to expand. Emerging global economies will also enhance the spread of smart medical devices and wearables. There will also be the development of more apps and products due to an increase in research and funding towards general women's health. 
Healthcare research and development are creating space in the medical sphere to pave the way for femtech solutions. Digital health aimed specifically at women is a relatively new concept. Although investors are yet to comprehend the impact of funding for women's health completely, the femtech industry is speculated to grow exponentially within the next few years. It is empowering to utilize technology to realize new solutions to age-old women's problems.