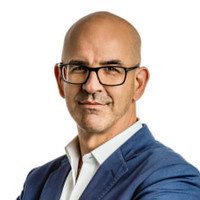 The impact of COVID-19 on the healthcare industry's ability to innovate has been stunning. We have seen FDA emergency authorizations and relaxed regulatory guidelines enable the development of radical new ventilator ideas, accelerated timelines for vaccine development, and an extraordinary transition to telehealth services. Many of these actions were a response to the exposure of weak spots in our healthcare system, but even as those weaknesses have been shored up (in large part due to public health orders on masks, social distancing, and limits on gatherings), the use of telehealth visits is showing remarkable staying power.
New data from IQVIA shows that as states have reopened, telehealth visits have remained up by 2,500% from their pre-COVID levels. While it is clear people have experienced convenience benefits from telehealth visits, telehealth will likely remain a dominant channel of communication between patients and their healthcare providers (HCPs) after HIPPA compliance is reinstated. This presents a huge opportunity for HCPs and payers. Now that we have the attention of clinicians and patients, the telehealth channel has the potential to expand beyond "virtual visits." The sheer volume of data generated through this channel, integrated with clinical and claims data, has the potential to create value that extends into wellness and prevention, as well as care management and treatment. In addition to the potential benefits for individual patients, digital health solutions keep people out of the clinic and help keep our most vulnerable communities safe.
As the rules of the new normal continue to be written, we believe HCPs and payers should reframe telehealth from the digitization of the old model and see it as the epicenter of the future of healthcare.
Step 1: Define and prioritize the health profile in the populations you serve
HCPs and payers should identify and prioritize the healthcare needs of the populations they serve. How much of your population is on Medicare? What percentage have diabetes, congestive heart failure, or chronic obstructive pulmonary disease? How many would benefit from improved access to mental health services? How much care can be provided without having to touch and examine the body? Asking questions like these will help healthcare organizations segment their market by care needs and the degree of prevention, management, and treatment services that they can offer virtually.
Step 2: Create a build/buy/partner strategy for digital health solutions
Based on a prioritized assessment of the population, HCP and payers should immerse themselves in the startup ecosystem around digital health and identify companies whose value propositions are aligned with the needs of their care needs segmentation. This is a key first phase of a build/buy/partner strategy. There are several digital therapeutics (DTx) and digital health startups, such as Omada and Virta, that are succeeding at providing solutions like individualized nutrition therapy and activity guidance to help people manage and prevent diabetes. Solutions like these may be ready to plug into existing systems and workflows. Or they may serve as inspiration for how to better deliver care.
Step 3: Nudge your patients along
With telehealth visits, HCP and payers have the attention of their patients, as well as their data. Patients can be introduced to resources that can help them better understand their own health, establish pathways to improving their health and wellness, and even receive prevention and treatment services akin to Omada, Virta, reSET-O, and other DTx. The benefits of these resources can be measured in terms of reduced hospital admissions and comorbidities, not to mention an improvement in overall quality of life. HCP and payers can use the platform to gently introduce their patients to these features and keep them relevant through encouragement, coaching, and personalization.
This pandemic has already carved out its place in world history. And years from now, when we look back on COVID-19's impact on society, we will likely see at least one positive aspect of its legacy – a global population with better access to quality care from a system that is affordable by all.
---
About Anthony Pannozzo
Anthony Pannozzo is Chief Design Officer (North American and Asia) and Global Healthcare Lead at frog, one of the world's top design and innovation consultancies and a company of Altran, now part of Capgemini.
---