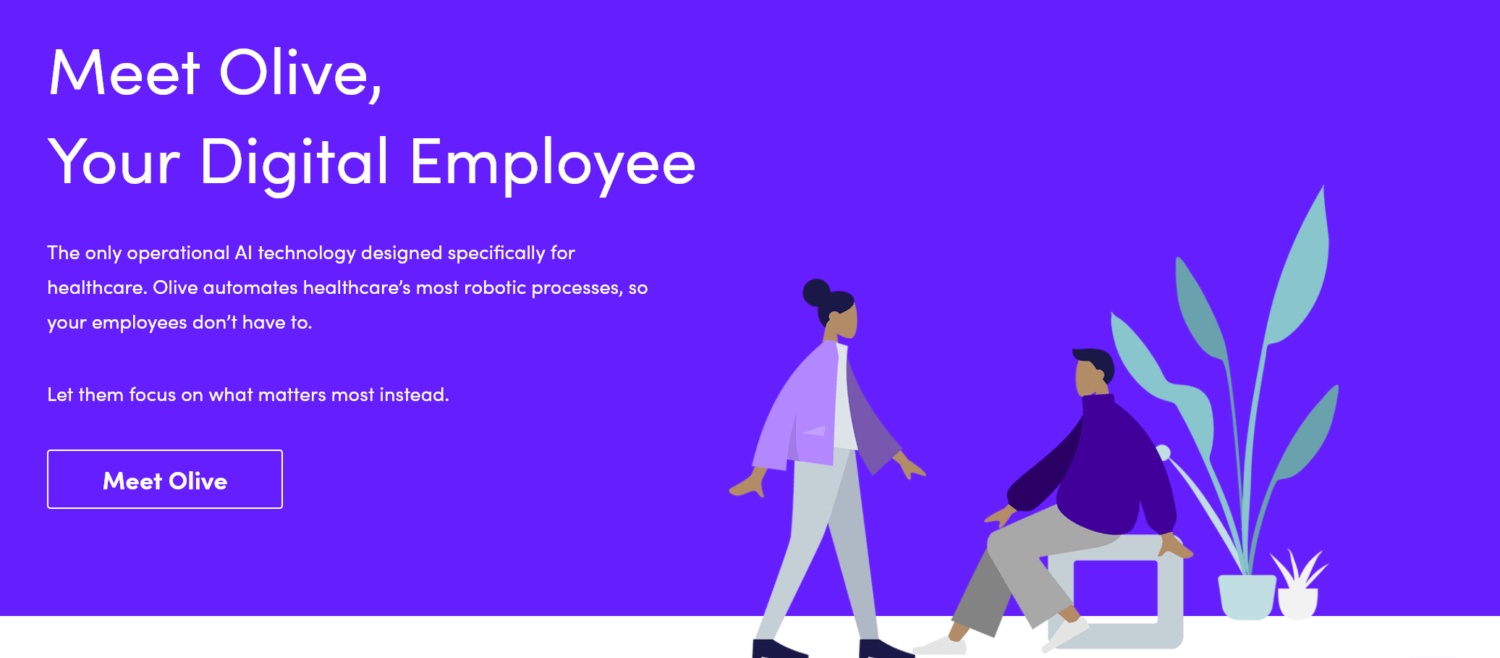 What You Should Know:
– Olive, a company automates healthcare's most robotic processes raises $51M in funding led by General Catalyst.
– Olive automates healthcare's most costly, high-volume tasks using the building blocks of artificial intelligence: robotic process automation, computer vision, and machine learning. 
– Working alongside healthcare employees, Olive is trained to think cognitively and make complex decisions faster, and more accurately than human employees
---
Olive, the company creating the AI workforce for healthcare, today announced the close of its $51 million funding round led by General Catalyst.  The funding will enable Olive to accelerate its growth and further its mission of automating healthcare's administrative processes so hospital employees can focus on delivering high-quality, cost-effective care. Ron Paulus, former president and CEO of Mission Health, a $2 billion integrated health system, will join the Board of Directors at Olive. Existing investors include Drive Capital, Oak HC/FT, Ascension Ventures and others.    
AI‑Powered Digital Employee Built Specifically For Healthcare
Founded in 2012, Olive builds artificial intelligence and RPA solutions that empower healthcare organizations to improve efficiency and patient care while reducing costly administrative errors.
Olive is the only healthcare-specific artificial intelligence solution sold as a service – that means one annual price and an all-in-one approach to hiring a digital employee.
Working alongside healthcare employees, Olive is trained to think cognitively and make complex decisions faster, and more accurately than human employees. She never misses a day of work. She never makes unprogrammed mistakes. And every Olive learns collectively, like a network, so that healthcare organizations never have to solve the same problem twice.
Olive Core Offering
Any software bot can automate a task with RPA. The key to lasting success is to create a digital employee that can learn, adapt, and improve through more advanced technologies. Olive's three capabilities work together to scope, build and optimize workflows that directly impact your organization's most meaningful metrics:
Alpha: Enables Olive to identify and implement high-value automation, so organizations can confidently prioritize top processes for automation and accelerate time to build them.
Omega:  Enables issue prediction, prevention, and resolution to drive Olive's continued success, utilizing data and quality alerts to track Olive's progress and address potential issues 72 hours in advance.
Deep Purple: Gathers this contextual information, allowing Olive to find new connections and opportunities to improve her work.
The announcement comes on the heels of record growth for the company, with Olive's presence growing in 2019 to over 500 U.S. hospitals across 41 states, including 25 of the nation's largest health systems.
"As a recent health system CEO, I appreciate the duress our hospitals are under as they focus on delivering the best patient care possible under challenging circumstances all while needing to keep the lights on," said Dr. Ronald A. Paulus. "Olive's reliable automation of essential back-office processes saves time, reduces errors and allows staff to focus on higher-order work. I am excited to be working closely with Olive's management team to maximize the outsized positive impact we can have in healthcare on both the administrative and clinical fronts."
Recent data reported by Olive found that nearly two-thirds of healthcare leaders plan to adopt automation technologies in the next two years, a significant uptick from the report issued less than 12 months ago. 
"The AI workforce is here, and the days of disconnected bots that don't learn from each other are over," said Sean Lane, CEO of Olive. "The time is now and this investment enables us to accelerate our vision of the internet of healthcare – where when one Olive learns, all Olives learn.  We're on a mission to radically change the way healthcare leverages and views an AI workforce."