– The new Stanford Hospital opened its doors to patients on November 17, 2019, that includes 368 private patient rooms, 20 operating rooms and four acres of gardens.
– More than 1,600 staff members and faculty help support the transition of around 200 patients into a new 824,000-square-foot hospital in 3.5 hours.
On Sunday, Stanford Health Care officially open its doors to the new Stanford Hospital and safely transporting around 200 patients to the new facility across the sky bridge that connects to the existing hospital at 300 Pasteur Drive. More than 1,600 staff and faculty were involved in making a successful transition. Patient transportation began at 9 a.m. The last patient arrived into the new building at 12:30 p.m.
Patient Transportation to New Hospital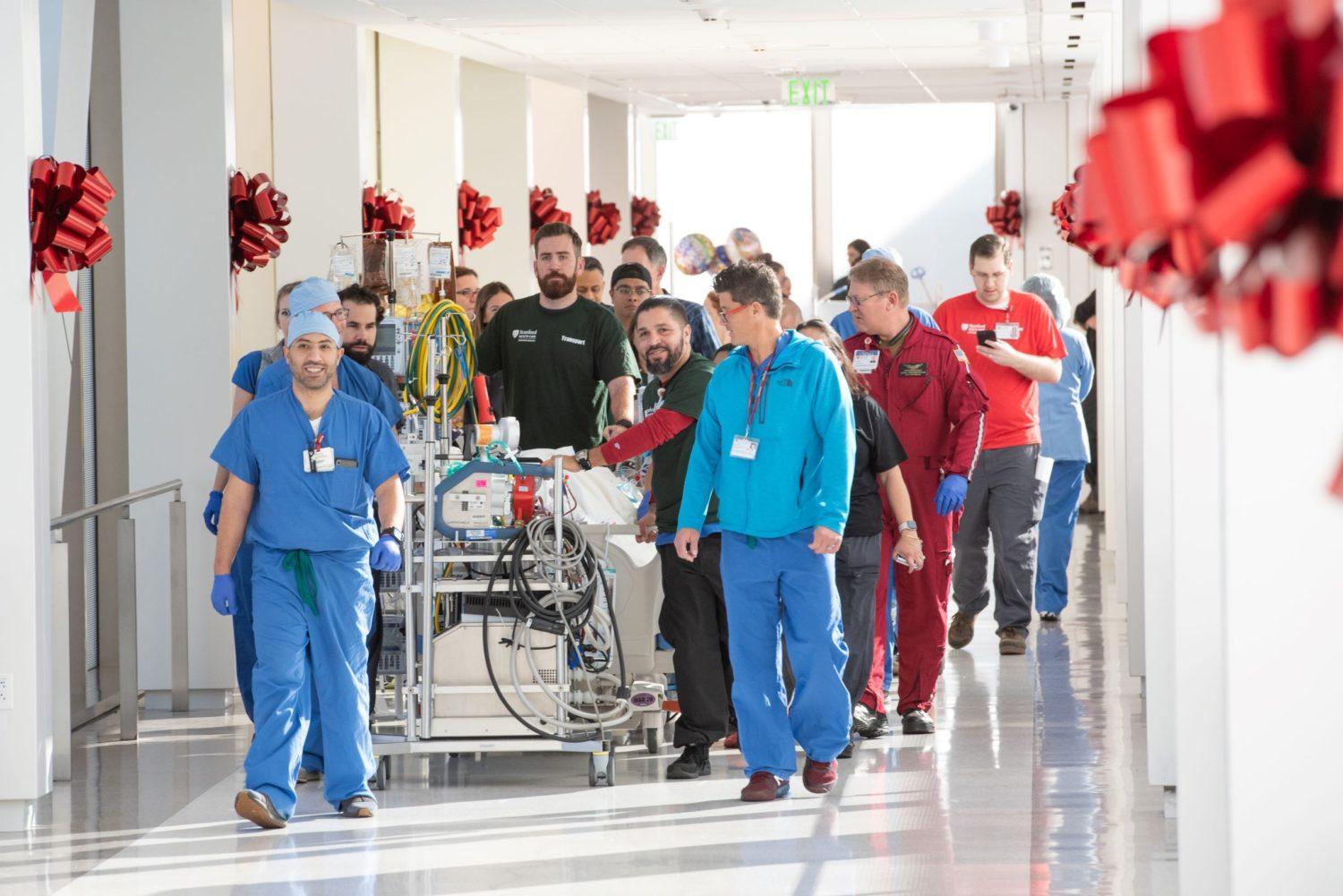 The move day started at 7 a.m. with the opening of the new emergency department at 1199 Welch Road, which serves adult and trauma patients. The existing emergency department at 900 Quarry Road Extension is now dedicated to pediatric patients, further increasing emergency services at the hospital.
"In a period of roughly three and a half hours, a team of more than sixteen hundred Stanford Health Care employees moved hundreds of adult patients from the existing hospital to the new Stanford Hospital. On average, one patient was moved into the new hospital every three to four minutes," said Helen Wilmot, vice president of facilities services and planning. "This is an incredible logistical feat that required months of planning."
The first patient to move into the new hospital was Paul Lee, 51, a transplant patient from Texas. In the new building, Lee said he liked the large size of his private room, the comfortable furniture for his family when they visit, and the view outside his window. "This is one of the best hospitals that I've ever been in," Lee said, "and I've been in lots of them."
New Stanford Hospital
Designed by the internationally recognized firm Rafael Viñoly Architects, the new Stanford Hospital sets a global standard for patient care. The new hospital blends a human-centered approach to care with a razor-sharp focus on integrating technological advancements into every aspect of medical care delivery. Four acres of gardens, original art, and sweeping views share the spotlight with state-of-the-art interventional operating and imaging suites, digitally-driven patient rooms and access to a premier team of specialists from across Stanford Medicine.
The opening of the new hospital was the culmination of more than a decade of planning and construction. The 824,000-square-foot, seven-story medical building features 368 private rooms and 20 state-of-the-art operating suites. It is the only Level 1 trauma center between San Francisco and San Jose, and it's emergency department is more than double the size of the existing one.
"Welcoming the first patients to the new Stanford Hospital marks a major milestone in our precision health vision," said Lloyd Minor, MD, dean of the Stanford School of Medicine. "In this world-class health care facility, we will not only treat disease, we will predict, prevent and cure it — precisely. After a decade of planning and construction, I'm excited that the new hospital is open and ready to advance the health and wellness of our surrounding communities and people around the world."