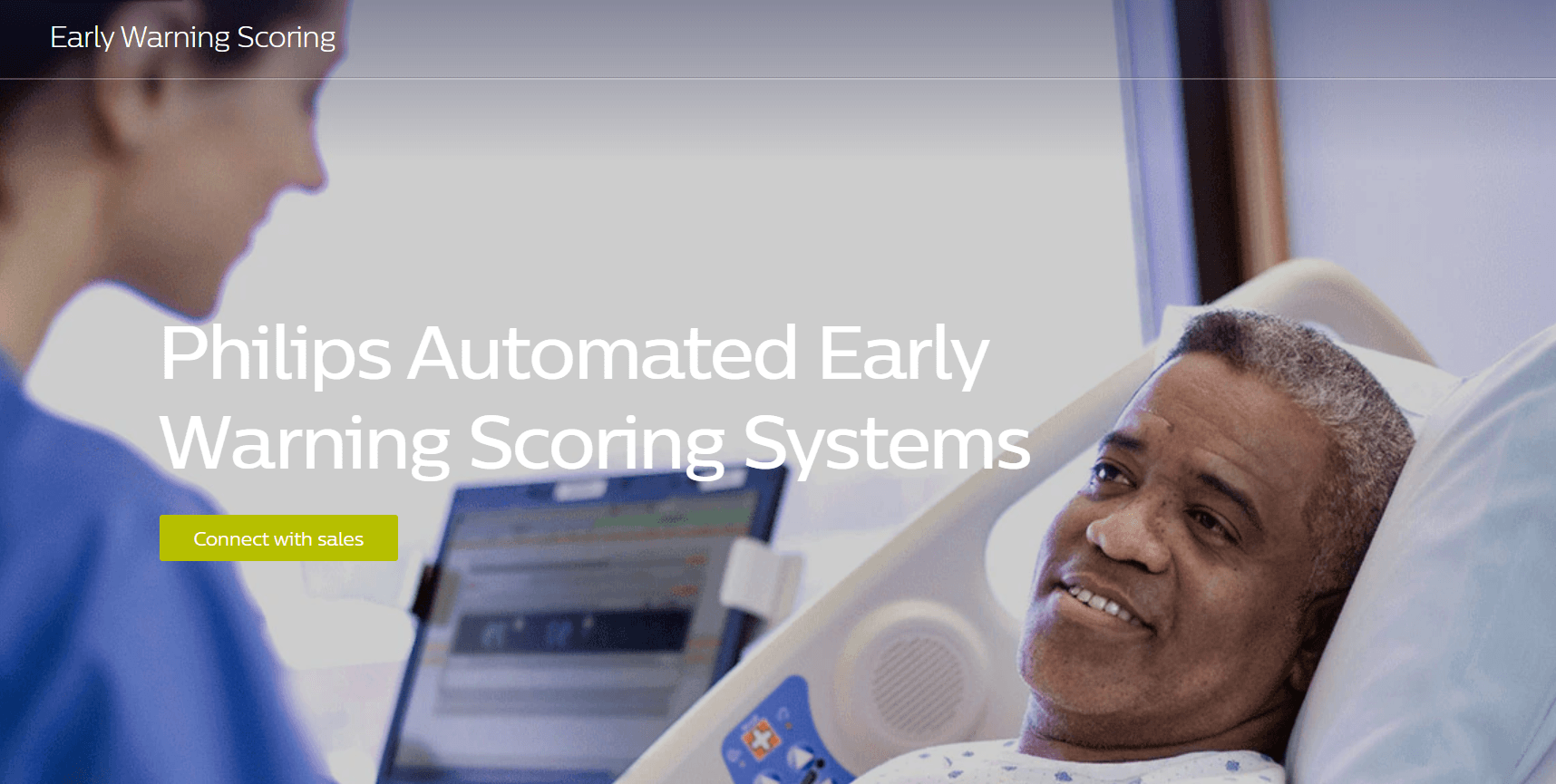 – Philips debuts EarlyVue VS30 vital signs monitor and receive 510(k) clearance in the U.S.
– Early Warning Scoring, predictive trend analytics and intelligent algorithms help detect patient deterioration earlier to enable timely intervention.
Royal Philips today announced the debut of EarlyVue VS30, a new vital signs monitor, in the U.S. Expanding on Philips' General Care solutions portfolio, Philips EarlyVue VS30 uses automated Early Warning Scoring (EWS) to collect critical vital signs and calculate risk-based alerts that allow clinicians to identify subtle signs of patient deterioration.  With this point-of-care alert capability, clinicians in general care settings can facilitate communication between caregivers for timely intervention and patient care.
Market Drivers for Early Warning Scoring (EWS)
The growing number of older, sicker patients, combined with the higher patient-to-clinician ratio on general care floors, pose a continuing challenge for clinicians to care for their patients proactively and efficiently. Clinicians are struggling with high workloads, job dissatisfaction and health issues resulting from work-related stress, associated with a high intention to leave their current job or the nursing field altogether.
In fact, a recent U.S. review published in the International Journal of Nursing Sciences reported a nursing turnover rate as high as 27%. When high demands in care coincide with a shortage in staff, the resulting environment could compromise patient care. With the clinician bandwidth challenges, there has been an error rate of up to 15 percent associated with recording vital signs on paper and transferring to the EMR.
With its connectivity capability, the EarlyVue VS30 monitor allows clinicians to view vitals at the bedside or remotely through a new monitor-to-monitor data sharing feature. Designed to create new workflow efficiencies, the VS30 captures patient data and securely transmits it directly into the hospital's EMR to help reduce errors and support gap-free patient records to help improve patient outcomes.
"With preventable patient adverse events and clinical workflow issues on the rise, it's imperative that the healthcare industry looks for ways to alleviate these challenges," said Peter Ziese, business leader of Monitoring and Analytics at Philips. "Integrated technology with smart algorithms, like EarlyVue VS30, can benefit both clinicians and patients by limiting transcription errors and providing early risk-based alerts for timely interventions – allowing clinicians to, confidently and proactively deliver care." 
FDA 510(k) Clearance
The EarlyVue VS30 monitor has received 510(k) clearance from the FDA and is available for sale in the U.S.