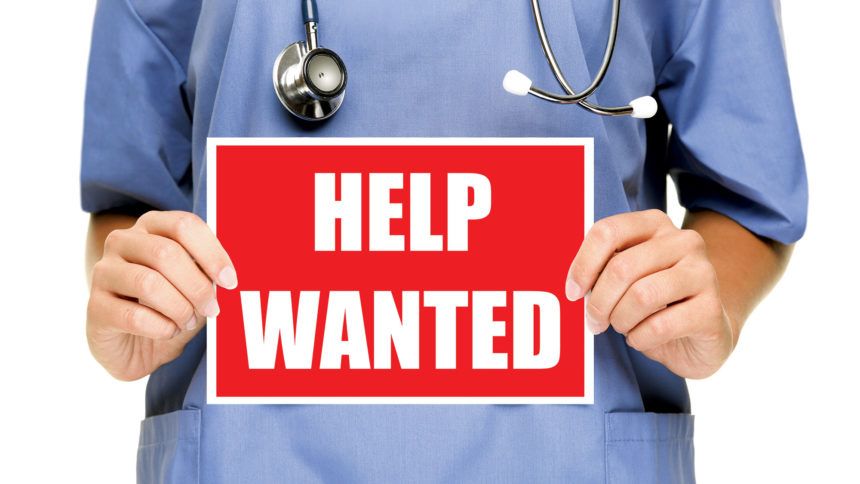 Staffing shortages have plagued the healthcare industry for years, and this year hospital IT departments are feeling more pain than ever. The shortfall in physicians and nurses understandably gets the most press attention, but two phenomenons are pushing scarcity of specialized IT workers into the stratosphere: computer and IT jobs across all industries are projected to grow 12% from 2018  to 2028,  and healthcare is projected to add 3.5 million jobs during the period, about one-third of all new jobs — making it our largest sector. IT jobs are a big piece of that pie. Hospitals must plan ahead and be creative to overcome the stalled hiring efforts that will only worsen.
In case you think that there's nothing new about the growth of healthcare IT jobs over the next few years, let's consider the national context: overall employment is projected to increase at lower annual rate — .5 percent — over the 2018-28 decade, slower than the annual increase of .8 percent from 2008 to 2018, per a new U.S. Bureau of Labor Statistics report. Healthcare sector jobs are increasing at 1.6 percent per year, more than any other sector, with a total of 3.4 million new jobs.  Of the 30 fastest growing occupations, 18 are in healthcare and related occupations and include information technology jobs.
The health IT staffing crunch will grow as hospitals and other providers are increasingly impacted by the following developments:
– Our aging population is causing multiple impacts. Hospitals will need to replace millions of healthcare IT workers who are retiring.  Moreover, unlike many past generations, this "boomer" group is embracing a wellness lifestyle that can often include surgeries and treatments to keep them on the go — adding to patient counts. Certainly, many will develop chronic illnesses and disabilities that will drive demand not only for more caregivers but also for more and better digital support solutions like telehealth, monitoring devices, AI-enhanced diagnoses and more.
– Hospitals are expanding their digital platforms to improve healthcare quality, be more competitive, and cut costs. They are exploring new technologies that include blockchain-based interoperability, artificial intelligence to improve diagnoses and scale precision care, telehealth solutions, "big data" analytics, IoMT technologies (internet of medical things), and patient engagement tools like wearables to enhance communications and improve outcomes.
– Extreme data security risks, including HIPAA privacy breaches, ransomware exploits, and compromise of systems and proprietary information have caused an upheaval in healthcare delivery that will only increase. For most hospitals, cybersecurity is a top priority, requiring more specialized, comprehensive IT solutions than ever before — and more specialized security staff.
– The larger job market threatens the stability of hospital IT workforces. IT specialists can change jobs more easily than ever and are doing so. Employees who have held the same role for a long period of time are becoming flight risks in what some recruitment experts are calling the IT "talent war."
Shining more light at a relatively micro level, the HIMSS 2019 U.S. Leadership and IT Workforce Survey reported that hospitals have expectations of increasing their IT work staff by 63% in the coming year, a much higher increase than the 24% increase expected in 2018. One clue to this surprising about-face is the survey participants' report on their workforce's status: over 60 percent have open positions to fill. It appears that the expected crunch between necessary job growth in hospitals and the scarcity of qualified IT specialists is already taking its toll.
Hospitals can take more control of their IT staff hiring challenges. Before adding new positions, consider stepping back and doing a thorough departmental analysis that will enable the hospital to rethink the staffing framework that defines your IT department. The goal will be to intelligently map all IT operations components and projects to existing talent and potentially needed new staff. If the CIO has not done such an analysis in a while, this effort could offer startling conclusions that will at the very least, ensure that refilling this job or adding that one is the organization's most cost-effective option. At best, the result may illustrate several options for growing the department's talent base and meeting its goals, and even reduce the number of positions to be filled going forward.
To start, don't think about specific people or specific positions; drop your automatic assumptions about who are required to get the work done and how it must be done. In this "what versus how" business analysis, step back and do a holistic blank slate outline of all the functional needs across your IT landscape. Cover current and projected real functional needs and consider the important strategic projects that will add value to the organization.
Then do a SWOT analysis of your staff's top strengths, weaknesses, opportunities, and threats, person by person, to create an organized list.  First, record their skills and experience. If you already have skills inventories of your workers, you're unusually fortunate. Put them to use here. Consider any new educational experiences staff members may have had, their learning agility, job successes, communications skills, ambitions, weaknesses and more. How engaged are they in their work? (Gallup reports that 70 percent of workers are not engaged; if you have workers who could be more productive if they were more engaged in their jobs, could additional mentoring or a job change make a difference?) Consider workers' use of time: do some have time that could be put to higher priority use if they received appropriate training?
Next, estimate the resource requirements to meet all the needs you have outlined, including the number of people-hours and the array of skill sets needed for on-going operations and projects that are planned. Consider what projects can be scheduled out over time. Think about project alternatives; for example, can optimization of existing systems and processes replace a new system implementation project that's been planned?
This quick summary of what/how departmental analysis cannot cover all the factors to be considered. But the point is that such an analysis may enable a fair amount of departmental re-engineering that will result in a reduction in the IT department's need for staff additions.  Possible outcomes include more cross-functional integration and teamwork, creative labor utilization adjustments, elimination of no longer needed roles, dismantling of silos, simplification of reporting trails, elimination of redundancies such as top-heavy management, re-training, morale-building promotions and much more.
IT job opportunities are expected to increase at mega rates for several years — and as long as the healthcare sector continues to grow, so will the shortages of needed IT specialists. Hospitals must find scalable solutions to a phenomenon that is already threatening the promise of technology-based healthcare improvements. Hiring the right people and giving them the proper training and mentoring is essential. Improving the productivity of existing IT staff through creative reorganization, taking effective steps toward retention, re-training, and providing permission to fail in learning is equally necessary.
About D'Arcy Guerin Gue 
D'Arcy Guerin Gue is a co-founder of Phoenix, with over 25 years of experience in executive leadership, strategic planning, IT services, knowledge leadership, and industry relations —  with a special focus on patient engagement and federal compliance issues. She currently serves as the VP of Industry Relations at Phoenix Health Systems, a division of Medsphere Systems.