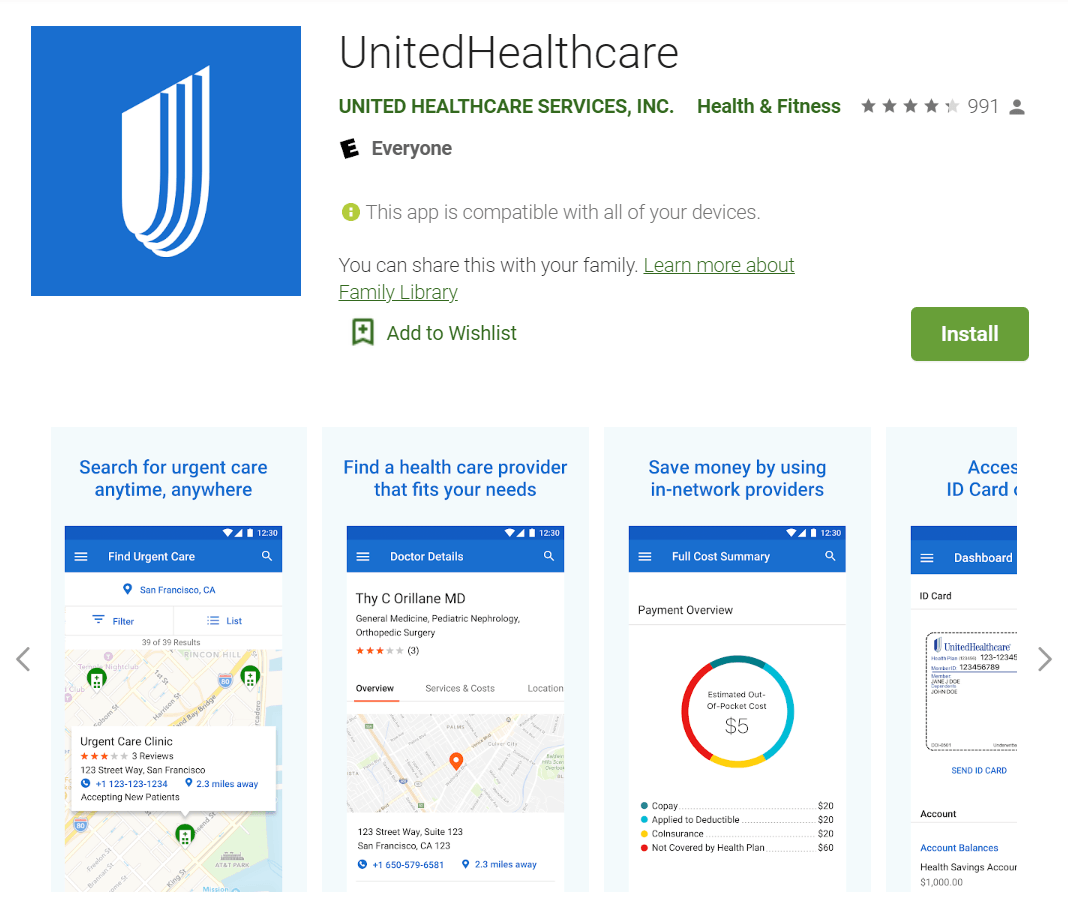 – New mobile app gives 27 million Americans access to health information 24/7 to help encourage a more simplified and convenient health care experience
– Integrated Virtual Visits offer on-demand access to health care professionals via a mobile device or computer 
– The new app – available on Android® and Apple® devices – will over time replace the existing Health4Me app for UnitedHealthcare plan participants
Millions of Americans now have on-demand access to telemedicine services 24/7 with the new UnitedHealthcare app. UnitedHealthcare, the nation's largest health plan, has introduced a new app that provides health information for people on the go, including the ability to directly schedule and conduct a telehealth visit with a doctor. 
Consumers Are Increasingly Embracing Telehealth Services
Telehealth services are becoming increasingly popular for consumers and employers. More than half (51%) of companies are planning to expand the use of telehealth solutions to help employees access care, while 39% of Americans say they are interested in using telemedicine. The use of telehealth is especially important for people with chronic conditions and the 20% of the U.S. population that lives in rural areas, where access to health care, particularly specialty care is often lacking.
Cost Benefits of Virtual Visits
About 25% of emergency room visits involve conditions that could appropriately be addressed with a virtual visit. Virtual care generally costs less than $50 per visit compared to an average of $740 for an emergency room visit for a similar low-severity condition, and is designed to provide an alternative way to access care when clinics and urgent care facilities are closed.
The app is available for download at no additional charge for Android and Apple devices to more than 27 million people enrolled in UnitedHealthcare employer-sponsored health benefit plans, giving people with coverage for virtual physician visits secure, online access to a physician via mobile phone, tablet or computer 24 hours a day. Virtual visits typically last about 20 minutes, and doctors can diagnose a range of nonemergency medical conditions, including allergies, flu, colds, pinkeye, fevers, and rashes. If needed, doctors can prescribe medications and send prescriptions to local pharmacies for pickup.
UnitedHealthcare App Features
The UnitedHealthcare app also enables people to:
– access their health plan ID card on their smartphone, and email it directly from the mobile device to the plan participant's physician office or hospital
– review and manage prescription medications
– comparison shop for care based on quality and cost, including the ability to review information for approximately – 800 medical services
– save their favorite care providers within the UnitedHealthcare network, and save claims and insert notes for follow-up
– locate nearby physicians, hospitals, and urgent care centers using a smartphone's GPS functionality, which may make it easier for consumers to find care providers when they are out of town;
– schedule a call with a UnitedHealthcare customer service advocate using the callback feature to address any questions about claims and benefits**
– view information on the status of deductible and out-of-pocket spending, and check account balances for health reimbursement, flexible spending and health savings accounts.
"Digital health resources are fundamentally changing how people navigate the health system, making it possible to access care from anywhere at any time and helping remove barriers to care," said Anne Docimo, M.D., UnitedHealthcare chief medical officer. "The new app is part of UnitedHealth Group's more than $3 billion annual investment in data, technology, and innovation, helping build a health system that is more intuitive, affordable and convenient."