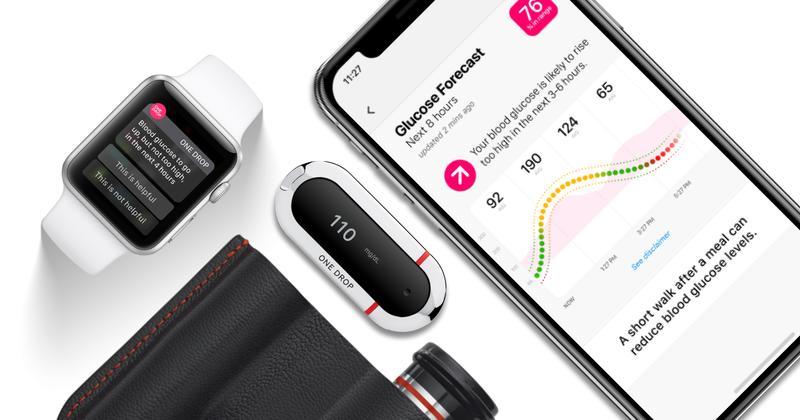 One Drop, a digital blood glucose monitoring kit for diabetes management will now be available in select retail Apple stores, CNBC reports. Currently sold online in the Apple Store for $69.95, the digital diabetes kit includes a Bluetooth glucose meter, test strips, lancets (optional), and one year of free coaching from a certified diabetes coach.
One Drop Blood Glucose Monitor
One Drop's blood glucose meter ensures clinically proven accurate, reliable results in just five seconds. The meter then wirelessly transmits that blood glucose data via Bluetooth to the One Drop Mobile app on your iOS device. Exceeding all FDA and CE requirements, the meter is compatible with the iPhone, Apple Watch, iPad, and iPod touch. Through the app, it lets you track everything in one place: blood glucose, food, medication, and activity.
The company recently expanded its AI-powered Predictive Insights to include 8-hour blood glucose forecasts for One Drop | Mobile iOS users with type 2 diabetes, including those on oral medications and/or basal insulin regimens, making One Drop the only provider of blood glucose forecasts for people with type 2 diabetes. Additionally, the One Drop app offers an easy-to-use Personal Health Assistant — a digital tool for monitoring medication, food and physical activity as well as blood sugar, blood pressure, weight, and other health markers.
Financial Impact of Diabetes in the U.S.
In the USA, 1 in 11 people has diabetes, costing the healthcare system more than $150 billion annually. For these individuals, maintaining blood glucose in the normal range (80–180 mg/dL) is a critical part of reducing emergency department visits, hospitalizations, renal failure and other costly complications of diabetes.
"The healthcare industry is deeply invested in resisting progress, but consumerized, data-driven, digital health is becoming a reality," said Jeff Dachis, One Drop Founder and CEO. "Diabetes affects more than 30 million Americans today, many of whom face a tremendous amount of stigma and lack of adequate support from an over-burdened system. One Drop is shifting value towards the consumer, while remaining relentlessly focused on improving outcomes and quality of life."