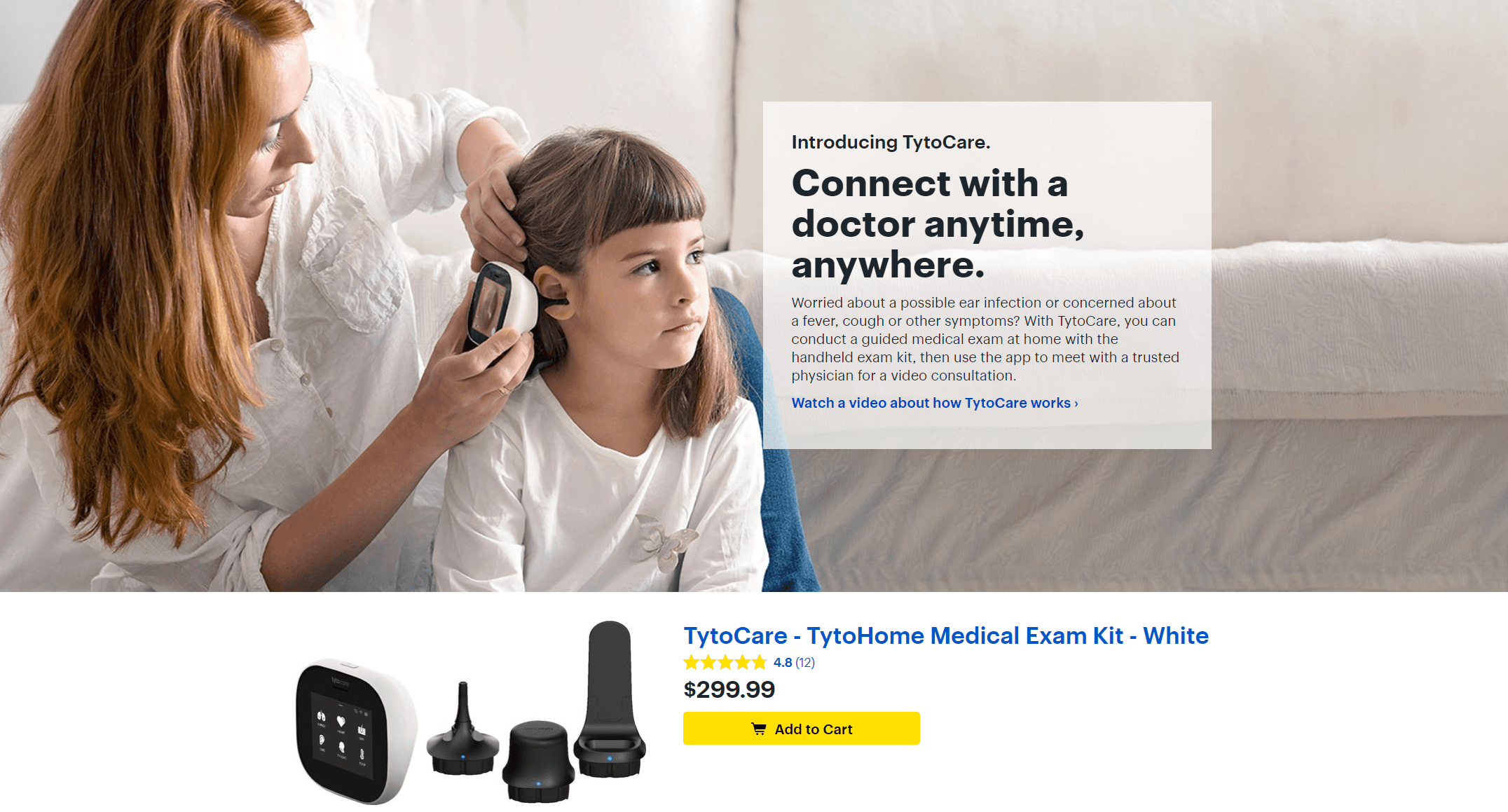 Tyto Care, an Israeli-based telehealth platform for on-demand, remote medical exams, today announced the expanded availability of TytoHome at select Best Buy stores in California, Ohio, North Dakota and South Dakota. TytoHome is already available for all U.S. customers on BestBuy.com and in select Minnesota Best Buy locations. The expansion into the four additional states brings Tyto Care's telehealth solution to a total of 30 Best Buy locations nationwide to date.
TytoHome: How It Works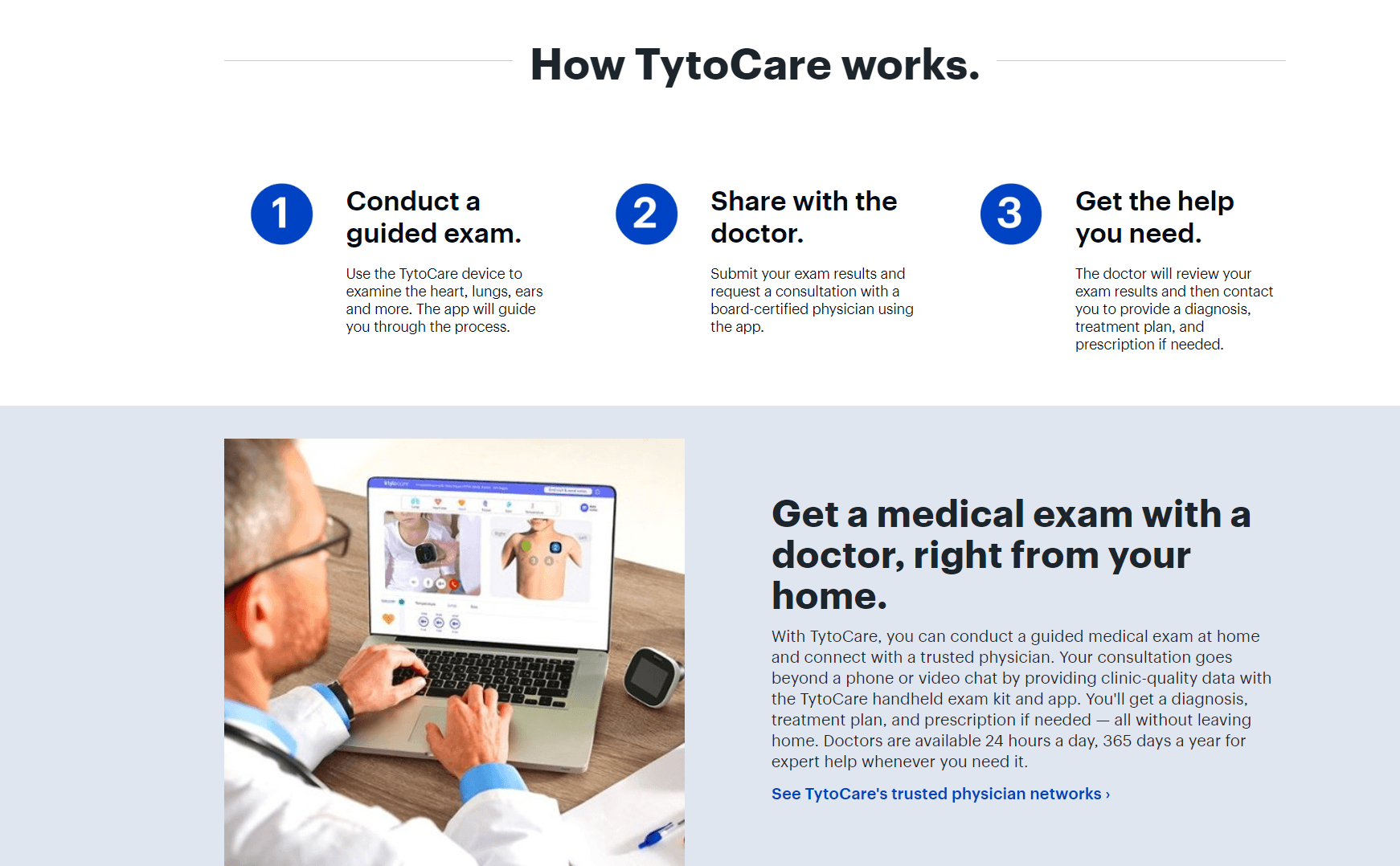 TytoHome, available for $299.99, is a handheld examination device with attachments that can examine the heart, lungs, skin, ears, throat and abdomen, as well as measure body temperature. The solution enables users to perform comprehensive medical exams and send the captured exam information to a primary care provider for diagnosis of acute care situations like ear infections, sore throats, fever, cold and flu, allergies, stomach aches, upper respiratory infections, coughs, rashes and more.
TytoHome Visit Costs
Users can connect with a provider 24 hours a day, seven days a week, 365 days a year, no matter their location. Imagine it's 3 a.m. and one wakes up with an earache. With TytoHome, a user can turn on the device, examine the affected ear and have a clinician provide a diagnosis and prescription – all without a visit to the clinic during normal business hours. At most, each TytoHome visit costs just $59, potentially even less depending on the visit and/or the user's health insurance plan.
Integration Partners
LiveHealth Online, powered by American Well®, the leading telehealth provider in the U.S., is the current provider for users who purchase TytoHome in California and Ohio stores as well as those who purchase it on BestBuy.com. Sanford Health, one of the largest, not-for-profit health care systems in the U.S., will provide care to TytoHome users in North Dakota, South Dakota and Minnesota, as well as to users in Iowa who purchase the device from BestBuy.com. TytoHome users in Louisiana and Mississippi who purchase the device from BestBuy.com will receive coverage from Ochsner Health System, a nationally-recognized healthcare system based in Louisiana. Additionally, through LiveHealth Online, select employers can offer the service to their employees and provide them with coupons to purchase TytoHome at Best Buy.
Impact of Best Buy Expansion for TyoCare
The expansion of TytoHome to more stores nationwide illustrates Best Buy's growing commitment to the digital health space and its dedication to improving the lives of its customers through technology. Last year, the company also acquired GreatCall, a leading provider of connected health and personal emergency response services to the aging population.
"Since our recent launch online at BestBuy.com and in Minnesota, we've witnessed growing excitement for TytoHome. Best Buy's move to expand TytoHome into four more states demonstrates their customers' desire for digital health offerings that make the healthcare experience more convenient," said Dedi Gilad, CEO and co-founder of Tyto Care. "We look forward to rolling out our solution in additional Best Buy stores across the country as we work with regional health care providers to expand consumers' access to first-class care from the comfort of their homes."