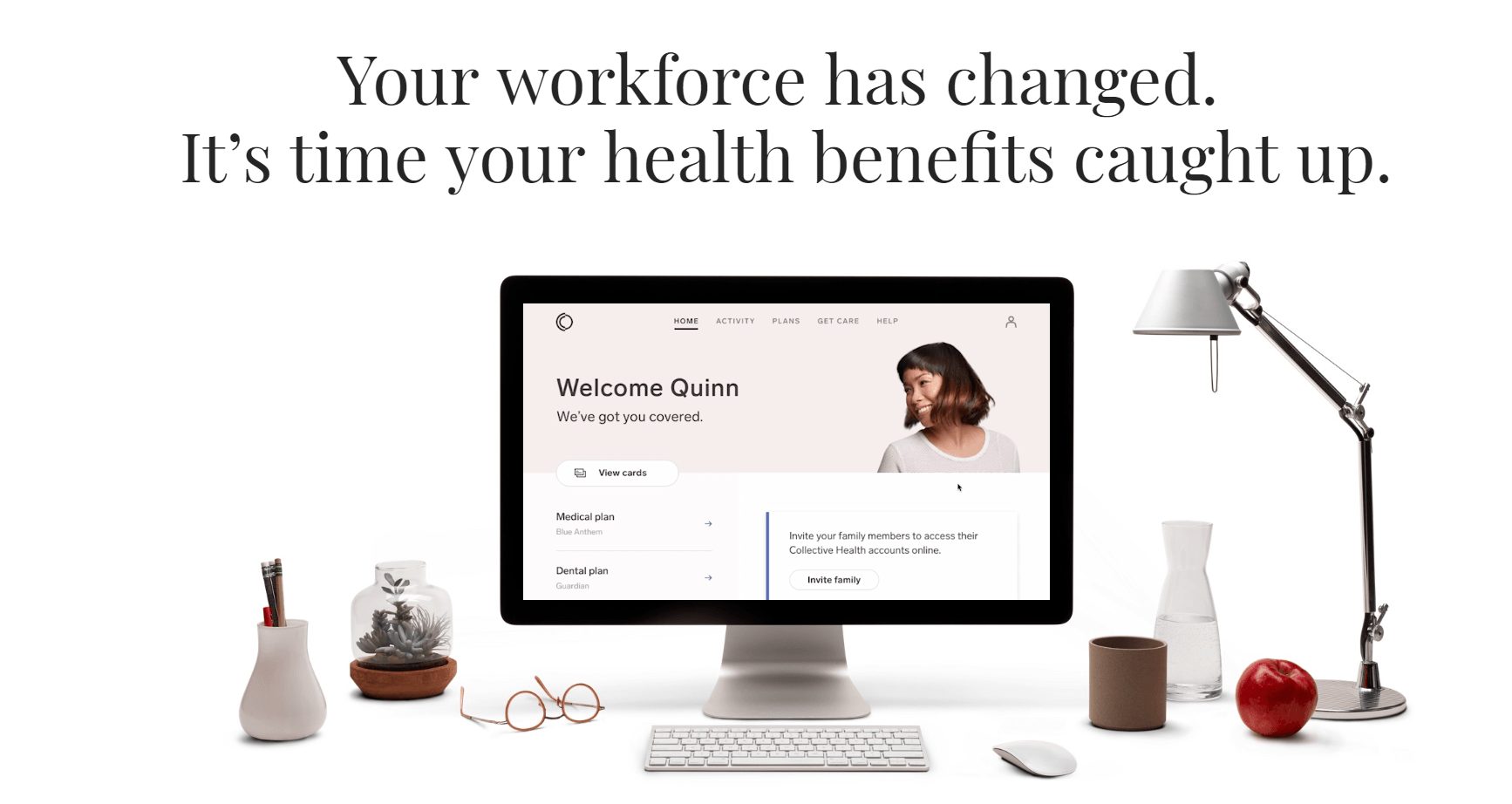 Collective Health, a San Francisco, CA-based provider of a employer-sponsored health insurance platform has raised $205 million in Series D funding led by SoftBank's Vision Fund with participation from GV, Founders Fund, Maverick Ventures, NEA and Sun Life. The latest round brings the company total funding to date at $435M.
$1.2 Trillion Market Opportunity
"With U.S. healthcare costs at $3.65 trillion in 2018, Collective Health is reinventing the healthcare experience for companies and their employees. Their innovative business model and technology platform are not only helping employers understand and optimize their healthcare spend, they are also providing employees with a better healthcare experience," said Deep Nishar, Senior Managing Partner at SoftBank Investment Advisers. "The company has continued to scale its business across U.S. employers, and we are excited to help them drive further innovation and adoption in the approximately $1.2 trillion employer health insurance industry."
Founded in 2013 by Ali Diab and Rajaie Batniji, Collective Health's integrated solution that allows self-funded employers to administer plans, control costs, and take care of their people—all in one place. With more than 200,000 lives across over 45 enterprise clients in diverse industries such as technology, agriculture, entertainment, and retail, among others, Collective Health's growth has gone from early adopter to mainstream since launching in 2013.
Expansion Plans
Collective Health plans to add new partnerships to its already expansive list of 80 integrated health partners on its open platform. These include new local and national medical PPO networks, provider systems serving the commercial market, and an increasing number of digital health solutions that allow seamless integration for both employer reporting and member engagement.
With four patents pending across its product suite, this new funding will support Collective Health's expansion of its product and engineering team to accelerate development in core areas, including:
Reducing administrative burden and waste
By continuing to invest in improved claims and payments technology to enhance decades-old systems, Collective Health plans to enable more transparency around cost of care, faster payments, improved member navigation, and rapid fraud detection. As a result, all employer clients and members are able to make more timely, informed healthcare decisions and receive the information they need—right when they need it.
Guiding members to treatments that meet their health needs while helping to reduce costs
Collective Health enables employers to create a seamless experience for their people and drive engagement with their ecosystem of solutions to create healthier workforces. Collective Health's patent-pending machine learning engine, CH Cortex™, identifies individual member care needs—from chronic disease management to radiology services and beyond. The Collective Health app and Member Advocates then guide people to appropriate partners, facilities, and providers for treatment.
Delivering insights to employers to improve population health
Collective Health Insights gives employers and their consultants a window into the trends that drive healthcare spend; for most companies, the size of that spend is second only to payroll. Insights will launch new features and datasets that extend the Collective Health commitment to helping employers better understand and manage emerging health issues, so they can move from reactive to proactive and, in turn, provide their people with better access to care.
"Sometimes working in benefits can feel like you're on the hamster wheel of problem solving," said Alice Vichaita, Global Head of Benefits at Pinterest. "People usually don't remember their benefits on paper, but everyone remembers their experience, and we're always working to support our employees in the best way possible. Collective Health is unparalleled and well beyond the industry standard, providing us the ability to better serve our people's health demands while providing the type of healthcare experience our people want."