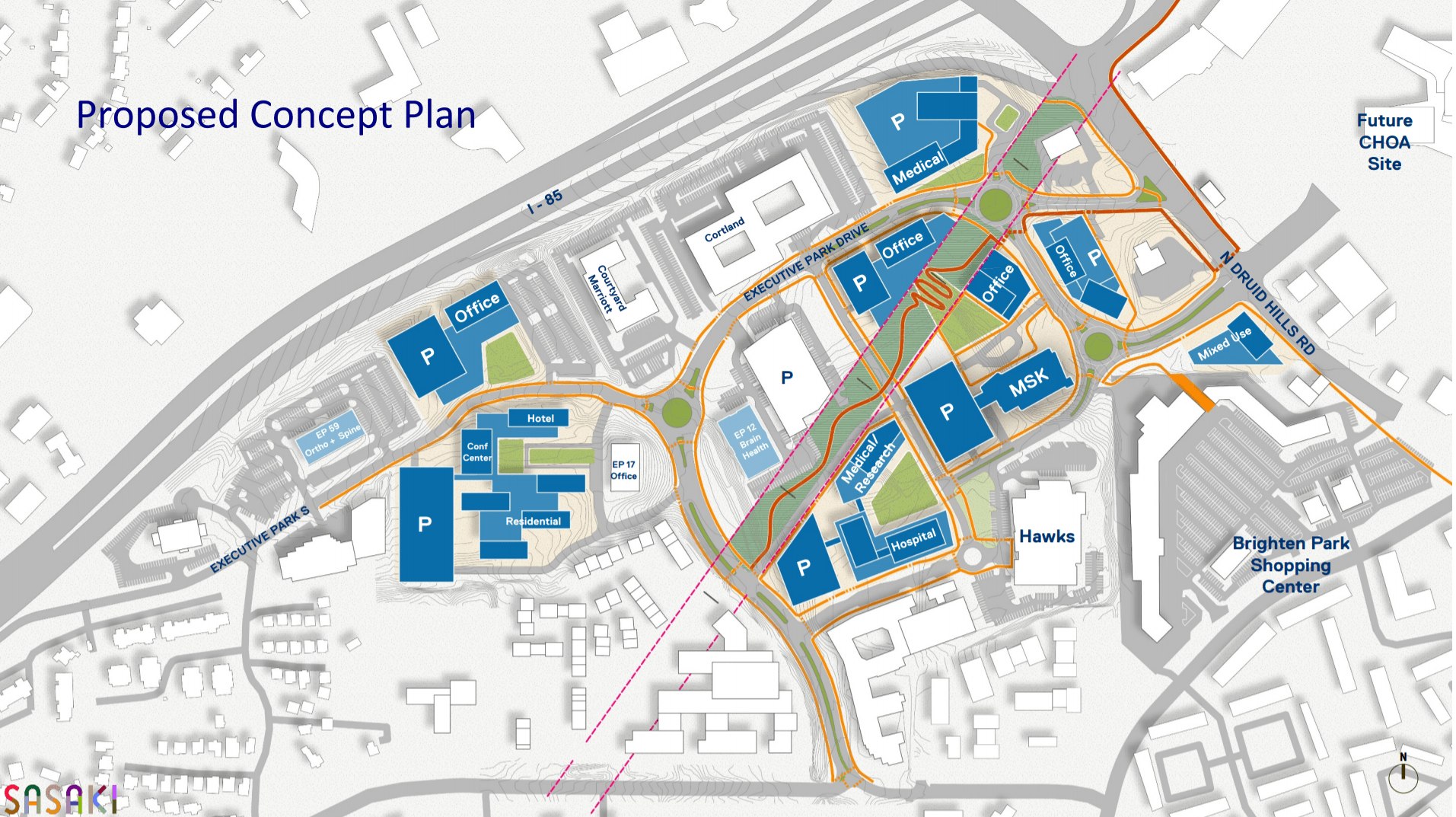 Emory University has unveiled a plan to create a "live-work-play-health innovation district" at Executive Park focused on supporting a connected community and workplace for the future. The university filed a rezoning permit Wednesday with the city of Brookhaven for Executive Park, located near the interchange of North Druid Hills Road and I-85 in the Atlanta metropolitan area.
Live-Work-Play Health Innovation District at Executive Park
Emory purchased the nearly 60 acres in 2016 and seeks to replace the current retail- and office-centric site plan with a revised site plan that builds on the successful programs in orthopedics, sports medicine, brain health, medical science education, and health information technology already located on site. The health innovation district will add more medical and office space including a 140-bed, non-emergency, inpatient hospital. In addition, the proposed conference center, and hotel plus multi-family residential, all of which were approved in the previous plan, will remain for future phased development.
Pedestrian Friendly and Public Greenspace
Emory's plans for Executive Park include approximately seven acres of greenspace and a half-mile, off-street multi-use trail to enable additional pedestrian and bike connectivity to the surrounding neighborhoods and commercial areas
Project Timeline and Next Steps
The proposed projects would be phased in over more than 15 years and Emory will continue to keep the community informed as initiatives move from concepts to construction to completion. At full build-out, the new plan is estimated to generate $7 million in property tax revenue each year.
"Our plans for Executive Park support Emory's long-term visions focused on health care, wellness, research and innovation," says Robin Morey, Emory University vice president and chief planning officer. "We are excited to partner with the city of Brookhaven and community leaders to expand the work and partnerships we already have in Executive Park."