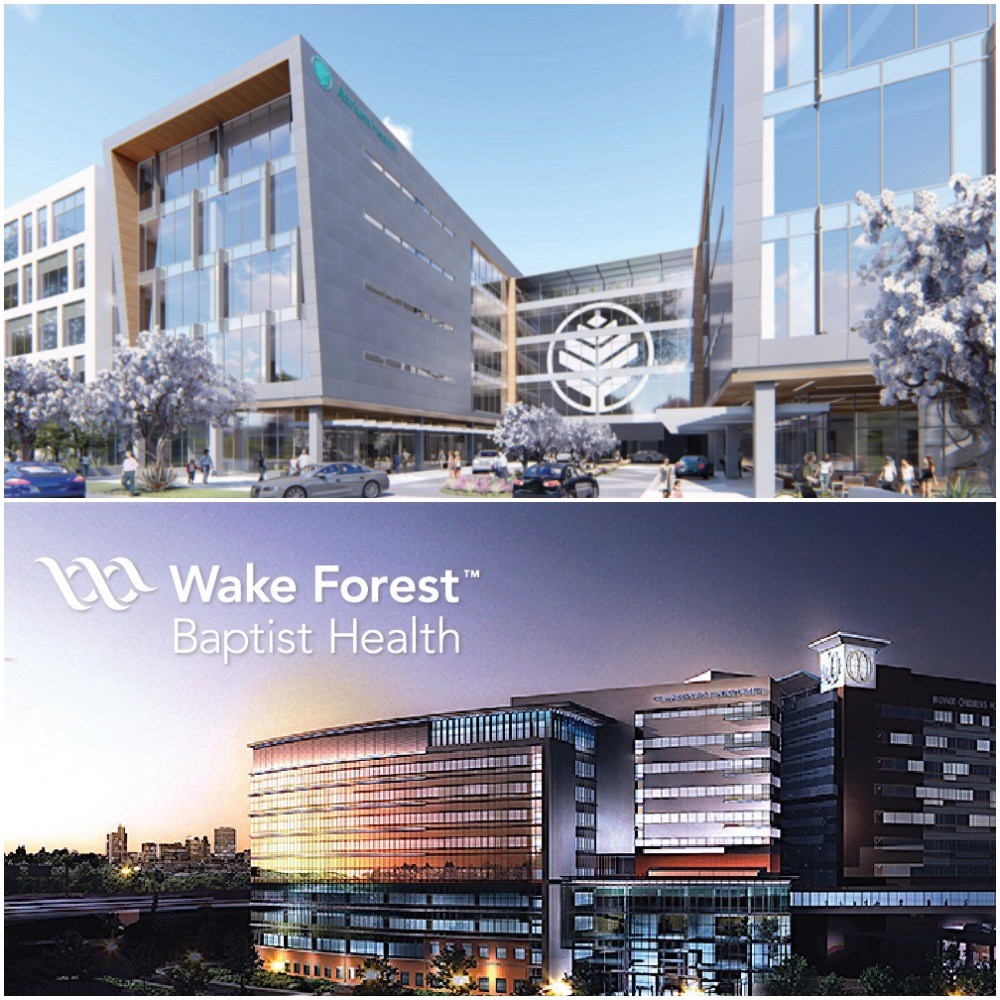 Atrium Health, Wake Forest Baptist Health and Wake Forest University today announced the signing of a Memorandum of Understanding to merge that will establish a next-generation academic healthcare system. If approved, the mega-merger will enable three leading healthcare organizations to invest in the health and well-being of people throughout the region, as well as contribute ground-breaking research and innovation to the world. The organizations have agreed to start a period of exclusive negotiations, with the goal of entering into a final agreement later this year.
Atrium Health and Wake Forest Baptist Health Background
Atrium Health (formerly Carolinas HealthCare) is an integrated not-for-profit healthcare system in the nation with nearly 14 million patient interactions each year across 42 hospitals and more than 900 care locations. Wake Forest Baptist Health is a nationally-ranked academic medical center and regional healthcare system with 2.2 million patient interactions each year across seven hospitals and more than 400 care locations. Together, the combined organization will improve health for all communities they serve, from large cities to small rural communities, making care more accessible and affordable for the nearly 6.8 million residents near the systems' respective service areas.
Impact of Mega-Merger
Here are five things to know about the potential impact of the mega-merger:
1. Bring together Atrium Health's destination clinical programs such as Cancer, Children's, Heart and Musculoskeletal, along with Wake Forest Baptist Health's clinical leadership and differentiating research in Aging and Alzheimer's disease, Cancer, Cardiovascular disease, Diabetes and Obesity, Neurosciences and Regenerative Medicine
2. Transform health for communities served through innovative data and evidence-driven public health programs, value-based care models that improve social determinants of health, and next-generation primary care experiences that seek to dramatically improve and maintain health and well-being
3. Investment in a proposed Translational Research and Population Health Center in Winston-Salem, to accelerate the best possible practices for patients, while improving quality and making care more affordable for all, including drawing from the experience and track record of CHESS, the organizations' population health services company.
4. Build a second innovation medical school campus in Charlotte over the next few years to attract top medical education faculty to enhance innovative teaching methods and create new models of care, adding to the already 1,650 full-time and part-time faculty positions at Wake Forest School of Medicine and Atrium Health
5. Establish patient-centered research and innovation that will coordinate many large and ground-breaking multi-site clinical research collaborations around the U.S. that are affecting millions of lives today, such as the Systolic Blood Pressure Intervention Trial (SPRINT), the Multi-Ethnic Study of Atherosclerosis (MESA), the Search for Diabetes in Youth (SEARCH) and POINTER, a U.S. study to protect brain health through lifestyle intervention;
"Phenomenal things can happen when like-minded partners, committed to the same transformative vision, come together in new ways to better serve our patients and communities," said Eugene A. Woods, president, and CEO of Atrium Health. "For example, Wake Forest School of Medicine and Wake Forest Baptist Health are national leaders in studying how to help people age better, and with a much higher quality of life. Last year at Atrium Health, we cared for more than 350,000 patients over the age of 65, and by 2035, one in five U.S. residents will be over that age. Just imagine the powerful possibilities to advance modern medicine by linking breakthrough science directly with our patients in a way that significantly enhances their cognitive and physical functioning – and allows them to live independently for longer. This is just one of the unlimited opportunities we see ahead. We can truly transform healthcare throughout North Carolina and far beyond – one patient at a time and one community at a time."
Over the next several months, Atrium Health, Wake Forest Baptist Health and Wake Forest University will diligently work together and explore the opportunities to enhance services, capabilities and drive greater efficiencies.