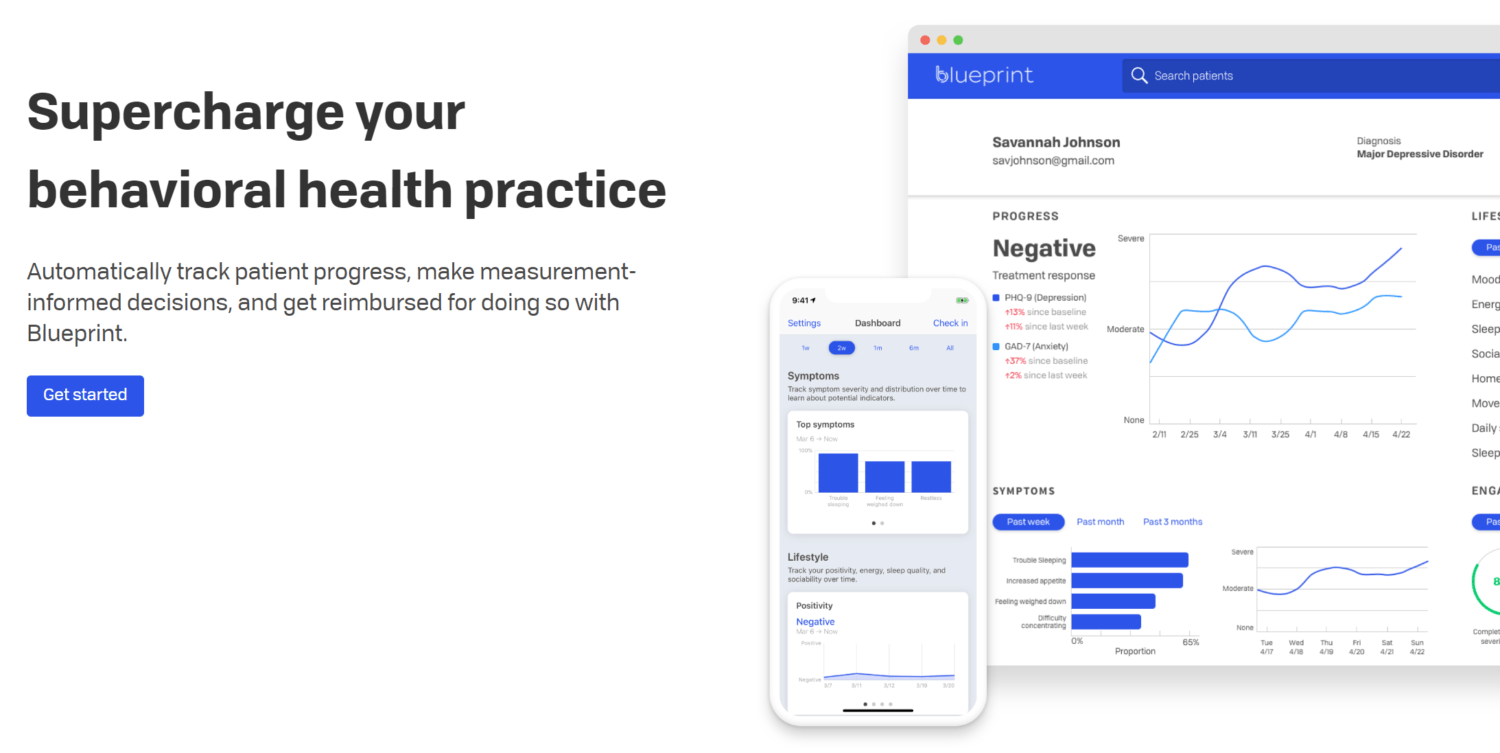 Blueprint (formerly known as HelloJoy), a Chicago, IL-based behavioral health company whose software allows mental health clinicians to efficiently practice measurement-based care (MBC) has raised $1.3M in seed funding led by Lightbank and Hyde Park Angels. The company plans to use the capital to expand its clinician outreach and grow its engineering and sales teams.
Impact of Measurement-based Care (MBC)
Today, 43 million Americans suffer from a mental illness, but there are only 28K psychiatrists, and the average doctor visit is just 15 minutes. Research shows patients who receive MBC — incorporating data to drive decision-making — are 2.5x more likely to reach remission, but because the data-collection process is cumbersome and time-consuming, only 18% of clinicians currently practice MBC
Blueprint Background
Danny Freed, founder and CEO, was inspired to create Blueprint after he saw the lack of effective treatment options available for his friend who was suffering from bipolar depression in college. Blueprint's platform collects and analyzes patient data to empower clinicians to more efficiently deliver measurement-based care — the practice of incorporating data to drive clinical decision-making.
Blueprint Mobile App
The Blueprint mobile app available in the App store prompts patients to complete standardized assessments between appointments and combines these results with their exercise, sleep, and movement patterns, which are captured through smartphone sensors. Patients use the app to complete daily/weekly check-ins to remain engaged in their care, allowing clinicians to access patient progress reports that provide actionable insights to enable smarter treatment plans
Without Blueprint, it is time-consuming and logistically difficult for clinicians to collect such measurements. By removing these barriers and enabling clinicians to automate the data-collection process, Blueprint aims to improve long-term health for patients suffering from depression, anxiety, post-traumatic stress disorder, bipolar disorder, and several other mental health conditions.
Reimbursement Revenue Benefits for Clinics
Using Blueprint not only helps clinicians improve patient outcomes, but also drives additional reimbursement revenue for clinics. To make the benefits of measurement-based care more widely accessible, Blueprint bills insurance on behalf of clinicians for each completed assessment.
"We believe that getting the right data to clinicians at the right time can save lives," said Danny Freed, CEO and Founder of Blueprint. "Today's technology — for the first time in history — makes it possible to implement measurement-based care at scale. At Blueprint, we're harnessing this technology to help clinicians make smarter treatment decisions for and with their patients."